Business
Core BQE vs Bigtime Software: A 2022 Price Review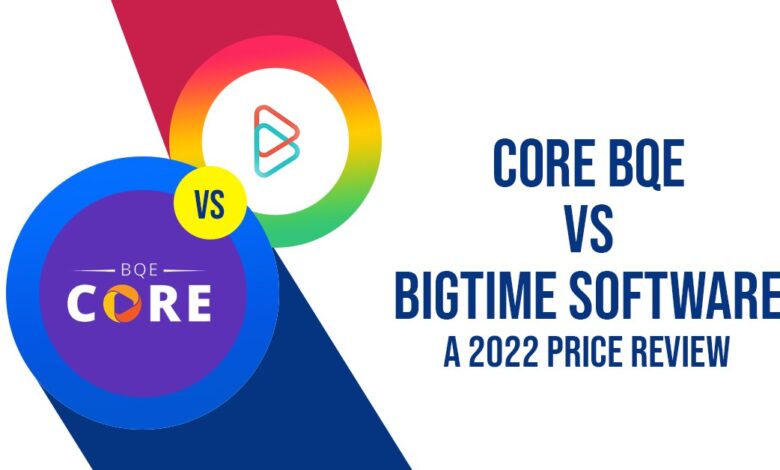 The price range is the first thing clients look at while picking up a project management solution. It is because they need to make an investment that drives handsome returns and not the one that leaves them with nothing. So, they seek all-inclusive solutions to handle their project lifecycle strategically. But there's one thing you should know before you start following the crowd. Price is just a label; what matters is the features offered. Therefore, you need a robust solution that offers more at less cost.
Many end-to-end project management solutions feature low-cost services, but the most effective ones are Core BQE software and Bigtime software. A Core BQE vs Bigtime Software price comparison is all you need to pick the vendor that fits your budget range. Unlike other websites, we won't leave you hanging just by sharing the price range of these solutions. Instead, we will outline the features covered in all the pricing bundles in this Core BQE vs Bigtime Software comparison. So, stay tuned to get the most out of this content-rich article.
Core BQE Project Management Software: 
Now for Core BQE project management software, it is a robust solution that provides real-time data insights into projects to help teams analyze the areas of improvement. In addition, the software features a to-the-point time and expense tracking facility, so clients know which projects to focus on. Core BQE project management tool is designed by a knowledgeable, dedicated, and professional team, thus boosting the productivity of all organizations. This integrated suite leverages tech-intensive tools to foster data-driven and agile project management.
Bigtime software is an ideal solution for teams who desire to keep their projects in check. It ensures time tracking and sets the estimated budget for all projects to maximize firms' profitability. Moreover, this professional service platform is not just a project management software but a fully-functional suite for running productive organizations. Along with real-time automaton support, it looks into the financial health of firms by conducting thorough reports based on set KPIs. All these functions assure companies score a big win.
Core BQE vs Bigtime Software: Price Overview 
Before diving into the in-depth details of pricing bundles, first, we should look at the general price structure of Core vs Bigtime software. This will help you analyze which one of these solutions is easily affordable in real-time, not just in terms of pricing but the overall cost structure. Here's everything you need to know about the price structure of Bigtime and Core BQE software.
Bigtime Price Overview: 
Bigtime is a highly-configured project management solution which is reflected in its pricing plans. All the pricing plans of Bigtime are set in accordance with clients' needs. The vendor sets its price structure to meet the expectations of teams by adding value to their dull workflows.
There's a maximum user per month restriction for all pricing bundles of the Bigtime solution. A customized Enterprise plan is also featured by Bigtime software. Here comes the constraining element, bigtime only offers annual subscriptions, so clients have to make long-term commitments. But still, the vendor provides the convenience of clearing payments monthly.
Core BQE Price Overview: 
Now comes the interesting part, the pricing details of Core BQE. You might have read somewhere that Core BQE is indeed a client-oriented solution. Here's why. This project-focused solution believes in flexible and upright pricing. Its motto is that clients should pay only for the services they use and, thus, set custom pricing plans.
Core BQE doesn't offer any pre-configured pricing bundle. Instead, its tailor-made plans help users improve the core of their business by leveraging knowledgeable and extensive functionalities. The pricing plans of Core BQE are pretty transparent. It outlines what users have for additional tools and services so they know they are not charged any extra amount.
Pricing Packages of Bigtime Software: 
It's time to explore the pricing plans of Bigtime software in this Core BQE vs Bigtime software price review. We highlighted all the essential facts about the cost structure of this vendor in the above paras. So, let's dive into the details of the three price bundles of the Bigtime platform.
Express: 
The express plan is a basic plan equipped with features like time tracking, QuickBooks integration, and personalized reports. This Bigtime software price plan costs $10/user/month.
Pro:
The pro pricing plan of Bigtime is set for mid-sized teams and is fully packed with intuitive project accounting and project management features. It costs $30/user/month.
Premier:
The premier plan is to look after intense workflows and assure end-to-end team collaboration. It is packed with resource management functionalities and costs $40/user/month.
Enterprise:
It is a customized plan ensuring all organizations' personalized needs are met. In addition, users can request enterprise plans to grow at their own pace.
What do Clients say About the Core BQE Cost Structure? 
We won't leave you hanging about the price structure of the Core BQE project management solution. For a fair Core BQE vs Bigtime price comparison, it's essential to know the delicate details of this solution. But as the vendor doesn't feature configured bundles, we have to resort to their means to see if it offers fair-price packages or not. The best way to do so is by exploring the reviews of Core BQE to learn what clients say about the price charged.
As per the reviews, Core BQE is a low-priced solution that doesn't cost much. They believe the vendor offers a diverse feature portfolio for a reasonable price, which is definitely a plus. Reviews depict that the cost bundles of Core BQE are set to maximize the efficiency and profitability of firms no matter what. The only drawback is that the price charged by the software increases every time a client goes for a new module or additional service.