Movie/TV News
10 Most Despicable Characters in Netflix's Love, Death & Robots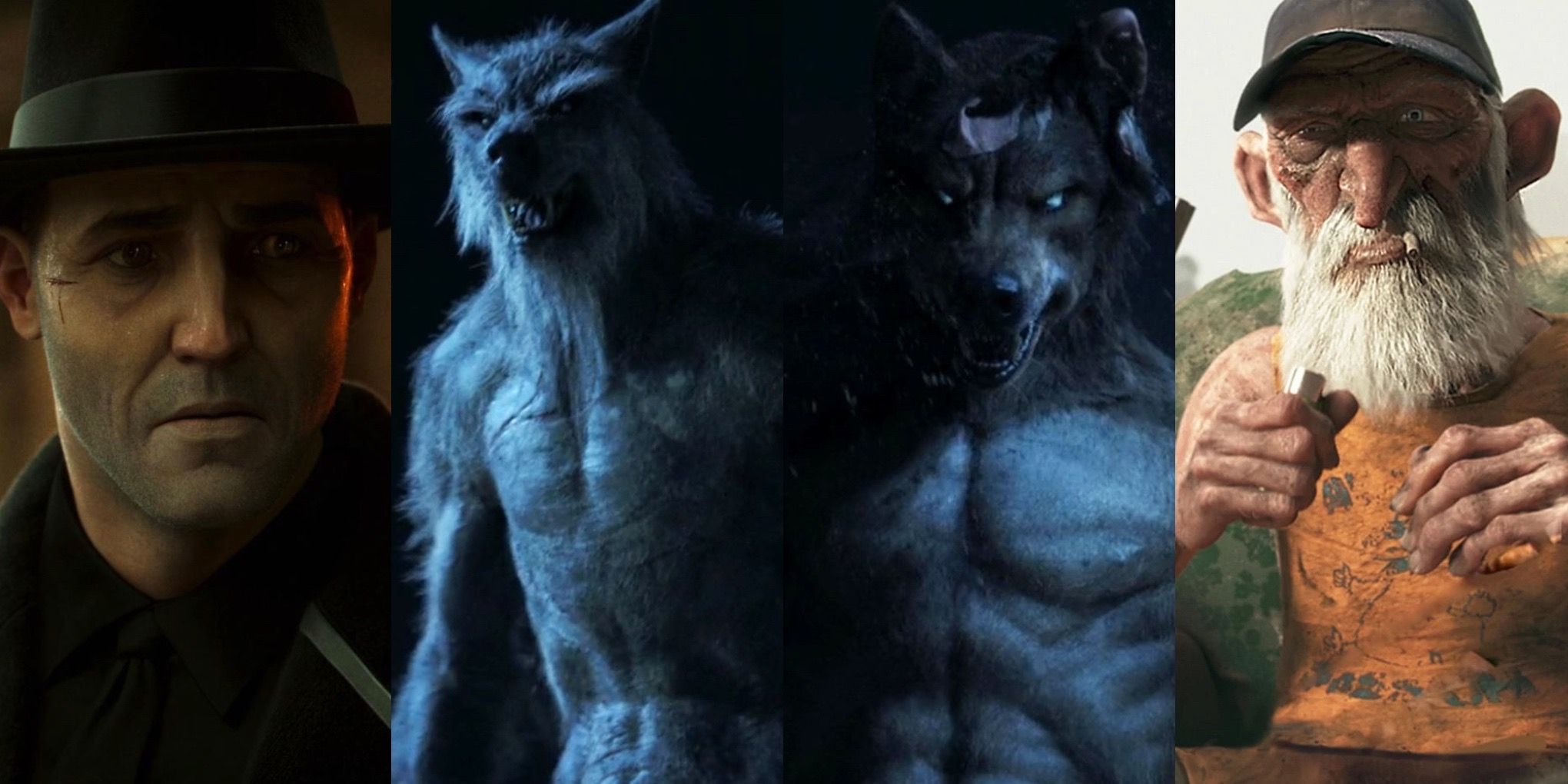 Upon its third consecutive Outstanding Short Form Programming win at the 74th Primetime Emmys, Love, Death & Robots is now tied with Robot Chicken for the most categorical wins. The Netflix animated anthology series has episodes aligning with the title's themes, although there have been episodes where one if not all of the themes are exempt.
And its multitude of storylines emits numerous animation methods, Love, Death & Robots has introduced compelling characters with nuanced details. Some characters have been fortune enough to make recurring appearances, but the despicable actions of other characters have resulted in a one-time role.
10/10

The Werewolves
"Shape-Shifters," Volume 1 E1
The concept of shape-shifting, which is morphing into another living form, seems fascinating on the surface. However, there are instances where it is used for horrible reasons, as seen in Volume I's "Shape-Shifters."
RELATED: Most Powerful Episodes in Love, Death & Robots, Ranked
Two shape-shifting Taliban soldiers struggle to exist in a world where their werewolf forms are highly scorned by the human race. Their retaliation leads them to massacre the entire US Marine convoy to avoid capture. The wolves are fueled by their need to survive those that would have them imprisoned or executed, but their murderous conducts are despicable and self-serving.
9/10

Greta
"Beyond the Aquila Rift", Volume I E7
Volume I's "Beyond The Aquila Rift" would introduce Greta, one of Love, Death & Robots' most terrifying creatures. A former flame of the episode's protagonist Thom, they reconcile when his spaceship arrives at Saumlaki Station. Unfortunately for Thom, this would be a deadly reunion.
Through subtle hints before the big reveal, Greta is actually an alien/arachnid hybrid. She manipulates Thom via simulations to prevent him from knowing the truth about his spaceship and crew. Greta is not the most despicable character in the LD&R universe, but she did deceive the man that loved her to maintain a lie.
8/10

Baris
"Snow in the Desert," Volume II E4
The position of a leader is not always guaranteed to be fulfilled with a kind demeanor. This is especially true with Baris, the mercenary leader and antagonist of Volume II's "Snow in the Desert." Baris and his crew of mercenaries are searching for an albino man name Snow, who is believed to be immortal.
In his relentless pursuit of Snow, Baris has complete apathy towards his prey, with his goons following his examples of cruelty and violence. His evil nature has absolved Baris of any morality, killing anybody that gets in the way of what he wants.
7/10

Chthulu
"In Vaulted Halls Entombed," Volume III E8
"In Valuted Halls Entombed" is Love, Death &bRobots' scariest episode, plunging down the horror genre. All but two members of a hostage rescue team are killed by giant spider-like creatures upon arriving for a mission. When Coulthard and Harper discover the enormous eldritch deity Cthulhu at the center of the attack, there's no making it out alive.
Cthulhu is despicable for using mechanisms of brainwashing and manipulation to control the people around him. His actions even lead others to severely mutilate themselves just to escape his horrifying commands.
6/10

Dracula
"Sucker of Souls," Volume I E5
Love, Death & Robots incorporates the legendary vampire Dracula into the Volume I episode "Soul Suckers." The demonic vampire lives in a cave and constantly resorts to horrible means to quell his thirst for blood.
RELATED: 10 Unpopular Love, Death & Robots Opinions, According To Reddit
By consuming humans, Dracula evolves into a grotesque, monstrous form. His only concern is that of himself and survival, to find more bodies in order to fuel his most powerful avatar. In a hilarious twist, Dracula's weakness is cats, which greatly works in the favor of the episode's protagonist to escape the vampire's sharp clutches.
5/10

"Ugly" Dave Dvorchek
"The Dump," Volume I E9
Volume I's "The Dump" presents an unusual storyline revolving around an old man living in a dump. "Ugly" Dave Dvorchek could easily give Carl Fredrickson from 2009's Up a run for his money with his cantankerous demeanor. When a city health inspector tries to uproot Dave from his home at the dump, a deeply disturbing outcome results.
A severe creature of habit, Dave doesn't care about the ramifications of his despicable actions. Dave encourages his pet monster Otto to eat the health inspector, implying Otto has done the same to anybody that bothered Dave.
4/10

Dicko
"Sonnie's Edge," Volume I E1
Appearing in the series debut and one of LD&R's best episodes, "Sonnie's Edge," Dicko is a cruel man that does not do well with intimidation or a loss of power. Running an underground organization for monster fights, Dicko offers esteemed fighter Sonnie a large sum of money to throw an upcoming match. Her refusal and then defeat of his monster make the businessman deeply infuriated.
What makes Dicko despicable is the great lengths he will travel to gain the upper hand, even making others use methods of seduction and murder. Fortunately, he gets his just desserts by the episode's end.
3/10

Captain Torrin
Bad Traveling," Volume III E2
Despite being one of Love, Death & Robots' smartest characters, Torrin is not entirely a protagonist. Similar to Greta, his motors could be considered antiheroic, but the archetype does not forgive his deplorable actions in the Volume III episode "Bad Traveling."
When is shipping cruise up against a giant crustacean known as a "thanapod," the group votes to sacrifice the residence of an island to save themselves from the beast. Torrin may be looking out for the residents of the island by killing the crew, but essentially he commits mass murder to save his own skin.
2/10

The Governor
"Good Hunting," Volume I E8
Volume I's "Good Hunting" would see an episode of Love, Death & Robots that was equally sinister and traumatizing. The Governor of Hong Kong is a narcissistic and lustful being who goes to to nefarious means to satisfy his sexual cravings.
RELATED: 10 Plot Holes In Love, Death & Robots
The Governor targets Yan, a human/Huli jing fox hybrid, to be the object of his desires. He manipulates and drugs Yan before having her transformed into a sexualized android. Unfortunately for The Governor, his tortured prisoner would eventually become the master by violently murdering him.
1/10

Detective Briggs
"Pop Squad," Volume II E3
Despicable behaviors and motives can befall any human, regardless of their position in life. Some inherit while others learn, but for those that are despicable when knowing right from wrong is extremely disheartening. Volume II's "Pop Squad" would see this with Detective Briggs.
Briggs is by far Love, Death & Robots' most despicable character, primarily due to the rules of the episode's dystopian society. In order to avoid overpopulation, Briggs murders fertile women and their innocent children. Before dying, Briggs sees the error of his ways, but it was clearly too little too late.
NEXT: The 10 Best Animated Original Netflix Series, According To Rotten Tomatoes
Share this news on your Fb,Twitter and Whatsapp
NY Press News:Latest News Headlines
NY Press News||Health||New York||USA News||Technology||World NewsTimes News Network:Latest News Headlines
Times News Network||Health||New York||USA News||Technology||World News