Movie/TV News
Amandla Stenberg, Maria Bakalova & Myhala Herrold Interview: Bodies Bodies Bodies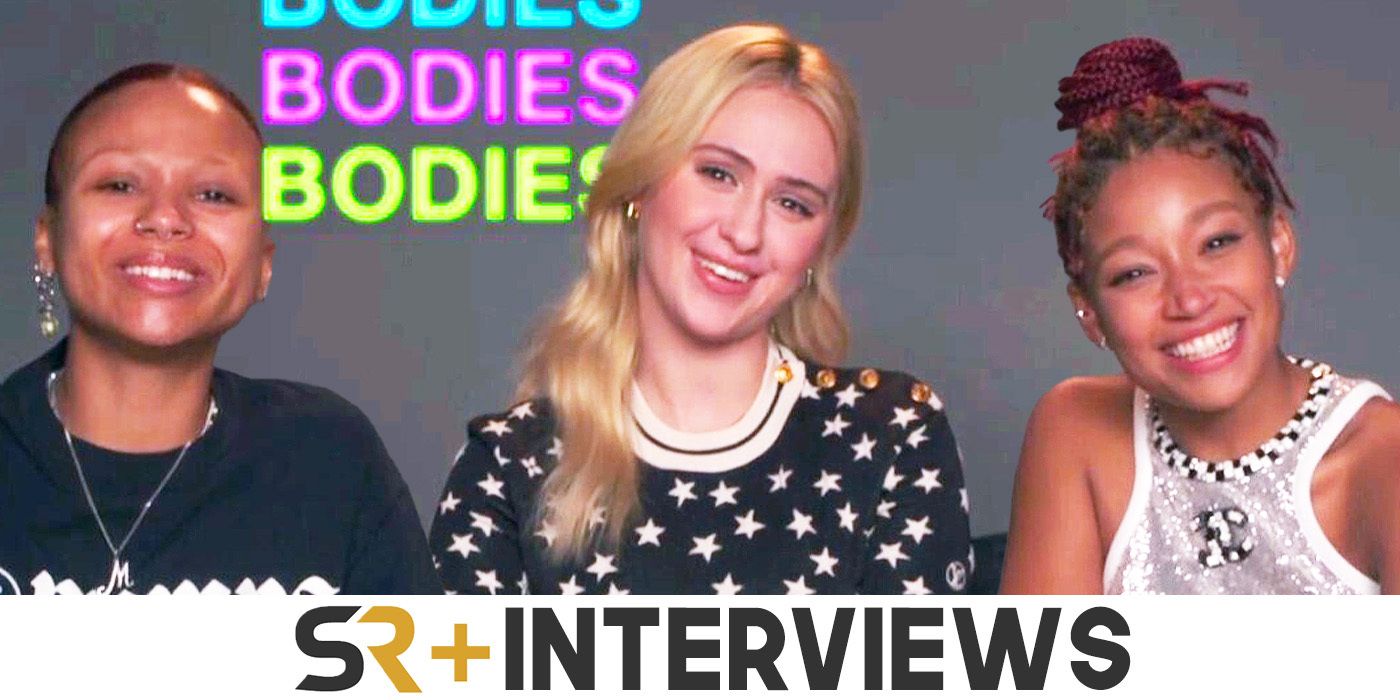 Bodies Bodies Bodies stars Amandla Stenberg, Maria Bakalova & Myhala Herrold chat about filming rain scenes and their favorite party games.
A24 has once again hit it out of the part with teen horror comedy Bodies Bodies Bodies, which stars Amandla Stenberg (whose iconic filmography ranges from The Hunger Games to The Hate U Give) and Maria Bakalova (who broke into the mainstream with 2020's Borat Subsequent Moviefilm) alongside a cast of talented young actors and experienced comedians.
Bodies Bodies Bodies begins with a group of friends at a house party hosted by the recently-sober Sophie (Stenberg) and the wealthy David (Pete Davidson, Saturday Night Live). Among their guests are Sophie's girlfriend Bee (Bakalova) and her old friend Jordan (Myha'la Herrold, HBO Max's Industry), who worries Sophie has changed for the worse. When a game of Bodies Bodies Bodies turns into a real-life murder in the dark, they are all trapped together as friendships strain from the lack of trust.
Related: Amandla Stenberg's 10 Best Movies, According To IMDb
Screen Rant spoke to Stenberg, Bakalova and Herrold about their experience with Bodies Bodies Bodies, how they filmed the ghastly weather scenes, and what their personal favorite party games are.
Screen Rant: How much rain was there? I feel like people were getting borderline waterboarded.
Amandla Stenberg: There was so much. This is the thing about onscreen rain; it has to be much thicker in order to read on camera. Anytime it's raining in a movie, those are not regular raindrops. Those are fat droplets! When they hit you in the eye, you're like, "Ughhh…" You know, that kind of situation.

Maria Bakalova: Like, "Was that a rock?"

Myha'la Herrold: Because it felt like a rock!

Maria Bakalova: I remember one of the last days that we were on set – I think it was only Amandla and I, because we stayed there until the last moment. I was looking at the screen, and I was like, "Hold on, you cannot even read the rain out there." And it's like blowing towards us.

Amandla Stenberg: It hurts inside, just thinking about it.
Amandla, as an executive producer on the film, what did you see in the script when you first read it?
Amandla Stenberg: I thought it was brilliant. I thought it was brilliant and fresh and had this really special quality of engaging with my generation in a way that I haven't seen before. I feel like a lot of the times, you get inauthentic representations of people our age.

We don't actually get to explore the meat and potatoes of what it's like to live in this hyper-fast, social media-fueled, cancel culture – and what it's like to form an identity within that culture. I just knew that A24 was going to create a team that was going to be so unique and special, and bring everything to fruition perfectly. I was so excited about every single element: about casting, about bringing music into the film, doing soundtrack. Everything has been so cool.
This soundtrack is so good, and I've been addicted to "Bored In The House" [by Curtis Roach and Tyga]. What is your go-to party game?
Myha'la Herrold: The housewife of us is going to say I love Are We Really Strangers. I love a good get-to-know-you…

Amandla Stenberg: The emotionally healthy, radically emotional…

Myha'la Herrold: [Laughs] Okay! I just like getting to know [you]; good conversation starters.
I don't know how to play that. I don't know if it's convoluted to explain.
Myha'la Herrold: It's just a deck of cards that have questions. You pick a card, and you say a question to somebody in the group. And it's like, "What was your first impression of me when we met?" or something about our friendship or whatever.

And it's actually nice to play with people you don't know, because some of the questions are quite intimate. Then it's just like, first impressions, or "I assume," or "I perceive you as this…"

Maria Bakalova: I've been playing Never Have I Ever for years in my university. And that was my get-to-know people game in the beginning.

Myha'la Herrold: That's good one. Yeah.

Amandla Stenberg: No, that one's ye olde trusty. It never doesn't work, and you always get some filthy information. It's always

Myha'la Herrold: It's always sexy, and that's what we really wanna know.

Amandla Stenberg: And that's what we're curious about. That's our priority.
Bodies Bodies Bodies Synopsis
When a group of rich 20-somethings plan a hurricane party at a remote family mansion, a party game goes awry in this fresh and funny look at backstabbing, fake friends, and one party gone very, very wrong.
Check back soon for more interviews with the cast and crew of Bodies Bodies Bodies.
Next: 10 Best Quotes From Horror Movie Final Girls
What 90 Day Fiancé's Michael Jessen's Posted Since Juliana's Pregnancy
About The Author
Share this news on your Fb,Twitter and Whatsapp
NY Press News:Latest News Headlines
NY Press News||Health||New York||USA News||Technology||World NewsTimes News Network:Latest News Headlines
Times News Network||Health||New York||USA News||Technology||World News