Movie/TV News
Dead by Daylight's New Killer Pinhead, Hellraiser Chapter Now Live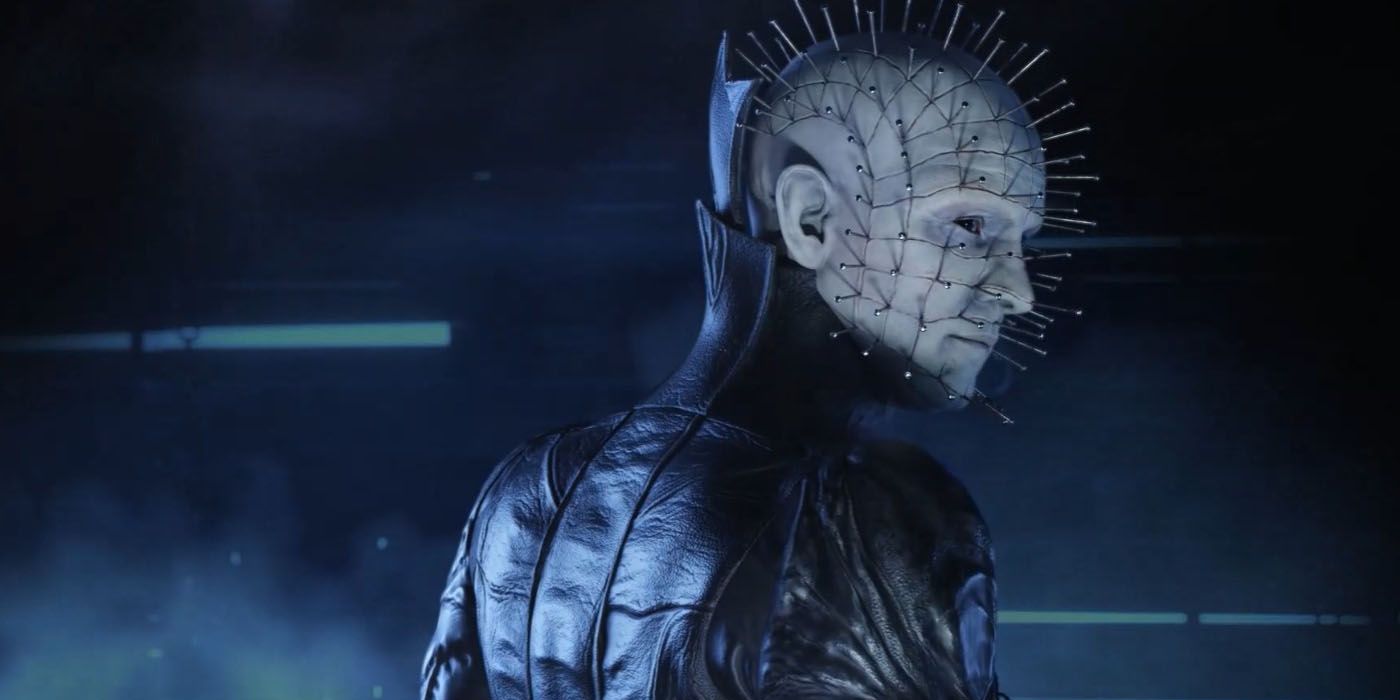 Pinhead is now available to purchase in Dead By Daylight as part of the game's Hellraiser content, which also features fellow Cenobite the Chatterer.
The fearsome Pinhead of the Hellraiser series is now available in Dead By Daylight, and he's bringing a friend along for the ride. The pale-faced, chain-wielding Cenobite Killer was confirmed to be making an appearance in Behavior Interactive's multiplayer survival horror title last month, serving as the latest horror film icon that players can either battle to survive against or take control of to rack up a body count of their own.
There was a healthy amount of speculation that Hellraiser's Pinhead would be joining Silent Hill's Pyramid Head and Resident Evil's Nemesis before the new Dead By Daylight DLC's official announcement thanks to a cryptic teaser trailer at the beginning of August. Since then, Behavior Interactive has opened up about the challenges of bringing the demonic Cenobite to Dead By Daylight, as well as the changes the development team had to make to Pinhead's iconic chain weapons following a Player Test Build last month.     
Related: Dead by Daylight Killer Guide: Hellraiser's Pinhead (Perks, Tips, & Strategies)
In a press release earlier today, Behavior Interactive announced that Dead By Daylight's new Hellraiser-based DLC is now available to purchase across all major platforms. This includes the new playable Killer Pinhead (aka The Cenobite), who can impede an opposing player's movement with his sinister Summons of Pain power and hunt down anyone unlucky enough to be carrying his trademark Lament Configuration puzzle box with a deadly Chain Hunt attack. The Lament Configuration itself brings with it a new challenge for Survivors as well, forcing them to solve the puzzle before Pinhead can teleport to their location and administer a violent end to them. Also included in Dead By Daylight's Hellraiser Collection is the Chatterer, a horrifically disfigured Cenobite that can slaughter Survivors with his Dented Hook and Chain weapon, as well as a very rare "Hell Priest" alternate costume for Pinhead himself.
Pinhead's arrival in Dead By Daylight comes right on the heels of a new Hellraiser reboot beginning filming in Serbia, which is said to feature a new, female take on the iconic killer. Meanwhile, Dead By Daylight has continued to build on its expansive roster of monsters from cinema and gaming alike, although the game's Stranger Things-based content was recently pulled last month due to licensing issues with Netflix. As a result, players are no longer able to stalk Survivors as the Demogorgon or run through the Hawkins National Laboratory.
Fans have been asking for Hellraiser's Pinhead to join the ranks of Dead By Daylight for quite some time, and now their dark wish has been granted. The Dead By Daylight Hellraiser Collection is now available to purchase across all major platforms, meaning that any Survivors who dare open the Lament Configuration should think twice least they become Pinhead's next victim.
Next: How to Play Tome VIII: Deliverance in Dead By Daylight (Challenges & Rewards)
Dead by Daylight is available on PC, PlayStation 4, PlayStation 5, Xbox One, Xbox Series X/S, Nintendo Switch, iOS, Android, and Stadia.
Source: Dead By Daylight/YouTube
GTA Online Racer Accidentally Recreates Iconic 2 Fast 2 Furious Stunt
About The Author
Share this news on your Fb,Twitter and Whatsapp
NY Press News:Latest News Headlines
NY Press News||Health||New York||USA News||Technology||World News