Movie/TV News
Fear The Walking Dead's Time Skip Finally Makes 1 Negan Story Possible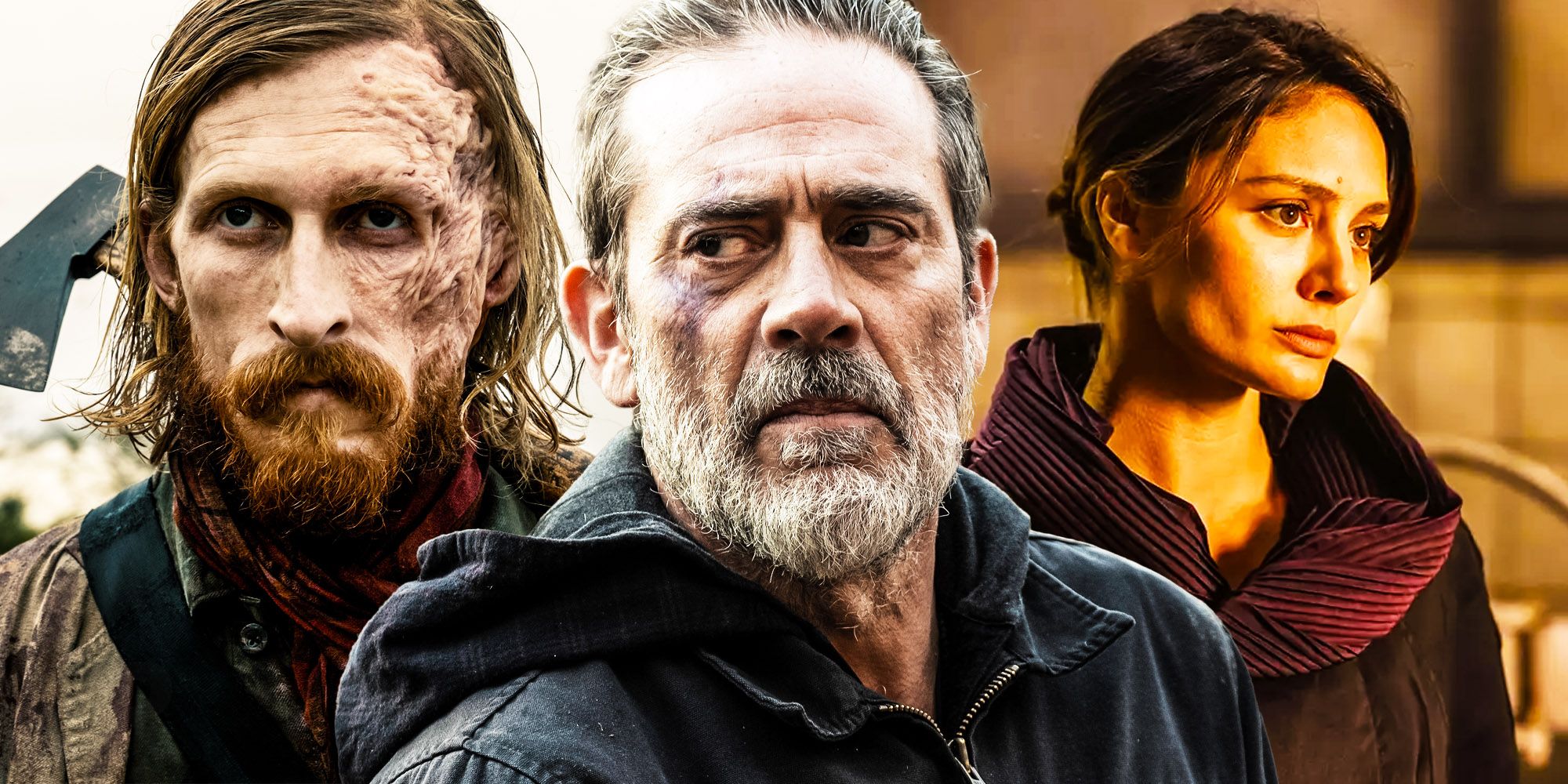 Fear the Walking Dead season 8's massive time jump finally opens the door for a major Negan story to finally happen at some point in the future.
Fear the Walking Dead's time skip finally makes one Negan story possible in The Walking Dead universe. Played by Jeffrey Dean Morgan, Negan is one a handful of characters from The Walking Dead with a confirmed future in the franchise. Like Maggie, Daryl, Rick, and Michonne, Negan will be back in one of AMC's Walking Dead spinoffs.
The Walking Dead season 11 did much to advance Negan's story, but stopped short of ending it completely. It will continue for at least one more chapter via Walking Dead: Dead City, a six-episode series set to take both Negan and Maggie all the way to New York. Their trip to New York, which hasn't been properly explained yet, is sure to dive deeper into the lingering animosity Maggie feels toward Negan and the unlikely partnership between the two characters. Interestingly, though, this isn't the only storyline involving Negan that the franchise has an opportunity to continue. Thanks to the plans laid out for Fear the Walking Dead, Negan may have to own up to other mistakes from his past.
RELATED: Walking Dead's New Time Jump Drops Another "Avengers" Crossover Clue
Dwight & Sherry Can Finally Meet Negan Now
For a long time now, the spinoff series has been years behind The Walking Dead. The Walking Dead jumped ahead by six years in season 9, and various, smaller time skips on both shows have made their exact proximity to each other in the timeline a bit murky. However, it is known for sure that several years still separate them. But, a time jump planned for Fear the Walking Dead season 8 is poised to change that. According to a synopsis, the second half of the season will take place seven years later. Such a massive time jump should narrow – if not close – the gap between the two shows. Going in this direction should put every living character in The Walking Dead on the same page and make crossovers possible again.
Assuming that Dwight nor Sherry meets a tragic end in Fear the Walking Dead's final season, this scenario should open the door for a reunion that was once considered impossible. Ever since Dwight joined FTWD as the second crossover character after Morgan, a scene where he meets Negan again hasn't been feasible. By the time he joined Fear the Walking Dead, the main show had already jumped forward by six years. Theoretically, The Walking Dead franchise should be able to arrange a situation where Dwight and Sherry cross paths with Negan, presumably after FTWD's series finale.
Why Negan NEEDS To Have A Dwight & Sherry Reunion
The Walking Dead has done much further Negan's redemption story, but there are some elements of his villain arc that haven't been properly addressed yet. Through Negan's encounters with Maggie and her son, The Walking Dead season 11 forced the character to answer for Glenn's murder, but that's far from the only crime he's committed in the show's run. The countless deaths he's responsible for have overshadowed another troublesome aspect of his past, which was his history of taking women into his harem during his time as the leader of the Saviors. It's known from the backstory established for the characters that Sherry was among the women who had no choice to become one of Negan's "wives."
The emotional impact this period had on Sherry has been crucial to her and Dwight's story in Fear the Walking Dead. Even after the two rekindled their relationship, Sherry's hatred for Negan lingered for understandable reasons. Their lives have been permanently changed by what Negan did, whereas he, on the other hand, hasn't been in a situation where he had to dwell on it. But if The Walking Dead universe is truly interested in examining the worst parts of Negan's past (i.e. Glenn's death and his treatment of the other communities), then it can't ignore his history with Dwight and Sherry.
RELATED: Walking Dead Theory: Rick Is A Villain In His Michonne Spinoff
What Dwight & Sherry's Future After Fear The Walking Dead Could Be
If the franchise wants to keep Dwight and Sherry's story going after Fear the Walking Dead ends, there are ways of giving them a future beyond the show. The two co-leading their own spinoff is unlikely, but it's not impossible that they'll wind up in Maggie and Negan's show if they leave Morgan's group in the final episode of the series. Dead City will release before Fear the Walking Dead wraps up, so while they can't realistically appear in the first six episodes, they could be used if the spinoff gets renewed for a second season. In the event that happens, they could serve as interesting additions to the cast, provided that they all survive the reunion. Similar to how Maggie felt when she returned to The Walking Dead, both Dwight and Sherry would be highly motivated to kill Negan if they were to lay eyes on him again.
NEXT: Glenn's The Walking Dead Death Hid A Secret Season 1 Callback
Share this news on your Fb,Twitter and Whatsapp
NY Press News:Latest News Headlines
NY Press News||Health||New York||USA News||Technology||World NewsTimes News Network:Latest News Headlines
Times News Network||Health||New York||USA News||Technology||World News