Movie/TV News
God of War: Ragnarök – Where to Find All Seasonal Stags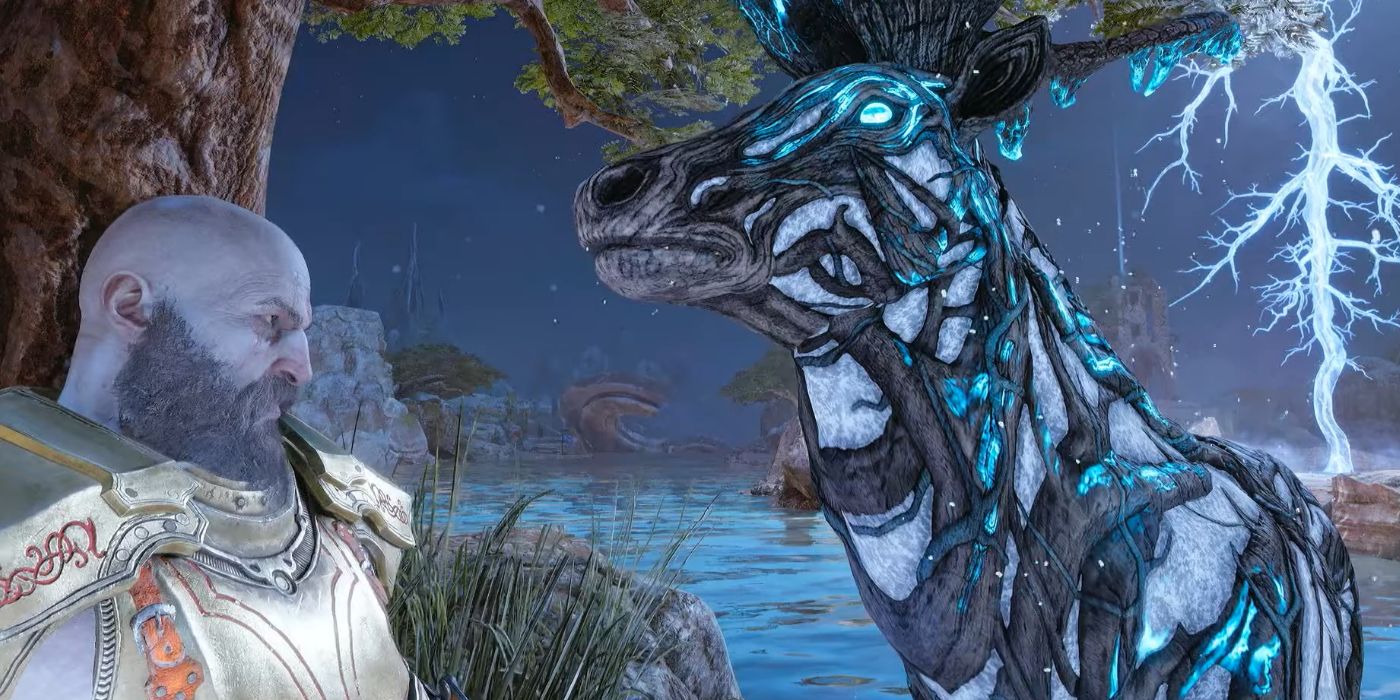 To find every Seasonal Stag during "A Stag for All Seasons" in God of War: Ragnarök, players must search the three main zones of Vanaheim.
After discovering The Crater of Vanaheim during the "Scent of Survival" Favour in God of War: Ragnarok, players can speak with Ratatoskr at Sindri's House to receive another Favour called "A Stag for All Seasons." This side quest involves searching for Seasonal Stags, mystical creatures that can tend to the Tree of Yggdrasil. According to Ratatoskr, the Tree has become somewhat overgrown, but these magical deer can graze on the Yggdrasil Leaves to keep it tidy. Therefore it is up to Kratos to explore the world in search of these four Season Stags in God of War: Ragnarok.
To complete the "A Stag for All Seasons" Favor in God of War: Ragnarok, Kratos must use Ratatoskr's special feed to calm the Seasonal Stags after encountering them in the wild, which will allow the Spectral Squirrels to safely take the deer back to Yggdrasil. As one might expect, this Favor's main challenge is finding the unmarked locations for each of these Season Stags. Fortunately, all of the stags can be found within the realm of Vanaheim. Specifically, players can encounter the creatures within The Jungle, The Plains, and The Sinkholes.
Related: Where To Find The Muspelheim Realm Seed in God of War: Ragnarök
Every Seasonal Stag Location in God of War: Ragnarök
Based on gameplay footage by YouTube content creator PowerPyx, the index will provide location details regarding where each of the four Seasonal Stags can be found, including their nearest Mystic Gateway in God of War: Ragnarok:
| | | |
| --- | --- | --- |
| Season Stag | Location | Walkthrough |
| Spring | | Starting from the Mystic Gateway of The Jungle Entrance, head east and swing across the river with the Blades of Chaos. Open the metal gate to enter a tunnel. Use the Draupnir Spear within the cave to climb up an elevated shelf. Continue through the cave's linear pathway to reach the Wishing Well. The Season Stag of Spring can be found near the well's entrance. |
| Summer | | Fast to The Jungle Mystic Gateway and ensure it is daytime within Vanaheim in God of War: Ragnarok. Get on the nearby boat and row along the river in a winding arc to the right. After docking and sidestepping through a crack, use the Blades of Chaos to access a grapple point leading to a small grassy outcropping the Summer Seasonal Stag is located. |
| Fall | | Head to the Sinkholes Entrance Mystic Gateway of The Sinkholes, and walk along the stream to the right to encounter the third Seasonal Stag of Fall. |
| Winter | | Similar to the Stag of Fall, the Season Stag of Winter can be found very close to The Overgrown Tower Mystic Gateway in The Plains of Vanaheim in God of War: Ragnarok. |
More: How To Transmog Gear in God of War: Ragnarök
Source: YouTube/PowerPyx
Original Release Date:

2022-11-09

Developer:

Santa Monica Studio

Franchise:

God of War

Genre:

Adventure, Action

Platform:

PlayStation 4, PlayStation 5

Publisher:

Sony Interactive Entertainment

ESRB:

M

Summary:

Ragnarok has arrived in God of War Ragnarok, the sequel to the 2018 game of the year released on PlayStation 4. Three years have passed since Kratos and his son, Atreus completed their quest across the realms while facing off with a small handful of Norse gods. However, their actions come with consequences. The Allfather, Odin, is ready for vengeance, and his son, Thor, is leading the charge. Atreus, looking to find more answers to the questions of his lineage bestowed to him by his mother, embarks on another quest with his father to discover the truth while contending with the wrath of Odin's realm. New friends and allies will help them on their journey, but some allies turned foes will seek to end them before Fimbulwinter comes to a close. God of War Ragnarok will conclude the Norse saga of God of War and launch on November 9 2022.

Prequel:

God of War
Share this news on your Fb,Twitter and Whatsapp
NY Press News:Latest News Headlines
NY Press News||Health||New York||USA News||Technology||World NewsTimes News Network:Latest News Headlines
Times News Network||Health||New York||USA News||Technology||World News