Movie/TV News
Harry Potter Art Imagines Ben Barnes & Andrew Garfield As Sirius & Lupin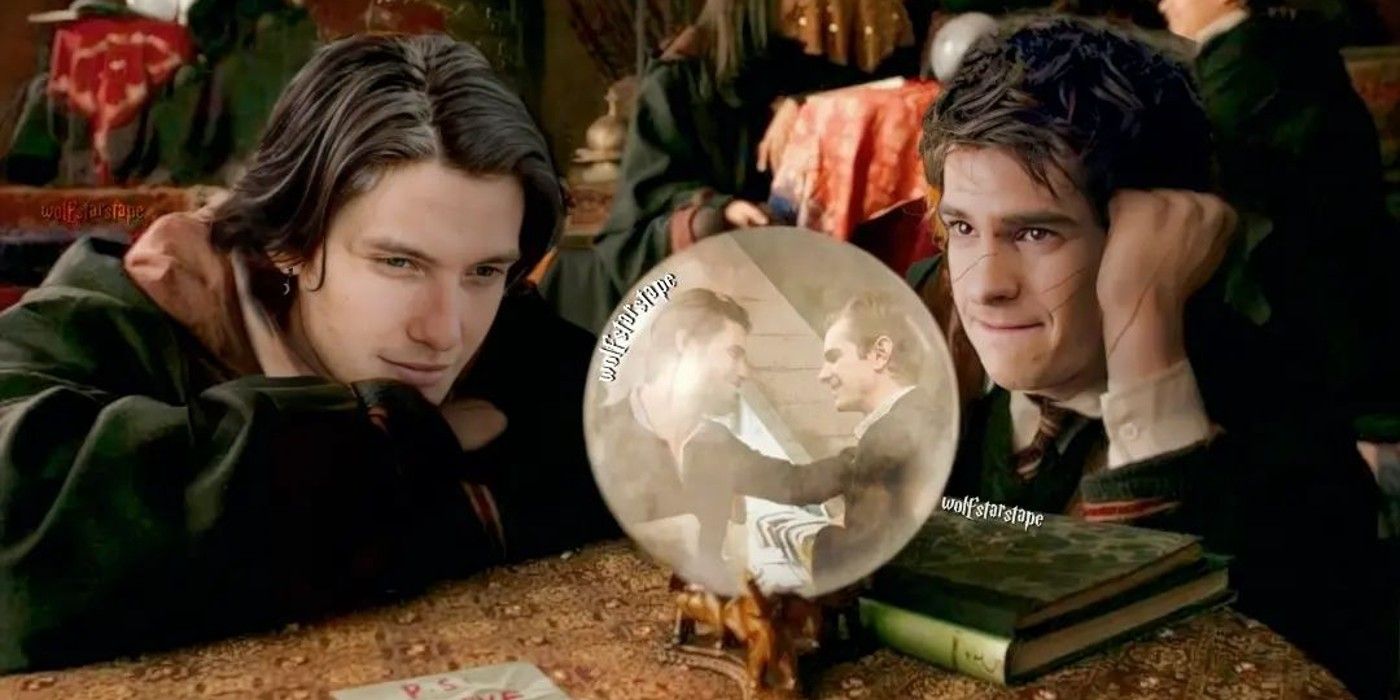 Harry Potter fan art imagines actors Ben Barnes and Andrew Garfield as younger versions of Sirius Black and Remus Lupin from their Marauders days.
A new piece of Harry Potter fan art imagines Ben Barnes and Andrew Garfield as younger versions of Sirius Black and Remus Lupin. Harry Potter stands as one of the most popular franchises of all time. The Wizarding World saga started with a series of young adult books by author J.K. Rowling, the first of which being 1997's Harry Potter and the Sorcerer's Stone. Harry Potter would go on to become a blockbuster film franchise, releasing eight films between 2001 and 2011. A spinoff prequel movie series, Fantastic Beasts, has released three entries.
New Harry Potter fan art from wolfstarstape depicts Barnes and Garfield as young Sirius Black and Remus Lupin, respectively. The art piece places the characters in the middle of a Divination class in Hogwarts, inspired by an event in the original film franchise with Harry and Ron Weasley. The time period of the Harry Potter art positions Sirius and Lupin in their Marauders days. Check out the fan art below:
Related: Fantastic Beasts 4 Update Confirms Harry Potter Franchise Must Move On
Why Andrew Garfield & Ben Barnes Would Be Great Additions To Harry Potter
The first real reason for Garfield and Barnes being great additions to Harry Potter is simple: They're both extremely gifted actors. Going a bit further than that surface level analysis, it's easy to see why the fan artist would choose to represent Harry Potter's Sirius Black and Remus Lupin with the duo, especially for a possible prequel project set in the Marauders days. The two actors resemble Sirius and Lupin, and they have been fan cast in the roles for years. Garfield and Barnes even caught wind of this and have acknowledged it in interviews for other projects.
The Marauders were a group of four Gryffindor students: Remus Lupin, Sirius Black, James Potter and Peter Pettigrew. The group loved to cause mischief along the halls of Hogwarts. In order to make their rule-breaking easier, they created the Marauder's Map. The map showed every inch of Hogwarts' grounds, tracking the steps of every person there. In the Amazing Spider-Man movies, Garfield excelled in representing Peter Parker's intelligence, sense of humor and selflessness – all traits present in Lupin, making Garfield perfect for the role. As for Barnes' take on Sirius, the actor's filmography contains multiple roles that would make him a great fit for Sirius' boldness, arrogance and also great wit. Barnes' roles in The Chronicles of Narnia: Prince Caspian and Westworld represent the range he has to play Sirius.
Can A Marauders Project Happen In The Future?
Harry Potter has only explored one spinoff franchise at this point. With each movie, Fantastic Beasts' box office returns have diminished, and new Warner Bros. Discovery CEO David Zaslav has all but confirmed that the studio will be looking into new Harry Potter stories. The way a Marauders project could fit into the future of the live-action Wizarding World is through a series on HBO Max. The Marauders' story is perfect to be adapted with the longer format streaming presents. The members of the Marauders studied at Hogwarts for eight years, which could translate into a number of seasons. HBO Max subscribers and Harry Potter fans in general would likely tune in for new Wizarding World content focused on such a popular group as the Marauders.
Next: What's Next For The Harry Potter Franchise?
Source: wolfstarstape/Instagram
Share this news on your Fb,Twitter and Whatsapp
NY Press News:Latest News Headlines
NY Press News||Health||New York||USA News||Technology||World NewsTimes News Network:Latest News Headlines
Times News Network||Health||New York||USA News||Technology||World News