Movie/TV News
Mads Mikkelsen on Johnny Depp's Potential Fantastic Beasts Return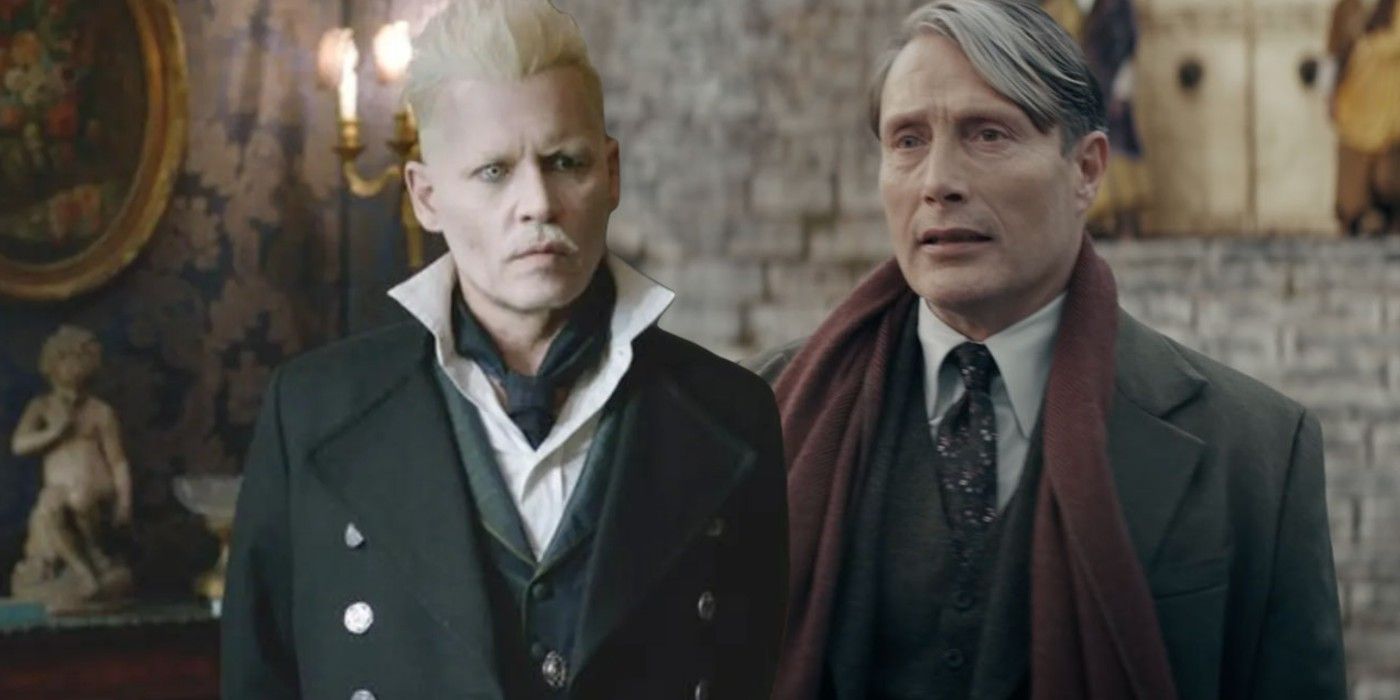 Mads Mikkelsen addresses Johnny Depp's possible return for a potential Fantastic Beasts 4 movie. Depp made his debut in J.K. Rowling's live-action Wizarding World franchise with a cameo role as Gellert Grindelwald in David Yates' Fantastic Beasts and Where To Find Them, and later starred in the sequel, Fantastic Beasts: The Crimes of Grindelwald. Depp was also primed to reprise his role for the third movie, Fantastic Beasts: The Secrets of Dumbledore. But in November 2020, WB asked the actor to resign after he lost a libel case against the U.K. tabloid, The Sun, which labelled him a 'wife beater' amid an ongoing legal battle with ex-wife Amber Heard. In the same month, Hannibal star Mikkelsen replaced him.
Fantastic Beasts: The Secrets of Dumbledore premiered in March 2022, turning out to be a commercial and critical disappointment. However, Mikkelsen emerged as a scene-stealer, garnering praise for his standout and considerably unique performance as the dark wizard. Meanwhile, Depp's lawsuit against Heard proved successful, with the seven-member jury in Virginia ruling the allegations of sexual abuse and domestic violence untrue. A fourth film in the Fantastic Beasts franchise has yet to be greenlit, but Depp's recent victory in the defamation case against Heard has led many to wonder if he would return to take his role as Grindelwald back from Mikkelsen.
Related: Why Johnny Depp Wasn't In Fantastic Beasts 3 & Why It Worked
Now, in a new interview with Deadline, Mikkelsen has opened up on whether Depp could return as Grindelwald for Fantastic Beasts 4. As the actor notes, he is unsure of any updates, but considering the legal developments, there is a chance that Depp could return to the franchise. Mikkelsen, however, is not averse to the idea. He calls himself "a big fan of Johnny" and recounts his experience stepping into his shoes. Read what he said below.
"It was very intimidating. Obviously, well, now the course has changed—he won the suit, the court [case]—so let's see if he comes back. He might. I'm a big fan of Johnny. I think he's an amazing actor, I think he did a fantastic job. Having said that, I could not copy it. There's there was no way I could just copy it, because it's so much him. It would be creative suicide. So, we had to come up with something else, something that was mine, and build a bridge between him and me. So, yes, it was intimidating. His fans were very, very sweet, but they were also very stubborn. I didn't interact too much with them, but I could understand why they had their hearts broken."
Although the legal troubles surrounding Depp have, at least, been partially resolved, it doesn't necessarily mean he could return as Grindelwald in a future Fantastic Beasts film. Depp might not want to collaborate again with WB considering the lack of support he faced from the libel case. Additionally, Mikkelsen's villainous Fantastic Beasts: The Secrets of Dumbledore turn has been widely appreciated, so replacing him now that Depp is available would be a major contempt of the former's talents. Finally, recasting Grindelwald again would just leave viewers utterly confused. Counting Colin Farrell's Percival Graves among the recasts, Grindelwald has already been changed thrice between the movies, so giving the role back to Depp would unsettle the inconsistent franchise even more.
Clearly, Mikkelsen has a lot of respect and regard for Depp's body of work; he deeply honors his performance as Grindelwald, and that's why he did not try to replicate his act. Rather, he added his own spin to the character to keep the legacy of Depp's work alive while offering a fresh perspective to the beloved Wizarding World villain. Mikkelsen has already made his stamp on the character, and aside from a few critics, viewers have generally embraced his darker and more unhinged antagonist. While bringing Depp back for a potential sequel to Fantastic Beasts: The Secrets of Dumbledore might please a few of his social media commentators, it would greatly disrupt any sense of cohesion in the films while doing a great disservice to both the stars involved. Depp has already signed to direct an Al Pacino movie, and he also stars in La Favorite, while Mikkelsen has settled well into his role as Grindelwald. So it may be better to leave things as is rather than force changes onto the franchise and end up making things messier.
Source: Deadline
Share this news on your Fb,Twitter and Whatsapp
NY Press News:Latest News Headlines
NY Press News||Health||New York||USA News||Technology||World NewsTimes News Network:Latest News Headlines
Times News Network||Health||New York||USA News||Technology||World News