Movie/TV News
Star Wars Theory: Jude Law Is Playing Ahsoka's Old Clone Wars Flame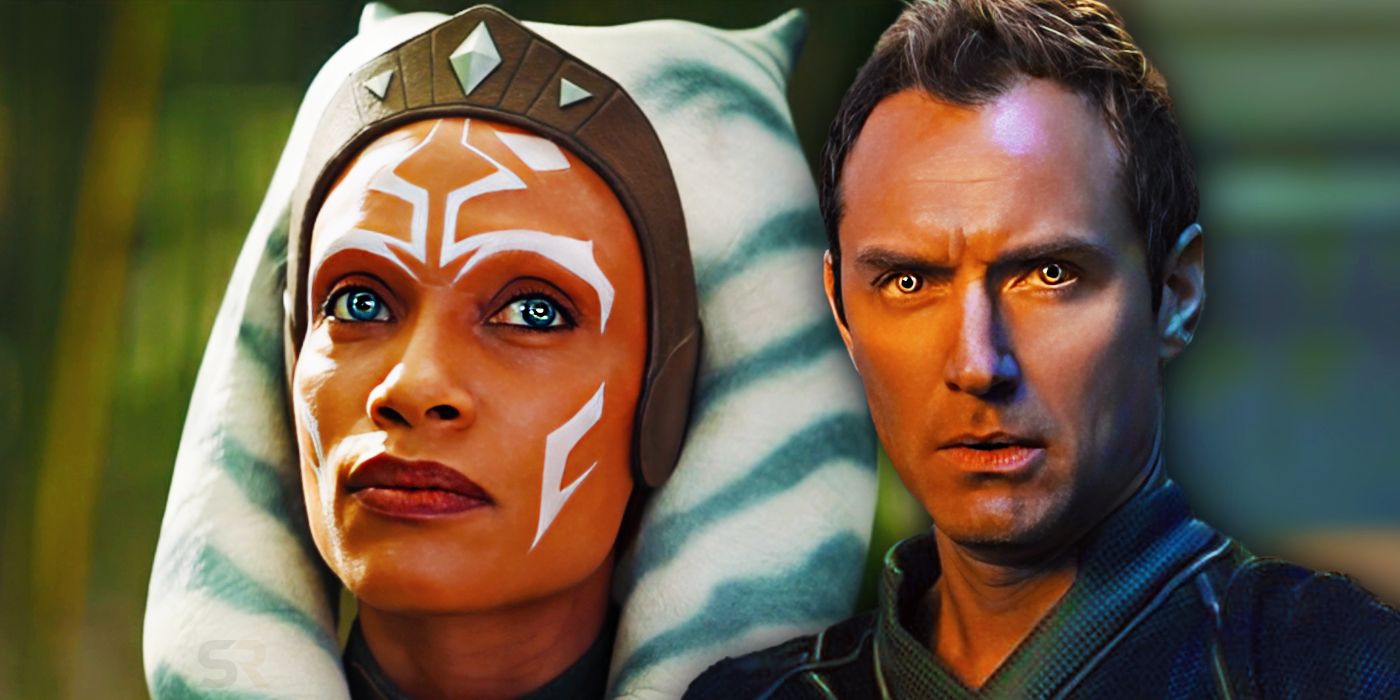 Although not much is known about Star Wars' upcoming series Skeleton Crew, Jude Law's leading character could have a major connection to Ahsoka.
Little is currently known about the upcoming Star Wars Disney+ TV show Skeleton Crew, but it's possible star Jude Law is playing a former love interest of Ahsoka Tano.When Lucasfilm announced Skeleton Crew during Star Wars Celebration 2022, the project took audiences by surprise. Helmed by showrunner Jon Watts (director of the MCU's Spider-Man trilogy), this will be a coming-of-age story set in the galaxy far, far away. It will apparently focus on a group of teenagers lost in space, with Jude Law playing an unidentified father figure.
Lucasfilm is still keeping the identity of Law's character under wraps, which has naturally led to intense speculation he's playing an already-established figure in the Star Wars galaxy. Skeleton Crew is set in Star Wars' Mandalorian era, five years after Return of the Jedi, so he could easily be playing a live-action version of a younger character from Star Wars: The Clone Wars. If that is indeed the case, then it would be exciting to see him as Lux Bonteri, the son of a Separatist senator and a love interest for Asoka Tano – another key character in this era.
Related: Skeleton Crew Can Bring Jon Watts' Spider-Man Lessons To Star Wars
Jude Law Could Be Playing Lux Bonteri
The son of Mina Bonteri, Lux Bonteri eventually followed in his mother's footsteps as Senator of Onderon. However, the political turmoil of The Clone Wars and planetary civil war caused by Onderon's desire for neutrality saw Lux joining Saw Gerrera's freedom fighters alongside Saw's sister Steela. Together with help from the Jedi, they fought to repel the influence of the Separatists who had replaced the world's king with their own puppet. During the Clone Wars, Lux had multiple interactions with Anakin Skywalker's apprentice Ahsoka Tano, including a darker phase where he joined the Mandalorian Death Watch in search of revenge against Count Dooku after his mother's assassination.
Following the Clone Wars and the rise of the Empire, Lux stayed with Saw Gerrera's Partisans who had begun fighting the Imperial regime and its oppression. He became a key leader of an offshoot group known as the Dreamers after Gerrera's death in Rogue One: A Star Wars Story. As it stands, Bonteri's fate is unknown after the Dreamers were targeted by the Empire in Christie Golden's novel Battlefront II: Inferno Squad, though it was confirmed he survived the group's infiltration by Imperial Special Forces. This raises the intriguing possibility he could appear again in the Return of the Jedi era, with Jude Law potentially playing against Rosario Dawson's live-action Ahsoka Tano.
How Lux Bonteri Could Play Into Star Wars: Skeleton Crew
In the Inferno Squad novel, it's confirmed Lux became known simply as "The Mentor," guiding the Dreamers with a list of potential Imperial targets he'd acquired while also helping temper their more aggressive and extremist tendencies. A name like "The Mentor" is rather fitting considering the fact Jude Law's character in Skeleton Crew will be mentoring a group of teenagers lost in the galaxy. It helps that, although such a legacy Star Wars character would surely be a draw for the upcoming Disney+ TV show, Lux isn't a big enough name to overshadow the teens themselves. He's important – but not so much that he would take over. He also bears a resemblance to a young Jude Law, so the casting choice would be appropriate.
Lux Bonteri Would Be A Key Part Of Lucasfilm's Mandoverse Plans
Because Skeleton Crew is set in the same era as The Mandalorian, The Book of Boba Fett, and the Rosario Dawson-led Ahsoka, Lux Bonteri would be the perfect legacy character to bring back for Jude Law. Not only does Lux have a relationship with Ahsoka whom he admittedly loved, but he also has ties with Bo-Katan Kryze and the Mandalorians from before the rise of the Empire. As such, Lux serving as the lead in Skeleton Crew would definitely make a lot of sense given the crossover potential.
Related: 9 Jedi Who Could Appear Ahsoka's Disney+ Show
Again, not much is known about Skeleton Crew beyond the minimal synopsis of Jude Law's character helping lost teens in space. However, it has been mentioned in relation to the anticipated Mandoverse crossovers in the future. While this theory is largely conjecture, there is certainly potential for Jude Law to play a live-action Lux Bonteri, adding greater significance to Star Wars: Skeleton Crew when it releases later in 2023.
Share this news on your Fb,Twitter and Whatsapp
NY Press News:Latest News Headlines
NY Press News||Health||New York||USA News||Technology||World NewsTimes News Network:Latest News Headlines
Times News Network||Health||New York||USA News||Technology||World News