Movie/TV News
The 10 Best Christmas Movies Of The 2020s (So Far), Ranked According To IMDb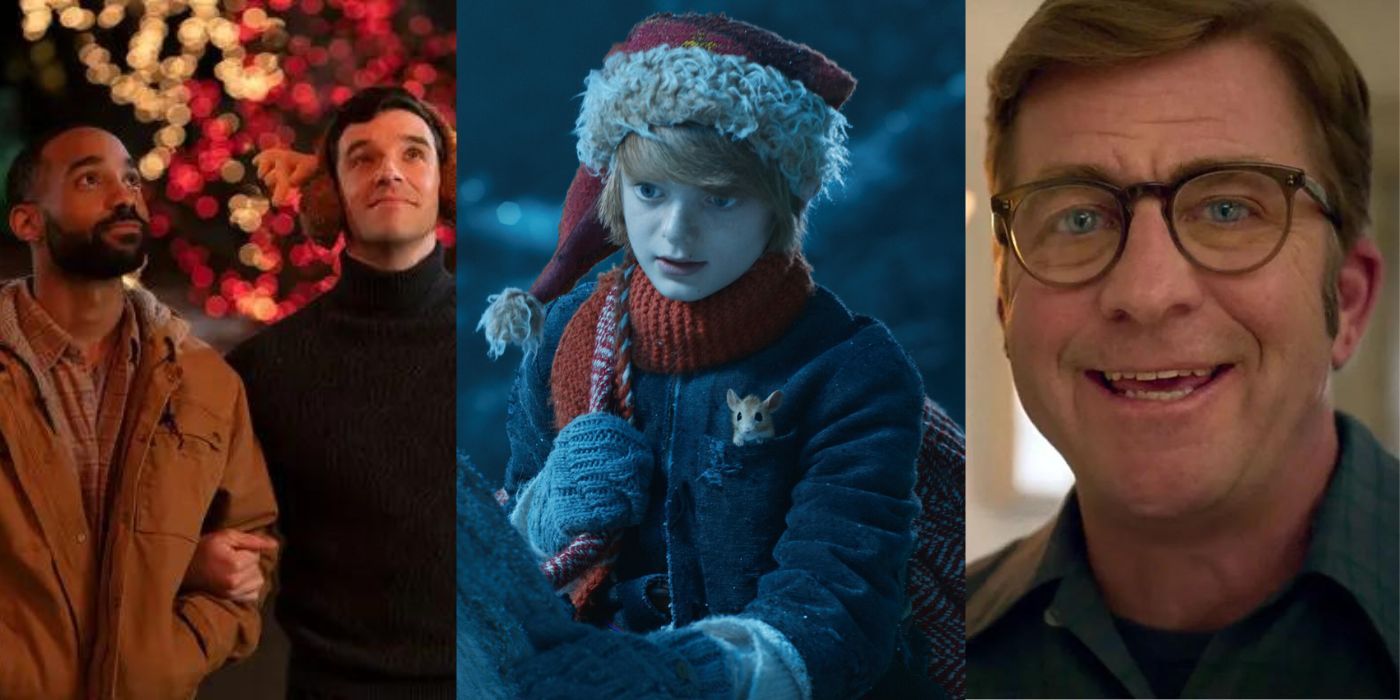 Despite movie theaters being shuttered for the first half of the 2020s, Christmas movies have continued to thrive in the new decade. Streaming services like Netflix and Hulu swooped in, offering homes holiday movies that were supposed to release theatrically and even creating their own unique and diverse Christmas movies to flood audiences with holiday content. And now that theaters are back open, Christmas movies are starting to head back into theaters, with the release of Violent Night certain to be the next Christmas blockbuster.
While the 2020s are definitely the most diverse decade of Christmas movies, it's also home to the decade of reboots, revivals, and adaptations. Disney+ attempted to resurrect the Home Alone franchise in 2021 with little success, but that didn't stop HBO Max from trying their hand at another A Christmas Story sequel. The 20202s might only have three years under its belt, but that doesn't mean there aren't already a handful of Christmas movies to celebrate.
10/10

Single All The Way (2021) – 6.1
Stream On Netflix
In 2021, Netflix released its first gay Christmas movie Single All The Way. After discovering his boyfriend has a secret family, Peter convinces his best friend Nick to come home with him for the holidays and pretend to be his boyfriend. However, the fake dating charade barely takes off when Peter arrives to learn his mom has set him on a blind date. Seeing Peter go out on dates causes Nick to confront his own feelings that he's been ignoring.
RELATED: 20 Best Christmas Movies Of The 2000s
Set against the backdrop of a hometown family Christmas, Single All The Way delivers on all the best Christmas movie tropes. It also feels very of its time with Peter dealing with a viral social media ad campaign for work and dating apps being a constant topic of discussion.
9/10

Love Hard (2021) – 6.3
Stream On Netflix
After being talked into expanding her dating app radius, Natalie matches with a guy who might just be the guy of her dreams. After hitting it off, Natalie decides to surprise him by traveling to his hometown for Christmas. However, Natalie is the one who gets the surprise of a lifetime when she learns she's been catfished.
Netflix'sLove Hardis one of the best, most authentic Christmas stories of the 2020s. After all, nothing says the 2020s quite like dating app disasters and a case of catfishing that actually doesn't end up too terrible.
8/10

Jingle Jangle: A Christmas Journey (2020) – 6.4
Stream On Netflix
The delightful Jingle Jangle: A Christmas Journey follows Jeronicus Jangle, an inventor and toy maker who loses his business and test for toymaking when his apprentice steals everything from him. However, he gets renewed joy when his granddaughter shows an interest in his craft.
This movie might not scream the 2020s, but that's okay. The story is timeless and the perfect Christmas movie to stream on Netflix with the kids. Plus, it tells an incredible story about the grandfather-granddaughter bond.
7/10

Happiest Season (2020) – 6.6
Stream On Hulu
Invited to spend Christmas with her girlfriend and her family, Abby decides it's the perfect time to propose to Harper. However, her plans are thwarted when Harper reveals she hasn't come out to her family yet and that she needs Abby to pretend to be just her roommate for the duration of their stay.
RELATED: Happiest Season & 9 Other LGBTQ+ Rom-Coms Perfect For The Holidays
As one of the first mainstream lesbian Christmas stories, Happiest Seasondefinitely feels of its time. It also deals with the delicate nature of finding the right moment to come out to loved ones and how that decision may affect significant others.
6/10

Spirited (2022) – 6.6
Stream On Apple TV+
Charles Dickinson's A Christmas Carol has been adapted so many times, but in 2022 its been turned into a musical. It centers on The Ghost of Christmas Present, who is nearing retirement but not ready to give up his job and return to Earth.
Apple TV+'sSpiritedis hilarious and features some of the best comedic talents which helps modernize the classic tale. It also features original songs making it certain that it's on its way to being one of the best Christmas musicals.
5/10

A Boy Called Christmas (2021) – 6.7
Stream On Netflix
After his father disappears trying to find the fabled village of Elfhelm, Nikolas sets out with his trusty reindeer and pet mouse to find his father. Along the way, he uncovers his true destiny.
A Boy Called Christmas features some of the most visibly stunning animations of the decade. It also tells a whimsical and heartwarming tale, certain to get the Christmas spirit flowing with families.
4/10

8-Bit Christmas (2021) – 6.7
Stream On HBO Max
Trying to relate to his cell phone-obsessed daughter, Jake tells her the story of the wild adventure he went on in the 1980s to get his hands on the Nintendo Entertainment System.
Though 8-Bit Christmasmainly takes place in the 1980s, it still feels very much like the 2020s, perhaps, because the decade is keen on reminiscing about the past decade. It's also a wholesome Christmas movie to watch with the family since adults and kids can relate to the story.
3/10

The Christmas Setup (2020) – 6.8
Stream On Lifetime App & Hulu
Hugo is an uptight New York City attorney who gets talked into going home for the holidays by his best friend and his mom. While there, he reconnects with his high school crush, Patrick, who also happens to have been harboring a major crush back in the day.
RELATED: 9 Reasons Why Lifetime Christmas Movies Are The Best (& 9 Why Hallmark's Are)
The Christmas Setup is Lifetime's first LGBTQ+-themed Christmas movie and was met with high praise by fans. While the movie delivers on all the usual Lifetime movie tropes, it also delivers a few modern twists and turns.
2/10

A Christmas Story Christmas (2022) – 6.9
Stream On HBO Max
40 years after the original A Christmas Story, some of the original cast reprised their roles for A Christmas Story Christmas. The movie centers on an adult, Ralphie, who returns to his childhood home with his family to give them a true family Christmas.
While the movie doesn't take place in modern times, it does capture the nostalgia, so many audiences feel in today's age. It also delivers a heartwarming sequel that has left fans of the original happy.
1/10

Violent Night (2022) – 7.1
Now Playing In Theaters
Disillusioned by the new ways of Christmas, Santa Claus finds himself caught between mercenaries as the family he's delivering gifts to gets held hostage. After learning the daughter is on his nice list, Santa sets out to find her and take down the mercenaries once and for all.
The uniqueViolent Nightis the 2020s take on unconventional Christmas movies, and it is not disappointing. It's only been in theaters for a few days, it's already getting rave reviews.
MORE: Top 10 Christmas Movies Of The 2010s, Ranked According to IMDb
Share this news on your Fb,Twitter and Whatsapp
NY Press News:Latest News Headlines
NY Press News||Health||New York||USA News||Technology||World NewsTimes News Network:Latest News Headlines
Times News Network||Health||New York||USA News||Technology||World News