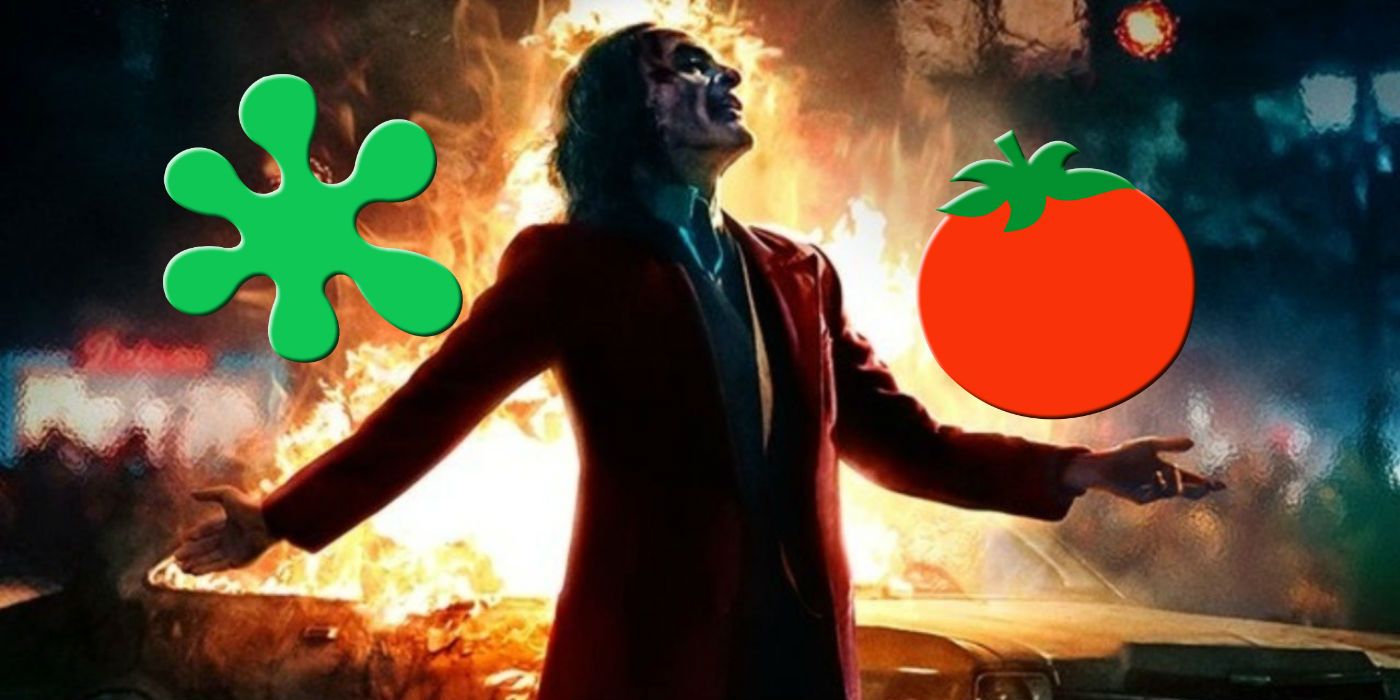 Todd Phillips' Joker, despite a triumphant film festival run that gave the film a Golden Lion win, divided critics when it moved into general release. Joker is an origin story for Batman's greatest nemesis – starring Joaquin Phoenix as Arthur Fleck, a party clown and aspiring stand-up comedian. The comic book film follows his struggles with his mental illness and miserable existence, until eventually, having been pushed too far, he transforms himself into the Joker.
Joker's first screenings were met with a wave of five-star reviews, but after it reached a wider pool of critics, opinions on the movie were split. The film tenuously held on to a "Certified Fresh" badge on Rotten Tomatoes, with a score of 68 percent and an average rating of 7.30 so while the majority of critics did rate Joker positively, there are also a lot of dissenters. Even before it screened for the majority of critics, Joker was dogged by controversy: first because of concerns that it could inspire a mass shooting, and later because Phillips made comments about how "woke culture" made it impossible for him to continue making comedies, and that Joker is a "real movie [made] under the guise of a comic book film" – which many saw as being disparaging towards comic book movies.
Related: Joker's Reviews Already Prove Rotten Tomatoes Is Still Broken
Of course, it's true that Joker wasn't designed to be a traditional comic book movie, and the differing reactions are to be expected since the movie doesn't exactly play things safe, particularly with its depiction of controversial issues. For most critics, it's a gamble that paid off, with particular praise directed at Phoenix's performance and the film's impressive cinematography. However, here's what some of the reviewers who weren't so amazed had to say.
Phoenix, alternately brooding and exulting, dancing extravagantly in his underwear or in a resplendent costume or seething with rage, cringing with horror, or camping it up with an affected accent, isn't so much unhinged as unmotivated and, to all appearances, undirected. What he delivers is less a performance than a display of his bag of actorly tricks—and they're pretty wonderful, but they adorn a character who's an empty framework, and, to all appearances, empty by design, for fear of alienating the target audience.
Joker is a bad movie, yes: It's predictable, clichéd, deeply derivative of other, better movies, and overwritten to the point of self-parody… The experience of sitting through it is highly unpleasant, but that unpleasantness has less to do with graphic violence—there are only one or two scenes that go hard, gore-wise—than with claustrophobia and boredom.
Joker… is a calculatedly combustible concoction, designed, like its chaos-creating character, to cause a stir. To provoke and distort. I wish it was as radical as it thinks it is. Instead, Joker is a mesmerizing, misjudged attempt to marry the madness of a disturbed individual to today's violent and clownish times. It's a shallow, under-examined movie that renders the dark descent of a troubled man with an operatic fervor.
It's possessed by the kind of provocative spirit that's seldom found in any sort of mainstream entertainment, but also directed by a glorified edgelord who lacks the discipline or nuance to responsibly handle such hazardous material, and who reliably takes the coward's way out of the narrative's most critical moments
As many have noted, Arthur's a classic incel candidate, an involuntary celibate steeped in resentments and dreams of the good life, with a beautiful woman by his side and a more civil and just society. In his aggrieved urban-white-male rage, he can sit at the same poker table as the guy from "Falling Down," next to Travis Bickle from the genuinely, profoundly ambiguous and unsettling "Taxi Driver." Early on Arthur incel-stalks his neighbor (Zazie Beetz, playing a symbol of what Arthur cannot have, rather than a human being). Later, at the social service agency office about to close up for good, the weary social service worker (Sharon Washington) lays it out for him, in a typical sledgehammer line: "They don't give a —t about people like you, Arthur."
EW:
Maybe he only sincerely means to capture and reflect the times; a mirror held up to the anger and alienation and class disparities that have shaped the world we find ourselves living in. The rules of the movie's moral universe, though, don't point toward some greater good as much as they just seem to celebrate – or at least tacitly approve – chaos as a cure for hopelessness, or merely for its own destabilizing sake.
Interestingly, most of the more negative reviews (and some of the positive reviews as well) don't call out Joker for being dangerous or potentially aspirational viewing for mass killers, but rather not being bold or interesting enough to warrant all the fuss that's been made over it. The most common criticisms are that Phillips' work is simply too derivative of Martin Scorsese's films (The King of Comedy and Taxi Driver, in particular) to carve out an identity of its own, and that it lacks depth, with its notions of mental illness, society and class left vague and improperly explored. Neverthless, that being said, Joker has of course received plenty of rave reviews. Here's what the critics who loved it had to say.
In Joker, Joaquin Phoenix digs into the title role, kicks out the jams, and stamps the character with a danger all his own. "Phenomenal" is a puny word to describe his gut-punch performance… As entertainment and provocation, Joker is simply stupendous.
Many have asked, and with good reason: Do we need another Joker movie? Yet what we do need — badly — are comic-book films that have a verité gravitas, that unfold in the real world, so that there's something more dramatic at stake than whether the film in question is going to rack up a billion-and-a-half dollars worldwide. Joker manages the nimble feat of telling the Joker's origin story as if it were unprecedented.
Built around a credible spiral from lonely outsider to deranged killer, it's as much a neo-noir psychological character study grounded in urban alienation and styled after Taxi Driver as a rise-of-the-supervillain portrait. It's arguably the best Batman-adjacent movie since The Dark Knight… The must-see factor of Phoenix's riveting performance alone – it's both unsettling and weirdly affecting – will be significant.
The movie allows these rich ideas and associations to swirl around Phoenix, who just keeps laughing and seething and dancing and laughing and falling apart and laughing some more. Phillips holds the camera tight on his star, sometimes following him down long hallways from behind and often shooting him in slow-motion, while a cellist saws away mournfully in the background. He lets us feel the physicality of Phoenix's performance, the way his rib bones seem to protrude like daggers from his emaciated frame (the actor shed 52 pounds for the role). He makes sure we note the incremental shifts in the Joker's clown makeup, complete with blue tear streaks and blood-red rictus grin.
It's heady, incendiary stuff, and it's surprising how far "Joker" goes, and how much it's able to get away with. One sequence in particular plays like a horror move, more stomach churning and uncomfortable than anything in the "Saw" movies. But it's not because it's graphic or gory. The horror of the situation is all in the viewer's mind, and Phillips plays it perfectly.
Phillips and Phoenix deserve credit for reimagining what a comic book movie can be. One that isn't encumbered with setting up multi-movie plot lines and one that can go to places other films in this genre can't.
Joker's Audience Reactions Ended Up Much More Positive Overall
While the reviews heading into Joker's wide theatrical release were decidedly mixed, as seen above, overall audience reaction to the film was considerably tilted more toward the positive side. Joker holds an 88% audience score on Rotten Tomatoes, and an 8.4 rating on IMDB. Positive word of mouth helped the DC origin story have legs at the box office too, ultimately leading to a worldwide gross of over $1 billion on a budget of only $70 million, making Joker one of the most profitable films in history.
Aside from being a major box-office success, the comic book film also received numerous international accolades, including a historic nomination count at the 2020 Oscars, where it won Best Actor for Joaquin Phoenix and Best Original Score for Hildur Guðnadóttir, and several Best Foreign Feature Film wins. This proves that despite divided critical opinion, Joker is still one of the most well-received films of the year.
In fact, Joker's mixed reviews only encouraged moviegoers to watch the film and join the hype, as proven by the box office. Surely, this also led to viewers being divided on their opinion as well — with some agreeing on the negative reviews, while the others vehemently believing in the film's ideals. But for all the hand-wringing and controversy that went into Joker's release, the DC film proved to be just that: a piece of popular entertainment, and not an incitement toward violence.
More: Read Screen Rant's Review of Joker
The Batman (2022)Release date: Mar 04, 2022
Aquaman and the Lost Kingdom (2022)Release date: Dec 16, 2022
DC League of Super-Pets (2022)Release date: May 20, 2022
Black Adam (2022)Release date: Jul 29, 2022
The Flash (2022)Release date: Nov 04, 2022
Shazam! Fury of the Gods (2023)Release date: Jun 02, 2023
Dune Ending Explained
About The Author
Share this news on your Fb,Twitter and Whatsapp
NY Press News:Latest News Headlines
NY Press News||Health||New York||USA News||Technology||World News