Stock Market
Bed Bath & Beyond says it now has about $360 million in proceeds from 'most unusual' February equity offering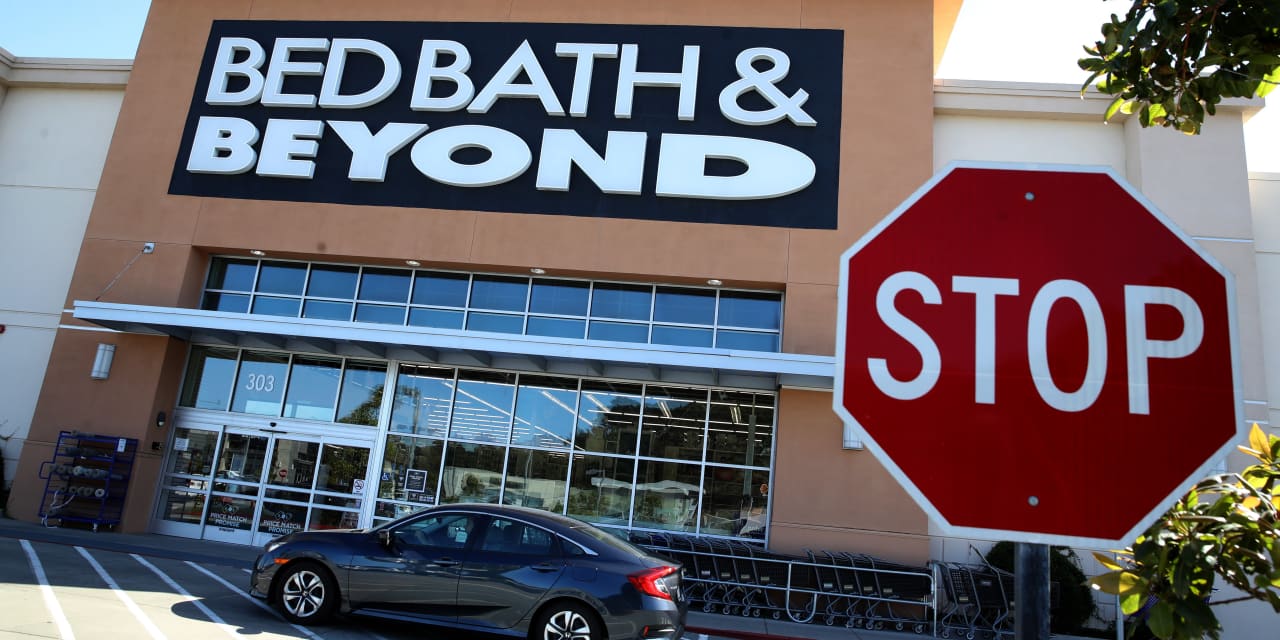 [ad_1]
Bed Bath & Beyond Inc. has received about $135 million in gross proceeds from the exercise of preferred stock warrants that were issued as part of a public equity offering conducted on Feb. 7, the company said Wednesday.
That deal, which was described by KeyBanc Capital Markets analyst Bradley Thomas as "one of the most unusual financing situations we have witnessed in 20+ years of following consumer and retail companies," has now produced total proceeds of $360 million.
The troubled households goods retailer sold convertible preferred stock and the warrants to raise an initial $225 million and said it could raise up to an additional $800 million. The deal came a month after the company warned it may have to file for bankruptcy as its finances and performance continued to deteriorate.
Proceeds of the deals have been used to repay outstanding revolving loans, "creating additional liquidity opportunities to support business operating activities," the company said in a Wednesday release.
Read: Bed Bath & Beyond had a rough week. Here's what could happen next.
The news comes after the Bed Bath & Beyond
BBBY,
-3.73%
last week had made the interest payments on senior notes that were due Feb. 1. That led to S&P Global Ratings upgrading the issuer credit rating on the company to 'CCC-' from 'D', albeit that remains deep in junk-bond territory.
See Now: Bed Bath & Beyond making 'last gasp' to survive before filing for bankruptcy, says analyst, warning that the equity will eventually be wiped out
"Since closing our equity financing last month, we have engaged with suppliers to improve our inventory positioning and we have continued to optimize our bricks-and-mortar footprint through store closures to align with customer preference," Chief Executive Sue Gove said in the release.
The company has now entered into a waiver and amendment to its credit agreement, she added.
S&P is not convinced the company can get past its current troubles.
"Despite its incremental liquidity position, we believe BBBY's turnaround prospects remain very weak. In our view, BBBY's customer value proposition has eroded significantly due to poor merchandising decisions, deficient omnichannel capabilities, and a lack of available inventory in key product categories," the agency wrote in its upgrade.
With the company's senior notes trading at a deep discount to par, S&P is expecting the company to pursue a distressed debt exchange, as it has in the past, to reduce principal and interest expense.
Equity research analysts are equally unconvinced.
KeyBanc's Thomas said this week a combination of factors point to continued risks for hardline and broadline retailers, including Bed Bath & Beyond. The list includes a decline in consumer confidence in February, housing turnover remaining negative for a 19th straight month, the food at home CPI increasing by 11.3% in January from the year-earlier month and higher mortgage rates.
The personal savings rate was flat in February from the year-ago period, but remains well below prepandemic levels, said Thomas, suggesting consumers are increasingly tapping credit for purchases.
Thomas has an underweight rating on Bed Bath & Beyond stock and a 10 cent price target. The stock was last trading at $1.88 and has fallen 94% in the past 12 months, compared with a 4% decline for the S&P 500 index
SPX,
-0.02%.
Read now: Meme-stock era record falls: Retail traders dumped $1.5 billion a day into U.S. equities in January
[ad_2]
Share this news on your Fb,Twitter and Whatsapp
Times News Network:Latest News Headlines
Times News Network||Health||