Health
Elation Health Vs NextGen EMR: A Complete Guide 2022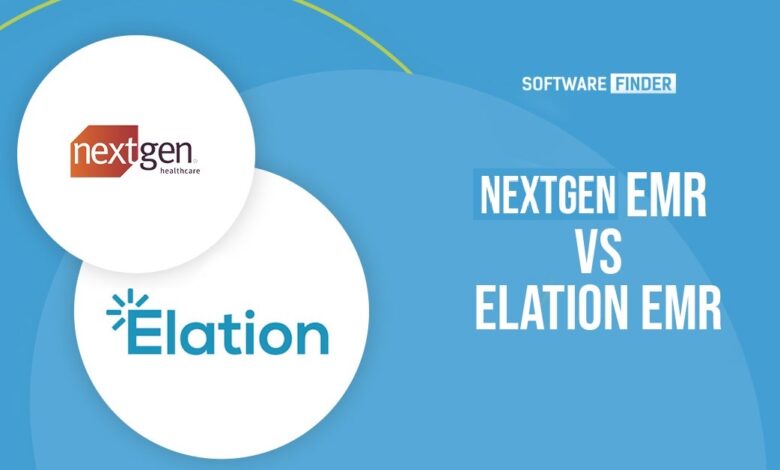 Elation Health is appropriate for small and medium-sized hospitals, primary care units, and independent practice centers that make their own EMR choices. The solution delivers invoicing and practice management tools in addition to its fundamental EHR capabilities. The web-based application assists medical practitioners in scheduling appointments, documenting patients' medical histories, organizing calendars, setting reminders, and managing invoicing and insurance reimbursement. NextGen EMR grew out of a firm started in 1998 by two physicians with a single objective: to increase the efficiency of medical office operations. The company's founders devised a solution to accommodate physician and staff workflow with user-friendly, affordable technology that adjusts to the specific workflow of each facility and is available from anywhere.
Keep reading further to get more information about the two software and decide which one is more appropriate for your business.
About Elation Health 
The program is intended to assist physicians and health care workers in managing day-to-day documentation work, enhancing patient-physician relationships, and enhancing the overall quality of care. In addition, Elation offers an ONC-ATCB-certified solution in 2015 that includes patient scheduling, charting, compliance tracking, a patient portal, e-faxing, and e-prescribing. In addition to its basic functions, the platform includes practice administration and a billing service. Finally, the system provides a three-pane view of the patient's health record, giving clinicians a comprehensive perspective of the patient's whole medical history.
Elation Health Key Features
Ease Of Communication
Elation Health's thorough search function enables physicians to swiftly access patient medical information, that is, regular symptoms, vitals, cholesterol values, etc. Depending on patient requests, doctors can generate prescriptions by automatically renewing current scripts and exchanging them electronically with either in-house or external pharmacies. With built-in messaging capabilities, medical professionals can securely share patient-clinical information with colleagues and patients.
Document Management 
The documentation of patient health records is facilitated and expedited by the EMR provider's design of the Elation solution for doctors. It is possible to upload and update patient records in real-time, minimizing delays. Therefore, it allows you to frequently accomplish jobs in three minutes, whilst other systems require five minutes or more.
Efficient Interface 
The interface of the Elation EMR software enables smooth EHR navigation and simultaneous completion of numerous tasks. You can, for instance, toggle between the most recent visit note, lab results in chronological order, and patient profiles with crucial medical information. According to software evaluations, it saves you many minutes per visit and stops you from being frustrated.
Accurate Coding 
Using Elation EHR, healthcare organizations gain access to special patient payment software. The application instantly analyses your practice's coding data and sends an alarm if the clinic cannot adhere to Medicare's established criteria. Additionally, it is tailored to certain specialties and alerts you when under-coding causes financial losses.
Elation Health Pricing 
The software offers a subscription-based pricing model. The first one starts at $349 per month and is the Direct Care model. The second option is Insurance which begins at $399 per month. And the last option is a customizable one and is known as the Enterprise plan.
Elation Health Demo
To ensure that you are truly aware of what you wish to buy, the EMR additionally provides a free demo of all Elation capabilities. Business does, in fact, support total transparency.
Elation Health Reviews 
Elation EHR is praised for its customizable UI. It is user-friendly and has fewer bugs than competing medical software. Users are satisfied by how perfectly everything is organized, which saves them both energy and time. However, the customers recommend that the EMR vendor implement frequent software updates.
About NextGen EMR 
NextGen Medical Software has developed a cloud-based EMR application (MediTouch) for private clinics. Next Gen Software is a fully integrated practice management system that features specialty-specific content, a claims clearinghouse, and a user-friendly patient portal. In addition, it is compatible with any tablet or laptop (Apple or Windows), supports touchscreens, is compatible with all browsers, and complies with HIPAA.
NextGen EMR Key Features 
Dashboards
NextGen EMR's interface is sleek and basic, making navigation far more accessible. The creators created it with the understanding that doctors are always in a hurry. There is a centralized screen with large, simple-to-select icons from which you may access all the features. Soon, using the system will become second nature to you, and you'll be a pro at navigating it. The purpose of the program is to make things easier for users, and a single dashboard is intended to do this.
E-Prescribing
The EMR's e-prescribing technology allows you to detect medication combinations, dosage difficulties, and patient allergies. You can send digital prescriptions to your patients' favorite pharmacies using this EHR. After that, patients can get it at their convenience.
Patient Portal 
With NextGen EMR software, you can simultaneously reduce your workload and assist patients. Patients can check their reports and appointments on this site. In addition, they can download medical documents, complete electronic forms, and book new appointments. In addition, patients no longer need to visit the hospital to acquire test results, as they are accessible on the hospital's website. NextGen is a fantastic option because of the portal, which is a valuable feature.
NextGen EMR Pricing
The pricing plans for the software are unavailable as they are customizable and there is no free trial either. Users can contact the vendor to find pricing models.
NextGen EMR Demo
If you still have doubts about the product, requesting a sample is the easiest approach to eliminate them. A demo is useful for answering all questions and clearing up any confusion regarding the instrument.
NextGen EMR Reviews
The majority of NextGen EMR users find the aforementioned capabilities to be extremely practical and user-friendly. As a result, the majority of reviews are good. Nonetheless, few customers have observed a few problems. Therefore, despite its good internet rating, we must acknowledge that it has problems.
Conclusion
This review will help medical practices to decide which software is most suitable for their business after keeping in mind its features and benefits.