Dallas
Dallas-Fort Worth will be the nation's top buyer's market for homes this year, forecast says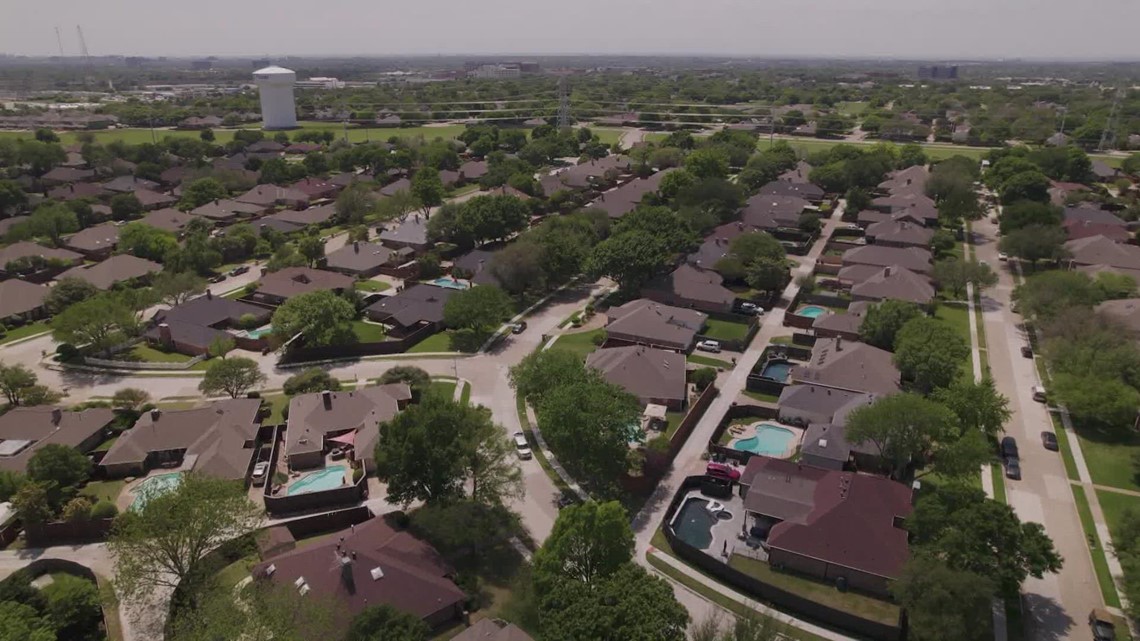 The forecast is based largely on projections for the housing supply, but also factors in demand and other metrics.
Dallas-Fort Worth will be the top buyer's market in the nation by year-end 2023 due primarily to a surge of homes for sale, according to a new forecast.
With little incentive for homeowners with sub-3% mortgage rates to sell, 50 of the 100 largest U.S. housing markets are expected to see inventory declines, according to the Knock Buyer-Seller Market Index released today. The index this month ranks the markets with the largest expected inventory gains in 2023.
DFW ranks No. 2 on Knock's list of Top 10 markets with the largest increase in the number of homes for sale. 
In addition, by year-end, Knock forecasts DFW to be the nation's top buyers' market. 
The forecast is based largely on projections for the housing supply, but also factors in demand and other metrics.
In another year of slim pickings, the top 10 markets likely to see the biggest gains in for-sale homes in 2023, in order, are: Salt Lake City; Dallas; Denver; Charlotte, N.C.; Memphis, Tenn.; Las Vegas; Charleston, S.C.; Colorado Springs, Colo.; St. Louis and New Orleans. 
Inventory in these markets is forecast to increase throughout 2023, peaking in September, October and November. This means buyers with the flexibility to wait until the fall will see more buying options. 
In DFW, inventory will peak in October, according to the forecast.
Like the rest of the country, inventory in the Top 10 markets fell during the pandemic. However, they did not see the same massive declines as the rest of the nation. 
In the three markets where inventory is expected to grow the most — Salt Lake City, Dallas and Denver — inventory declined by 20%, 34% and 20%, respectively, between December 2019 and December 2022, compared to 42% elsewhere.
In the year ahead, DFW is forecast to see inventory growth of 100.4%. 
Although the low housing inventory has led to record-high home prices over the past several years, this year's inventory growth won't necessarily translate into home price declines. Only three of the markets on Knock's list of the top 10 markets for buyers to find a home – Salt Lake City, Las Vegas and New Orleans – are forecast for price declines over the next 12 months. The remainder, including DFW, are projected to see home prices remain flat or grow marginally.
The median sales price of $375,831 in DFW is expected to grow 6.3% in the year ahead, according to Knock.
With 50 of the 100 largest U.S. markets expected to see inventory declines, home shoppers will continue to have a limited number of homes to choose from. Prospective buyers with flexibility in terms of when and where they purchase stand a better chance of finding a home, according to the Buyer-Seller Market Index, which analyzes key housing market metrics to measure the degree to which the nation's 100 largest markets favor home buyers or sellers.
The housing market has shifted dramatically over the past 12 months, when none of the markets tracked favored buyers. 
In December 2022, 13 markets favored buyers, 44 favored sellers, and 43 were neutral (not favoring buyers or sellers).
Looking ahead, by December 2023, 34 markets are forecast to be buyers' markets, 34 markets will remain sellers' markets, and 32 will be neutral. 
Despite a slight increase in home prices nationally — up 0.7% from December 2021 — homes sold at a lower price than the asking price in all but six of the 100 largest markets. Those markets were Buffalo, N.Y.;  Hartford, Conn.; New Haven, Conn.; Rochester, N.Y.; Springfield, Mass.; and Syracuse, N.Y.
Median days on the market increased across the U.S. to 29, a full two weeks longer than a year ago.
At year-end 2022, there were a total of 354,000 homes for sale nationally, an increase of 32.1% year over year, primarily as a result of falling sales, not the addition of new listings. 
"We expect 2023 to bring more balance to the housing market, which is certainly good news for buyers following three years of intense competition," Knock co-founder and CEO Sean Black said in a report accompanying the index. "At the same time, with inventory down nearly 42%from the start of the pandemic and no real incentive for sellers to move, finding a home you both like and can afford will remain a challenge."
"Those buyers with flexibility on where and when to move have an opportunity to find more homes for sale in some of the nation's largest and most desirable housing markets beginning in the fall," Black added.
The housing market will likely return to more seasonal patterns in 2023 – shifting toward sellers in the spring before moving firmly into buyer market territory by summer where it will remain through year-end, according to Knock.
Nationwide, home prices are forecast to peak at $366,000 by June 2023 — well below the record-breaking annual median sale price peak of $410,000 set in April, May and June 2022. By December 2023, the median price is forecast to be $351,000, a 4% decline from $365,000 year-over-year.
Home sales nationally are forecast to decline by 10.5% year over year, with the number of sales dropping in 75 markets. Median days on market are forecast to increase to 52 days by year-end — the longest of any time since January 2017. 
The sale-to-ask price ratio is forecast to hover 2% to 3% below list price through spring. It will begin to decline in August, ending the year down 4%, the lowest since January 2017, the beginning of Knock's Buyer-Seller Market Index.
Share this news on your Fb,Twitter and Whatsapp
Times News Network:Latest News Headlines
Times News Network||Health||New York||USA News||Technology||World News