Dallas
Death toll rises to 37 following eastern Kentucky flooding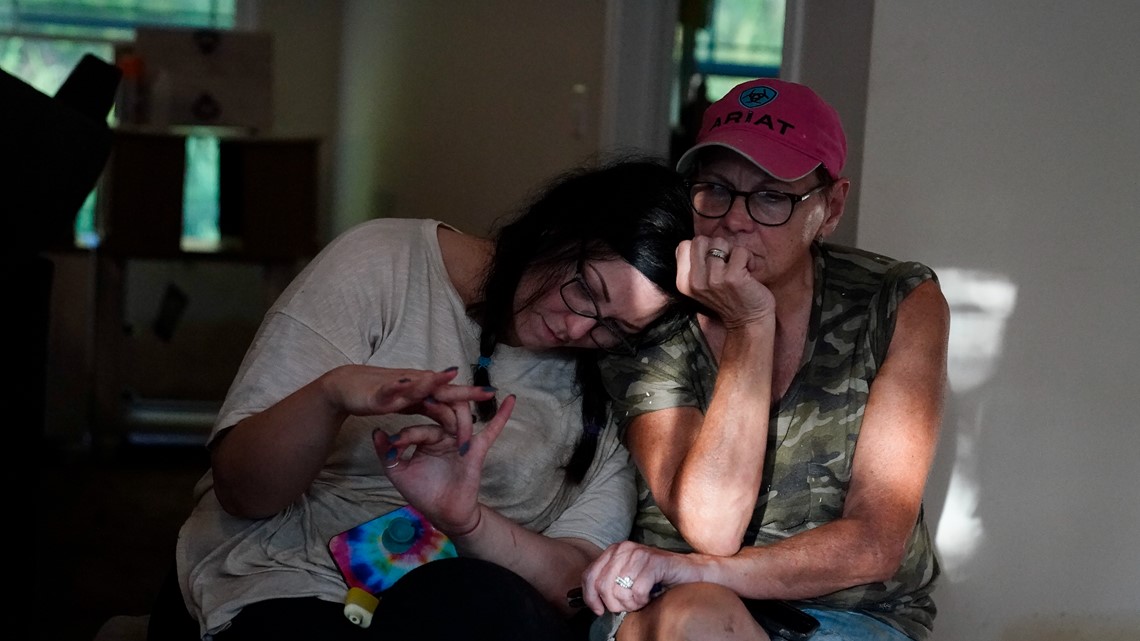 Governor Andy Beshear says, for the fourth day in a row, there have been no new deaths following last week's catastrophic flooding in eastern Kentucky
The death toll remains at 37, he said Friday. The majority of those deaths are from Knott County, where four children died.
It was previously reported that six children were among the dead, but Beshear said July 30 two of the bodies were later identified as adults. There are five counties with death tolls, Beshear said. He called the disaster "devastating." 
"Continue to pray for the families that have suffered an unfathomable loss, some have lost almost everyone in their household," he said. "I'm worried we're gonna be finding bodies for weeks to come." 
Beshear said during a Friday update that crews are out of the search and rescue phase and have moved on to doing wellness checks, as more rain is on the way in the coming days and could cause additional flash flooding.
"The ground is already really saturated," he said. "There's a lot of debris that's out there that could cause clogging in waterways that could lead to flooding."
PHOTOS: Aftermath of eastern Kentucky flooding
Many of the communities hit the hardest have seen an overwhelming amount of volunteers.
"Now that we can reach many of these areas; the donations, the food, the water is flooding in," Beshear said.
Beshear says 209 people are being house in temporary shelters. Another 320 displaced Kentuckians are in state parks.
More than 1,400 people have been rescued by boat and helicopter, and fourteen counties and three cities have declared emergencies. 
There are a little more than 1,000 people without power in the region, Beshear says unlike in western Kentucky, standing water has slowed restoration efforts. This number is down though from nearly 25,000 at one point on Thursday.
He said there are roughly 11,700 households and businesses without water, there are approximately 35,000 under a boil water advisory. 
"I think about the last eight days and services are being restored," he said. "When you look at the level of damage they are being restored, they are being restored at a pace that is nothing short than remarkable."
Travel trailers to temporarily house displaced residents have started making their way to eastern Kentucky.
As of Friday morning, over $3.6 million has been raised to help survivors.
Donations help with food, shelter and other necessities of life and go towards any emergency funds that come into the area.
The governor said the first expenditure will be for providing money to the families who have lost loved ones so they can have funerals.
"The least we ought to be able to do is grieve together," he said. "It's the least we can do, is to be there with these folks in this incredibly difficult time."


'By far the worst'
:
State of emergency declared
Governor Beshear declared a state of emergency Thursday morning, enacting the National Guard to begin mobilizing for rescue operations.
The governor took a helicopter fly-over of some of the impacted communities on Friday, later saying this flood is "by far the worst" he's ever seen.
"Hundreds of homes, their ball fields, their parks, businesses, under more water than I think any of us have ever seen in that area, absolutely impassable in numerous spots, so just devastating," he said Friday afternoon.
Beshear says many more Kentuckians are still missing, but an exact number isn't reliable due to the level of destruction.
"Communication is still very difficult. We're trying to amplify cell service," Beshear said. "It's going to be very challenging to get a good number, but what people can do is to report their unaccounted loved one."
The governor says those with missing loved ones should email state police at [email protected] or call 1-800-RED-CROSS. He said to not call 911 for missing people, it should only be used for emergencies.
"We're gonna do our best to find them all," he said.
Shelters have been established to help displaced people. Those shelters are located in the following state parks:
Pine Mountain State Resort Park
Jenny Wiley State Resort Park 
Buckhorn Lake State Resort Park 


What happened?
:
8-10.5″ of rain in 48 hours
As rainfall hammered Appalachia this week, water tumbled down hillsides and into valleys and hollows where it swelled creeks and streams coursing through small towns. 
The torrent engulfed homes and businesses and trashed vehicles. Mudslides marooned some people on steep slopes.
When the rain finally let up early Friday, parts of eastern Kentucky had received between 8 and 10 1/2 inches over 48 hours. But some waterways were still not expected to crest until Saturday.
"I believe it will be one of the most significant, deadly floods that we have had in Kentucky in at least a very long time," Beshear said.
The floodwaters raging through Appalachia were so swift that some people trapped in their homes couldn't be immediately reached, said Floyd County Judge-Executive Robbie Williams.
Just to the west in hard-hit Perry County, authorities said some people remained unaccounted for and almost everyone in the area suffered some sort of damage.
"We've still got a lot of searching to do," Jerry Stacy, the county's emergency management director, said.


'We are grateful.'
:
Incoming federal aid
Federal Emergency Management Agency (FEMA) response teams are on the ground in eastern Kentucky assisting with rescue efforts.
Beshear said Saturday additional FEMA teams are arriving in the state soon to help with processing damage claims.
Renters and homeowners in eight counties, including Breathitt, Clay, Knott, Letcher, Perry, Floyd, Perry and Pike can now apply for individual disaster assistance.
How to file for individual assistance:
Click here to file online
Call 800-621-3362
Or use the FEMA mobile app
FEMA is also providing 18 truck loads of clean drinking water, as many parts of the region are without drinking water or under a water boil advisory.
He reassured Kentuckians impacted by the catastrophic flooding that help is on the way and will remain there as long as it's needed.
"We're gonna be there for them today," Beshear said. "We're gonna be there for them once they're safe and when they're thinking of what's next as well."
"We asked for this last night; it came early this morning — one of the fastest disaster declarations we've seen, and we are grateful for it," the governor said.


'Boots on the ground'
:
Louisville groups head east
Within 12 hours of receiving a call asking if she could make the trip, Cindy Keeney was already packing up supplies.                               
"[It's] an opportunity to give back — it's an opportunity to do something in times of crisis," Keeney said.
Jeremy Harrell, the founder of the Veteran's Club, said they're preparing to head to southeastern Kentucky, just like they did for Mayfield.
Meanwhile, the humanitarian organization Save the Children has a base in Madison County. And through more than 400 staff members, they're providing necessities for the kids impacted. 
Shane Garver, head of Education, Hunger and Resilience work in the U.S. with Save the Children, said they have diapers, wipes, car seats and cribs.
Make it easy to keep up-to-date with more stories like this. Download the WHAS11 News app now. For Apple or Android users.
Share this news on your Fb,Twitter and Whatsapp
Times News Network:Latest News Headlines
Times News Network||Health||New York||USA News||Technology||World News