Australia
Surge disaster stalls Heat momentum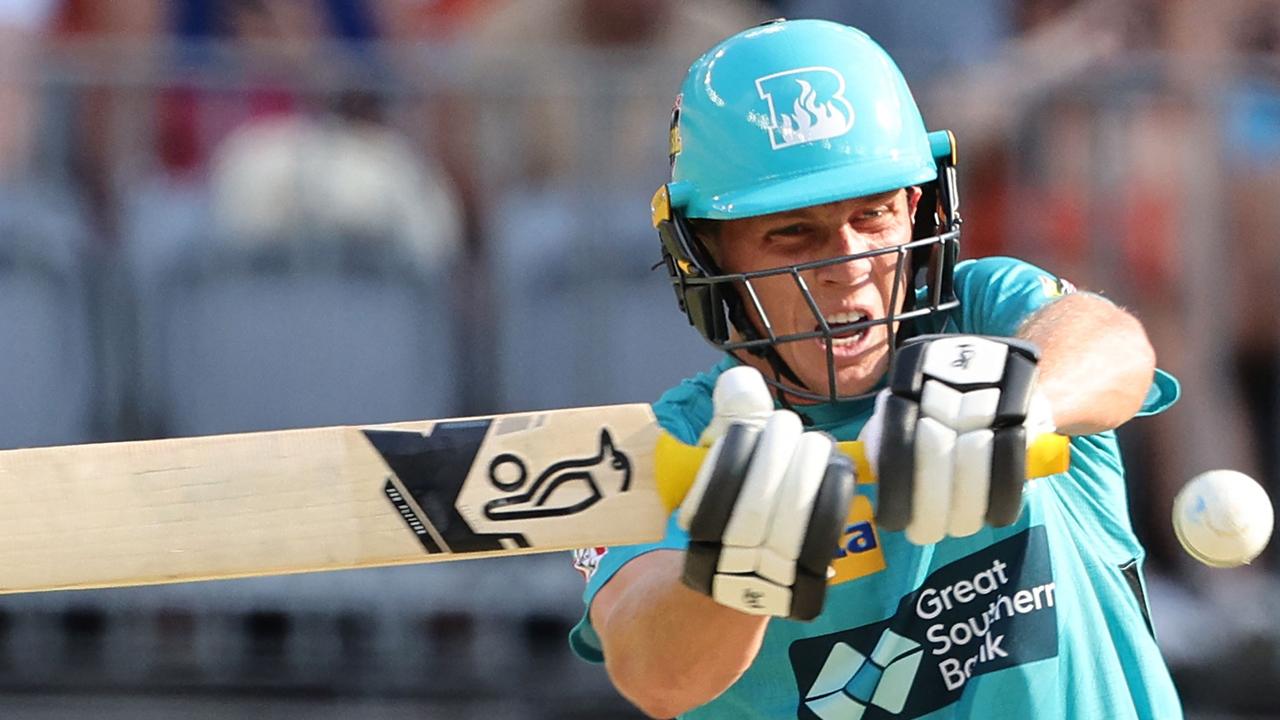 Labelled "nobodies" by the Western Australia press, Brisbane Heat will enter Saturday's Big Bash League final as rank underdogs.
The Heat defied the odds without Usman Khawaja, Marnus Labuschagne, Matt Renshaw and Mitch Swepson to overcome Sydney Sixers in the challenger final.
But Perth on its home deck will be an even sterner test as the Heat tries to cap a fairytale rise from the bottom of the ladder midway through BBL12.
The West Australia's back page featured a headline 'Heat's on for nobodies' to which the Heat replied "we keep out receipts".
It'll be interesting to see what Brisbane comes up with if it can cause a boilover.
"They did beat them in 02 in the final…the last two or three weeks has been amazing," says Mark Waugh in commentary.
"While their team on paper doesn't look as strong as the Scorchers they have a lot of self-belief."
8.35PM SURGE DISASTER FOR HEAT
How many times have we seen the power surge hurt a team this summer? It could hardly have gone worse for the Heat. Jason Behrendorff and David Payne manage 2-8 off the two overs with the field up including three dot balls in Payne's over. Brisbane Heat needs a huge finish now at 3-112 off 14. "Could have gone one or two way, if they got 25 or 30 off the Power Surge, in a tough spot," Perth opener Stephen Eskinazi says on Channel 7.
8.29PM PEIRSON OUT TOO
Double blow for the Heat. Captain Jimmy Peirson is done for pace by Behrendorff and an attempted hook shot catches him high on the bat/glove. It balloons to short fine leg and momentum is turning torward the Scorchers. Sam Hain has played some big innings for Brisbane since replacing Sam Billings.
8.25PM HEAZLETT GONE
You sense a crucial period in this match is upon us as Heazlett is caught at short fine leg off the first ball of the surge. Brisbane either pushes on here or could lose a few wickets. Jimmy Peirson comes in.
8.22PM COULD CONDITIONS FAVOUR THE HEAT?
It's an away final — and one of the longest trips in the BBL — but could Brisbane actually be favoured by an Optus Stadium final.
Ricky Ponting notes in commentary: "Conditions that actually suit Brisbane. As I said all this week leading up to this game, they were less suited for the final in Sydney," he said.
"They play in Brisbane obviously, which is a lot more like this sort of surface, but their bowling attack is more suited to this type of wicket than it was to the turning wicket at the SCG.
"Think about Neser, Spencer Johnson is going to bowl quick, Xavier Bartlett swings the ball, Bazley has gone a great job right the way through this tournament."
So…you're telling me there's a chance?
8.14PM 10 OVERS DOWN
And Brisbane Heat is 1-86! You'd have to think anything 160+ would be competitive and with wickets in the shed the Heat will be eyeing a big total. "Brisbane are on top here. The blueprint of Scorchers' success is early wickets and squeeze. They didn't get those early wickets. Brisbane are on top and the crowd, I think everyone's feeling that," says Justin Langer in commentary.
8.08PM 50 PARTNERSHIP
Sam Heazlett has got going with a couple of boundaries to help bring up the 50 partnership with Nathan McSweeney. It's pretty clear they're targeting Aaron Hardie which makes sense as he's the fourth or fifth seamer for Perth.
7.54PM MISSED STUMPING!
Connolly draws McSweeney out of his crease but Josh Inglis misses the ball! Inglis has been so good behind the stumps in BBL12 but that one should have been a wicket. Connolly couldn't believe it and even appealed for lbw.
FIRST DRINKS BREAK — HEAT 1-41
Sam Heazlett and Nathan McSweeney have rode their luck since Josh Brown was caught off the bowling of Englishman David Payne. Brisbane is ticking along at more than eight an over in a very promising start. Young all-rounder Cooper Connolly is thrown the ball — he's the only spinner in the Perth side after Matt Kelly was preferred to Peter Hatzoglou.
7.45PM HUGE CROWD TURNS OUT IN WEST
They're expecting 50,000 to turn up to Optus Stadium despite temperatures of 40+ degrees!
"Obviously unbelievably hot and the atmosphere is ridiculous, to be honest," Eskinazi tells Channel 7.
"I have never played cricket in anything quite like it."
7.35PM CRAZY START AS BROWN EDGES THREE BOUNDARIES
Josh Brown has edged three boundaries off the first over and Brisbane is 0-13 off six balls. Two went through gully/backward point and one flew through second to third slip. "I mean, you can consider all of those to be extremely lucky," Ricky Ponting says in commentary.
7.30PM HEAT INNINGS UNDERWAY
Jason Behrendorff angles across Josh Brown with the first ball of the BBL final and play is underw in Perth.
7.20PM WOULD SCORCHERS BEAT AUSTRALIA?
Tonight they only need to beat Brisbane, but could Perth Scorchers defeat the Australian T20 side? That's what one analyst believes. READ THE FULL STORY HERE and have your say.
7.15PM THE PITCH
Local hero Mike Hussey reports that it's 42 degrees in the middle at Optus Stadium. So it's the Scorchers v Heat and a literal scorcher in Perth. Mark Waugh says on Fox Cricket the wicket looks a bit drier than usual.
6.55PM TEAM NEWS
Only one change across both teams. Brisbane Heat understandably is going in with the team that defeated the Sixers. Matthew Kelly is in for Lance Morris, who has headed to India with the Aussie squad.
6.48PM HEAT WINS TOSS
Brisbane Heat has won the toss and will bat first at Optus Stadium. Scorchers skipper Ashton Turner says he would have batted first as well.
STIRRING SPEECH THAT HELPED BRISBANE'S RISE
Robert Craddock
The Brisbane Heat are about to re-enter the same Perth dressing room where one of their shining lights delivered a touching speech that forecast their rise from the ashes.
It was less than a month ago that Kiwi import Colin Munro, then a shining light in a team engulfed by darkness, was farewelled by the Heat after they were thumped by the Perth Scorchers, their rivals in the BBL final.
The Heat were in the midst of a slump which represented just two wins in nine games after winning just three last season. Brows were furrowed. Spirits low. Self-doubt growing. Nothing was working.
But Munro, just about to head off to captain the Desert Vipers in Dubai, saw something in the team it couldn't really see in itself.
"You guys are a lot better than you think you are,'' he said. "Just keep fighting and all this will change when you put a couple of wins together.''
Another popular star playing his final game, England's Sam Billings, spoke with a similar message.
The Heat then lost another match to the Scorchers in Brisbane before roaring home with seven wins from their last eight matches.
It's quite a story as most back from the dead tales in sport normally are.
The revival is one of many threads. From opener Josh Brown who makes his own bats, to Usman Khawaja who is the form batsman in the entire Test match world, to Michael Neser who may be a fringe-dweller on the international scene but he is a totally commanding force at domestic level.
Then there's former The Southport School and Australian under-19 left-arm spinner Matt Kuhnemann, who has been quietly improving each year.
He had the nerve and verve to deliver the single most decisive piece of advice for anyone this season when said "mate, just ramp'' to Matt Renshaw before he played a ramp shot off the final ball which secured the four runs needed for victory against the Melbourne Stars.
Skipper Jimmy Peirson is relieved by the revival but not shocked by it.
"When I took the reins of the side two years ago this is how I pictured this team playing,'' Peirson said.
"The side making the most of its parts. Guys coming in and out and doing their job. Guys who are not necessarily household names doing the job. It's all romantic when you are winning but we have had some tough times …''
So did he ever feel all was lost this year?
"When we were two from eight you ask yourself are you doing the right things in certain moments. All those things certainly creep in.
"But in the back of my mind I always knew it was such a long season. So many times when we have played finals we have got ona roll at the back end of the season.
"It is the right time to get on a roll because you carry that momentum into the final when other teams might be getting fatigued. At the start of the season it was a bit of a struggle.''
The Heat's revival has been one of many compelling storylines in a competition where bigger crowds, some spicy controversy and a series of close finishes have stirred interest.
Before Christmas there was talk that Cricket Australia were keen to get its next television deal done before the Big Bash just in case it had another poor season.
But like the Heat itself the competition has sprouted wings.
Munro has kept in contact with team and frequently sends messages, perhaps even one which said "I told you so.''
UNDENIABLE VIBE WHICH GIVES HEAT A REAL CHANCE IN PERTH
The rampaging Brisbane Heat are being driven by a State of Origin underdog vibe which has hoisted them to one win away from a shock Big Bash title.
The Heat will enter Saturday's Big Bash final against the Perth Scorchers in Perth with the blissful freedom that comes with going far further than anyone expected.
After winning just two of their first nine games the Heat were in grave danger of finishing last before storming home with seven wins in their eight matches including Thursday's stunning upset of the Sydney Sixers.
"I feel as if we have the freedom of the underdog,'' captain Jimmy Peirson said.
"It allows you to take a breath and do your job. Particularly for a side which is quite young and inexperienced in some places.
"The feeling around the groups is relaxed. It is not so much we have nothing to lose but we don't have the home town pressure of having to win and smash the opposition. The pressure is on them. We are the underdogs.
"We are a Queensland team. You look at some of our best Shield wins in the 1990s and early 2000s. They were backs against the wall stuff. And of course our Origin team is how we played our sport in Queensland.
"That is what Queensland teams do and we are starting to build that culture. That grit and determination to find a way to win. It might not always be sexy and pretty but if we win, it doesn't matter. We are starting to build a culture.''
A key man for the Heat on a day tipped to reach 38 degrees will be speed weapon Spencer Johnson whose height, pace and swing could be a supreme challenge for the home side on the bouncy Perth deck.
Perth's "Wild Thing'' Lance Morris will be absent in India but the Heat will present their "Mild Thing'' Johnson, the debonair, unruffled star who has none of the fire-breathing dragon traits of some men of his trade.
"If the ball is swinging for him it will be very interesting. He has extreme pace and got that ability to bring the ball back in to the right hander and away from the lefty. He is going to play a massive part. Early wickets in Perth have been crucial.
"If our bowlers strike early it is going to be an interesting final. Two quality bowling attacks going head to head. It is a lovely wicket once the ball stops swinging. I think it is going to be a high scoring game.''
Pearson this season played his 100th match for the Heat and it is a measure of their struggles over the years that this is his first grand final.
"I am thrilled to finally get into a final and to do it with the personnel we have got. We are probably a bit undermanned. A few probably wrote us off.''
The Heat have four players absent with the Australian side in India, adding the pressure on senior players such as Michael Neser and Peirson.
The Heat's sole Big Bash title was a decade ago while the Scorchers have won four and been runners-up three times to be a constant force.
Originally published as Big Bash final: Perth Scorchers v Brisbane Heat live updates, scores
Share this news on your Fb,Twitter and Whatsapp
Times News Network:Latest News Headlines
Times News Network||Health||New York||USA News||Technology||World News