UK
Brentford v Manchester United: Premier League – live!
Key events
62 min: Brentford make their first switch, Dasilva making way for Janelt.
60 min: United make their fourth substitution, replacing Sancho with Elanga.
59 min: Nothing much comes of the second corner. United try to launch a quick break, but Mbeumo isn't having it, racing half the length of the pitch to intercept and play the ball back to Raya.
58 min: The corner's hit long. Toney winds his neck back at the far post, preparing to hammer a header goalwards. Eriksen, who will know a few runs from the Brentford playbook, arrives at the last second to quash the danger, albeit at the expense of another corner.
57 min: Roerslev and Hickey combine down the right to win another Brentford corner. The hosts load the box.
56 min: It's a little scrappy right now. Understandably so, given the mindset of both teams right now, plus the searing heat.
54 min: United enjoy a little possession in the Brentford half. Malacia's speculative shot is blocked. They've been better since the restart, although the bar is subterranean.
52 min: Another opportunity for Ronaldo, on the end of another Dalot cross from the right. He flashes his header over the bar. This time he betrays his frustration by throwing both hands in the air.
51 min: Dalot curls a cross into the box from the right. Ronaldo stoops and sends a header wide right. He slams the ground in frustration. That was a decent half-chance for most players, but the sort Ronaldo expects to score. The nearest United have come.
50 min: Sancho sends a simple pass out for a corner on the left. Nothing's going right for United. The resulting set piece is worked towards Hickey at the far stick. Hickey threads a shot towards the bottom right. De Gea kicks away to avoid being beaten at his near post. Toney then blazes over the bar.
48 min: United then fall asleep at the resulting throw, and are lucky Toney's cross is no good.
47 min: Mbeumo has the ball out on the left. He's got Toney and Dasilva free in the middle. United are super fortunate that Varane is switched on, and comes across to block the cross. Brentford would have been in otherwise.
Brentford get the second half underway. United have made three changes. Shaw, Martinez and Fred are hooked; Malacia, Varane and McTominay are on.
Brimming half-time postbag. Oh it's brimming all right.
"Positively psychedelic, Scott?! I'm having bad trip flashbacks to the 73-74 relegation season" – Justin Kavanagh.
"I don't like what I'm (not) seeing from Ten Hag as this implosion unfolds, why is he sitting still in the dugout instead of ripping into these players on the touchline, and how has he not taken off some of these clowns yet?" – Michael Moore.
"Bold prediction: Ronaldo launches into a tirade at halftime and in a misguided attempt to exert control, Ten Haag takes him off" – Ted Graves.
"All we need now is the Philippe Albert-style lob of the goalkeeper" – Mike Cormack.
"Turns out Spinal Tap's latest drummer, Erik Ten Haag, was killed by a swarm of bees. Unfortunately you can't dust for honey" – Niall Mullen.
"Well, I knew my Everton boys would be in a relegation battle but I never envisioned having a five-goal differential, and counting, lead on Man U. Welcome to the gutter CR7" – Mary Waltz.
"Looking forward to seeing how Jonathan Wilson pins this on Ronaldo" – Kevin Simons.
HALF TIME: Brentford 4-0 Manchester United
United deal with the corner in competent fashion, an ironic end to an outrageous half of football. As woeful as United have been, Brentford have been wonderful. A team versus a rabble. A stern Erik ten Hag disappears down the tunnel at speed. Ronaldo trudges off pensively. You'd pay cash money to be a fly on the wall in the United dressing room. Where's the Amazon Prime crew when you need them?
45 min +4: Brentford send a long free kick into the United box. Fernandes heads out for a corner.
45 min +3: Eriksen sends a floated free kick into the box. Easy for Raya.
45 min +2: Hickey shoulder barges Ronaldo, who executes an Olympic standard triple salchow while falling to the ground. He wants Hickey booked, but it's just a free kick.
45 min +1: The first of four added minutes sees Raya pick a Shaw cross out of the air.
45 min: Brentford ping it around. The home fans indulge themselves with some olés. Some first-half olés.
44 min: Fernandes looks to send a curler into the top-right corner. It's always heading high and wide, but in the context of their abject first-half performance, it's by far the best United have had to offer.
43 min: United push Brentford back and probe down both wings. But Brentford hold their shape diligently, and there's no way through.
41 min: Rashford dribbles down the inside-left channel and into the Brentford box, but there's nobody in the middle, and Roerslev is giving him no space to shoot. The ball squirts through to Raya. As for Ronaldo telling everyone what's what during the break? "It's entirely possible Ronaldo will leave at half time instead," quips Jeff Necessary.
39 min: After some treatment, and plenty of cold water, Rashford gets back up, good to go again.
38 min: Fernandes pings a pass down the inside-left channel. Rashford chases after it. Raya comes out of his area and shoulders the ball away from the United man, before taking a calm touch and blootering away from danger. Rashford stays down.
36 min: Ten Hag looks utterly perplexed. Staring into the distance. Nothing to tell his troops. He can't believe what's unfolding out there.
GOAL! Brentford 4-0 Manchester United (Mbeumo 35)
Jensen calmly dispossesses Sancho in his own box. The ball's launched for a quick counter. Toney romps down the left, before slipping the ball infield for Mbeumo. He's got a yard on the only defender left in the game. Shaw thinks about taking him down, but he'd get sent off. Instead, Mbeumo holds off his man, and slots powerfully into the bottom left. This isn't just surreal, it's positively psychedelic!
33 min: Eriksen dribbles down the right but his cross is easily blocked. A smattering of boos, but nobody's particularly energised by it. The home crowd have other things to shout about. "Christian, what's the score?" they trill.
32 min: Martinez was so easily outfought by Mee there. A penny for Ronaldo's thoughts. You can be sure he'll have a few things to say at half-time.
GOAL! Brentford 3-0 Manchester United (Mee 31)
This is a fiasco from United's perspective, wonderful from Brentford. The corner's hit long from the right. Toney heads the ball back across from the left. At the right-hand post, Mee stoops but still beats Martinez and taps a header home from a yard out. All of the colour has drained from Erik ten Hag's face.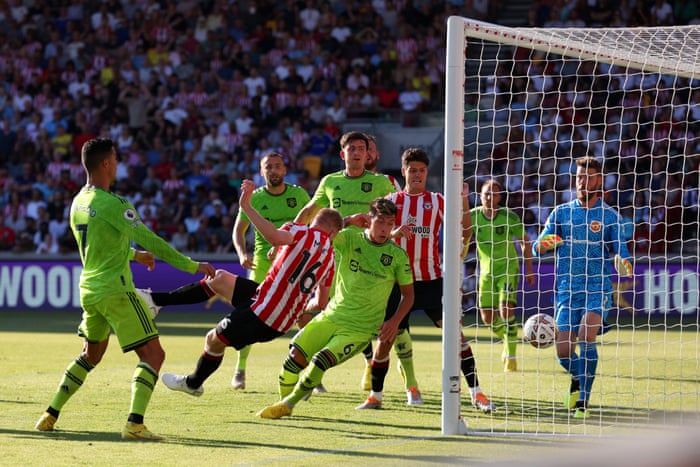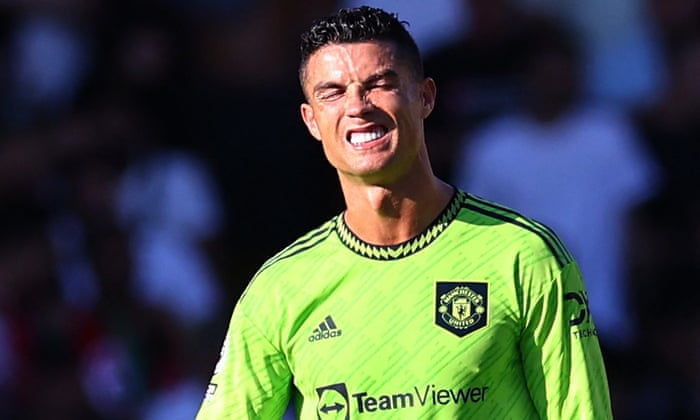 30 min: The free kick's hit long. Maguire wrestles Jansson to the floor. Hickey wins a corner out on the right. And from that …
Share this news on your Fb,Twitter and Whatsapp
Times News Network:Latest News Headlines
Times News Network||Health||New York||USA News||Technology||World News