UK
Commonwealth Games 2022: bowls gold for 75-year-old Miller on day eight – live!
Key events
"Runner's dreams crushed by own penis…" as far as sporting headlines go this is certainly up there. The 'problem' for 400m runner Albert Nonino was firmly 'down there' as a 'wardrobe malfunction' hindered his performance in the 400 metres at the U20 World Athletics Championships in Cali, Colombia. I can't put anything else in inverted commas.
This is like one of those horrible dreams you have before a job interview or a date. Sending solidarity Alberto. Shush at the back!
Beach volleyball: The sun is beating down in Costa del Smithfield as English twins Javier and Joaquin Bello storm into a one set lead in their quarter-final against Gambian duo Sainey Jawo and Mbye Babou Jarra. Some excellent volleyball on display in that first set which the England pair took 21 points to 16 in front of a rapturous crowd. Set two is about to start…
Furrowed pitch leads to furrowed brows…
Some news from over in the footy blog – apparently – the pitch at the Coventry Building Society Arena is in a right old state after the venue hosted the rugby sevens at the Commonwealth Games.
As a result, Coventry's meeting with Rotherham, currently scheduled for 3pm on Sunday, has been thrown into doubt, and the home club have confirmed that a pitch inspection will take place tomorrow:
A feast for the eyes right here.
These daily picture galleries from the Games are a thing of real beauty:
Table Tennis: England duo Liam Pitchford and Tin-Tin Ho have gone down in a razor wire quarter final match against Indian pair Achanta Sharath Kamal and Akula Sreeja. Gutting for England, who are eliminated after being pipped 11-9 in the deciding game.
Lovely piece this, by Sachin Nakrani of this parish.
Netball: Wales go down to Malawi over in the NEC arena, unable to cling on to an early lead they lost a tight match 56 points to 62. That result means Malawi take seventh position and Wales finish eighth.
Who else is left to play you ask?
Gymnastics: 17-year-old Marfa Ekimova is heading (geddit?) for a medal in the individual all-around final, but what colour will it be?
Here's the crowd well and truly getting behind England's Harry Kendall in the pole vault event of the decathlon earlier today. Kendall surfed their hollers to clear 5m40 and notch a lifetime best.
The 3m men's in Britain is so tough, it's so hard to get on the big stage. I've worked so hard. I've had to be patient, I've had to wait for it, really. It's thanks to Jack for seeing me in training and seeing how good I can be and trusting in me, believing in me."
Here's a nice piece from Tumaini who is our man in the shallow end at the aquatic centre:
This is a nice moment from this morning:
A touching moment for Cindy Sember who had just qualified for the women's 100m hurdles final.
Beach volleyball: The Aussie duo of Taliqua Clancy and Mariafe Artacho are too strong for the spirited Scottish pairing of Lynne Beattie and Melissa Coutts. The Scots put up a fine display in front of an appreciative crowd but it is the Australians who progress to the semi-final.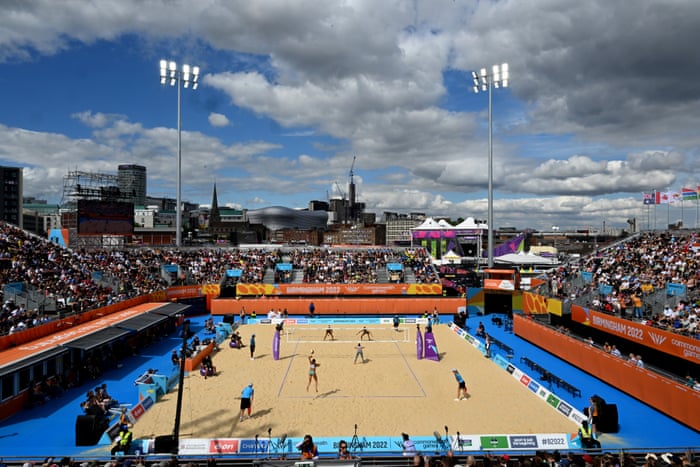 Badminton: England's Jessica Pugh and Callum Hemming have beaten Katherine Wynter and Joel Angus of Jamaica 21-11 and 21-7 to take their place in the mixed doubles quarter-finals.
Gold! Always believe in!
I also like the Team Scotland hashtag 'Time for Heroes'. Wonder if these lads are any good with orb in hand?
Scotland's George Miller becomes the Games' oldest gold medallist!
Scotland take the lawn bowls title in the para mixed pairs B2/B3 gold medal match. Robert Barr and Melanie Inness overcoming Wales' Gordon Llewellyn and Julie Thomas 16-9.
Inness' director George Miller overtakes fellow Scot Rosemary Lenton, who won the women's Para mixed pairs on Wednesday (aged 72), to become the oldest competitor to get the gold around the neck.
Speaking to the BBC shortly after the victory Miller said:
"I think Rosemary's quite pleased… It's great, fantastic. A year ago I never dreamed of being here. I got a phone call, and nearly fell off my chair to be honest. Here we are – where are we going to go from here?!
"It's all there to be tried. Everyone can try any sport at all. Bowls is easier for older people – but any sport. Walking football, rugby, you name it. Get out there and exercise, play games, compete. It's brilliant whatever age you are."
Amen to that George, inspiring stuff.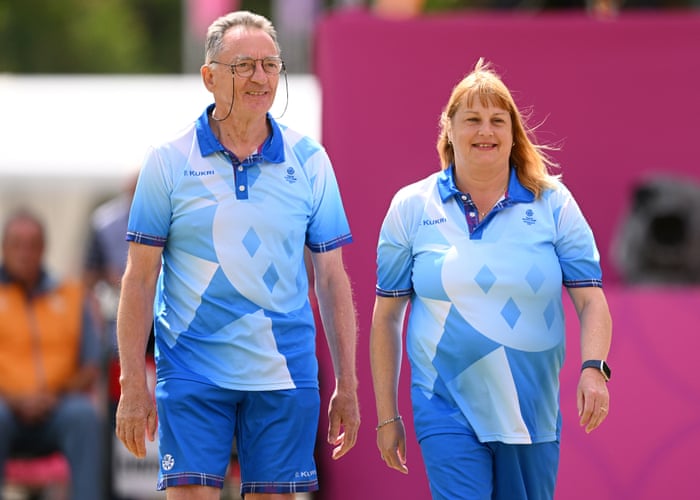 Beach Volleyball: Sunshine beats down on the sands of… Smithfield as Scotland's pairing of Lynne Beattie and Melissa Coutts take on the Australian duo of Taliqua Clancy and Mariafe Artacho in the quarter finals. The Aussies have just taken the first set 21-11.
Decathlon: The Australian's dominated the pole vault in the end – Cedric Dubler clearing 5metres but failing to go over 5m10. Still it gives him a narrow lead of 39 points over defending champ – the appropriately named Lindon Victor of Grenada.
Daniel Golubovic is in bronze place 100 points behind fellow countryman Dubler and 150 points behind them is… another Aussie – Alec Diamond.
England's Harry Kendall is in sixth position, a medal might well be out of his reach but it'll be a thrilling finale this evening in the stadium. The gold medal could go anywhere with just the javelin and 1500m to go.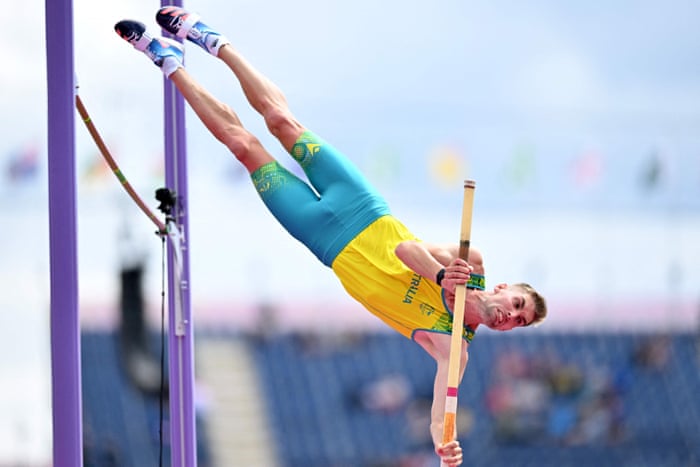 Bowls: Just nipping back to say that Scotland are looking like they are going to take the spoils in the para mixed pairs B2/B3 gold medal match, they've gone into an 11-6 lead with four ends to go. Wales need to go some now to get back into the match.
UPDATE: Make that 14-9 to Scotland with two ends to go!
I've got my eyes on fridge… and the Decathlon pole vault, Harry Kendall bows out after failing to clear 4m50. Aussie Cedric Dubler joins in the action and clears 4m70 by a huge distance!
Here's Hazel! Lady Irvine welcomes us to afternoon coverage on the Beeb. There's a slight lull in the action so I'm going to grab a spot of lunch, will be back v shortly but behave yourselves, especially you.
Decathlon: Pole vault – Harry Kendall clears 4m40 at the final attempt! That's a lifetime best for the Englishman, he'll now have three stabs at 4m50! All the while current leader Cedric Dubler sits on the sidelines waiting for the bar to get to somewhere near his level.
Decathlon: England's Harry Kendall made a vault of 4m.30 and is on a second attempt at a lifetime best of 4m40 (his current best is 4m34) the crowd will him on and… so close he nearly sneaks over but just nudges the pole off with his chest. The crowd grown and Kendall gives the pole a wry smile from the chunky matt. He'll have one final shot at it shortly.
Bowls: It really is hypnotic viewing*, and don't let anyone tell you otherwise. Scotland lead 5-4 after seven ends but Wales have just played a delicious shot to nudge the jack towards their own bowls. The crowd don't go wild exactly but there is very warm applause and rightly so.
*I know this is indoor not outdoor but just look at this from last year's world champs. I could watch it on repeat for hours.
Decathlon: Harry Kendall is loving the home support in the stadium. The Englishman is feeding off the energy of the crowd to clear 4.10m and then 4.20m!
Bowls: It's blustery in Victoria Park in the para mixed pairs B2/B3 gold medal match between Scotland and Wales, making it tricky conditions for the players to do their stuff in. It's compelling viewing though, scores are tied on 4 apiece after six ends.
Netball: Scotland have pipped Northern Ireland to ninth place with a comfortable 43-33 victory. Next up, Wales will do battle with Malawi for seventh and eighth.
Badminton: My ma and pa met playing badminton and my brother used to work for the governing body for a while so you could say we've got shuttlecocks in the blood? The attic of the family home is still chock full of the feathery things much to ma's chagrin.
Anyway… England number three seeds Ben Lane and Sean Vendy have made it through to the quarter-finals with a 2-0 win over Canadian pairing Adam Dong and Nyl Yakura.
Decathlon: It's getting tasty in the men's decathlon with three events to go. We are on to the pole vault, which lets face it, is always fun to watch. Love to see that pole bend and twang.
Seven events done and defending champion, Grenada's Lindon Victor, sits atop the pile on 5989 points.
That's 52 points clear of Aussie Cedric Dubler, who leads fellow countryman Daniel Golubovic by 70 points.
Long Jump: England's Abigail Irozuru has fouled twice in the long jump heats, the dreaded red flag being unfurled on both occasions. She'll have a nervy third jump…
Teammates Jazmin Sawyers and Lorraine Ugen breeze through to the final, can Irozuru join them? She can!
A jump of 6.59 sees the 32-year-old through to the final. She still pushed the plasticine (is that a phrase?) though, just a couple of centimetres from another foul, brave stuff. A trio of English jumpers in the final.
Netball: A blast of 'Uptown Funk' from the NEC arena at the interval between Scotland and Northern Ireland. The sounds of Mark Ronson and co are soon replaced by the mice-like squeak of trainer on lacquered court floor as the players emerge for the third quarter. A tight game, Scotland currently lead their celtic rivals by 25 to 21.
Athletics: "You could throw a blanket over them" Excellent commentary from Steve Cram as he calls the next women's 1500m heat, it's a wall of bodies on the finish line, Scotland's Jemma Reekie struggling to find a way through the pack on the line and finishing in sixth place. It looks like she might just miss out on qualification.
No such problems for England's Katie Snowden or Australia's Jessica Hull who go through to the final along with Winnie Nanyondo of Uganda, Winny Chebet of Kenya and Canadian Lucia Stafford.
Athletics: The tv coverage is a bit behind but has just shown Scotland's Laura Muir finishing fourth in the 1500m qualifier, she goes through to Sunday's final with a time of 4:14.11
Thanks Luke and g'day everyone. Another packed day in Birmingham, I've got all my devices beaming out various track, field and err bowls events. Let's do this.
That's all from me for the moment, I shall leave you in the capable hands of James Wallace for the next bit.
Tonia Couch, on pundit duty for the BBC, has sympathy for Laugher's predicament in not being able to sleep last night. This all reminds of a good story from Asif Kapadia's Maradona documentary – the teammate who he roomed with before the 1986 World Cup final (can't remember his name now) explained how Maradona, the night before the big match, just said: "We've got a game tomorrow, let's sleep" and was snoring away two minutes later. A winning mentality, I guess.
Jack Laugher speaks to the BBC after his second gold medal in as many days: "Obviously two golds is amazing … I've still got things to improve on … I only had a couple of hours sleep … I ate really late last night, and the buzz and excitement with doing so well in the 1metre … hopefully I'll be able to sleep better tonight."
Anthony Harding is asked how he feels he dealt with the pressure: "I dealt with it OK. Ii could have been better. I've had a tough last few years … I've worked so hard, I've had to be patient … thanks to Jack for trusting in me … I'm hoping we can do better things."
Gold for England's Harding and Laugher in the men's synchronised 3m springboard!
A dominant display from the English duo and it's gold …
1) Laugher and Harding (England) 438.33
2) Puteh and Gilbert Daim (Malaysia) 376.77
3) Li and Fricker (Australia) 374.52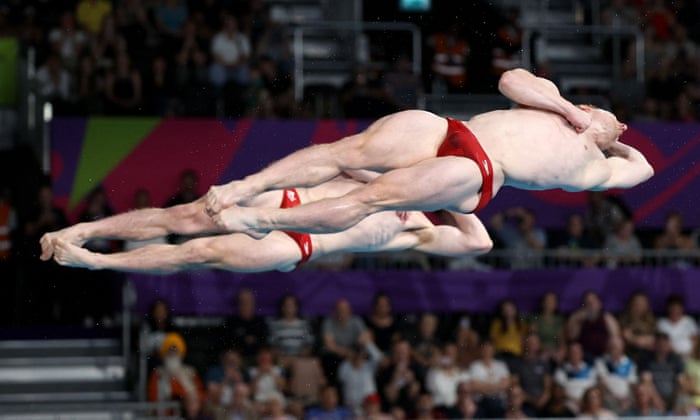 Men's decathlon: Lindon Victor of Grenada, the defending champion, throws 46.54m in the discus to retake the overall lead.
Athletics: The men's 4x400m relay heats have begun on the track. Always a fun event to watch …
Botswana, Jamaica and Zambia place first, second and third in a very competitive heat. The winning time is 3min 05.11sec for Botswana – Nigeria will have to wait and see if they qualify after coming home fourth.
Diving: The men's synchronised 3m springboard final is getting the crowd going in the pool.
England's pairing of Anthony Harding and Jack Laugher lead the way with a very healthy score of 189.12 after three dives. Malaysia's duo of Yiwei Chew and Tze Liang Ooi are second, as it stands, with 170.70.
Netball: Scotland and Northern Ireland are about to get under way in their ninth-place playoff encounter. Trinidad and Tobago defeated Barbados earlier to nab 11th place overall.
Athletics: Ciara Mageean of Northern Ireland won that first heat in a time of 4min 13.52sec. Abbey Caldwell (Aus) second, Edinah Jebitok (Kenya) third, Linden Hall (Aus) fourth and Laura Muir of Scotland fifth. It looks like Melissa Courtney-Bryant of Wales has missed out by finishing sixth.
Athletics: In that first women's 1500m heat, Muir was at the back of the field in the late stages of the race (not including the athlete from Lesotho who was miles behind) and she was in danger of not qualifying, but she accelerates into the final straight, and finishes fifth … or was it fourth?
Athletics: Laura Muir is out on the track now in her 1500m heat.
Lawn bowls: England eventually closed out an 18-14 win in the women's pairs quarter-final.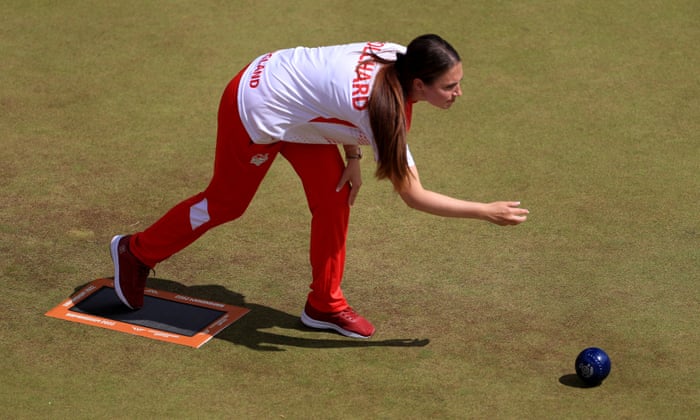 Diving: Next up will be the men's synchronised 3m springboard final.
Diving: The qualifying for the women's 1m springboard is complete.
Mia Vallee of Canada will dive last in this evening's final, having scored 292.20, while Yasmin Harper of England qualifies second-best with 274.60. Esther Qin (Australia) was third-best, scoring 266.95.
Scotland's Grace Reid qualifies fifth, with 259.10, Amy Rollinson (237.50) was sixth.
The final is scheduled to begin at 6.05pm UK time.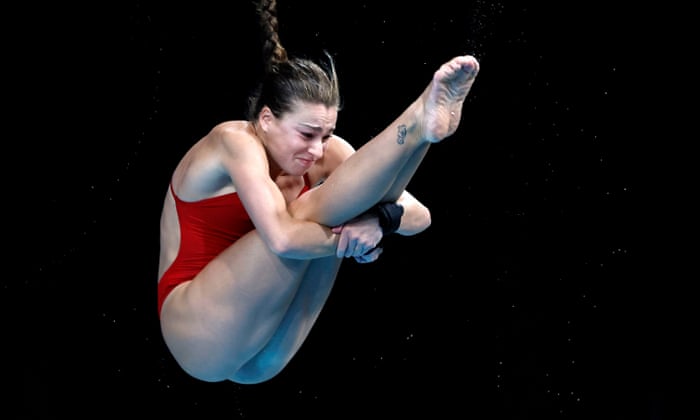 Kenya win the 9th-placed playoff against Ghana in the women's hockey!
It may "only" be for ninth place, but that meant the world to Kenya, who equalised with three minutes left, and go on to defeat Ghana in sudden death in the shootout!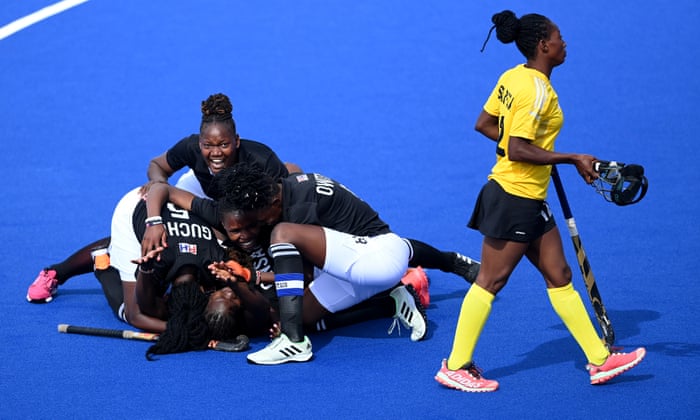 Women's netball: In the playoff for 11th and 12th places, Trinidad and Tobago have defeated Barbados 63-31.
Scotland v Northern Ireland are up next, playing off for ninth place, from 11.30am.
Women's hockey: Ghana and Kenya are drawing 2-2 in the fourth quarter of the match that will determine who gets the wooden spoon, by finishing 10th, and who comes 9th overall. Wales v South Africa is coming up at 11.15am UK time and they will battle for seventh spot.
Coming up this evening, England meet New Zealand in the first semi-final (6pm UK time) before Australia v India at 8.15pm UK.
It's now full-time in that Ghana v Kenya match, at 2-2, and it's going into a shootout after Kenya equalised with three minutes left! The dreaded penalty competition, as Barry Davies would have had it.
Hockey, table tennis and para table tennis and diving are also ongoing at the moment, if the live schedule on the official website is to be believed.
In the women's pairs bowling, England increased their lead to five points momentarily, but India have just struck back with three simultaneous shots, and all of a sudden it's 14-12.
Good morning all and welcome to day eight. What's occurring today?
There is diving, there is wrestling, and there is athletics, to name but a few. Right now on Her Majesty's BBC1, it's lawn bowls, with England (Sophie Tolchard and Amy Pharaoh) leading India (Lovely Choubey and Nayanmoni Saikia) 13-9 after 13 ends in the women's pairs quarter-final.
Let's do this …
Share this news on your Fb,Twitter and Whatsapp
Times News Network:Latest News Headlines
Times News Network||Health||New York||USA News||Technology||World News