UK
Real Madrid v Eintracht Frankfurt: European Super Cup – live!
Key events
Half-time reading
Half time: Real Madrid 1-0 Eintracht Frankfurt
Peep peep! The end of an enjoyable first half in Helsinki. Madrid lead through David Alaba's tap-in after 37 minutes, and the scoreline feels about right. Frankfurt started brightly, with Kamada missing an excellent chance, but Madrid imposed themselves as the half progressed. See you soon for the second half.
43 min Here's that Alaba goal.
42 min Benzema has a shot blocked, then Casemiro's long-range follow-up is saved by Trapp. Madrid look minded to put this to bed before half-time.
41 min: Benzema misses a great chance! It should be 2-0 to Madrid. The chance came when Kroos, on the right, angled a lovely pass back towards Benzema on the edge of the area. He took it beautifully in his stride only to punch a drive just wide of the far post.
40 min It was a bit of a soft goal for Frankfurt to concede, but it is what it is.
GOAL! Real Madrid 1-0 Eintracht Frankfurt (Alaba 37)
David Alaba gives Real the lead from the corner! Kross curled it towards the penalty spot, when Benzema won the ball in the air and looped it back towards Casemiro near the byline at the front post. He headed it back across goal, taking Trapp out of the game in the process, and Alaba tapped it into the empty net from a few yards.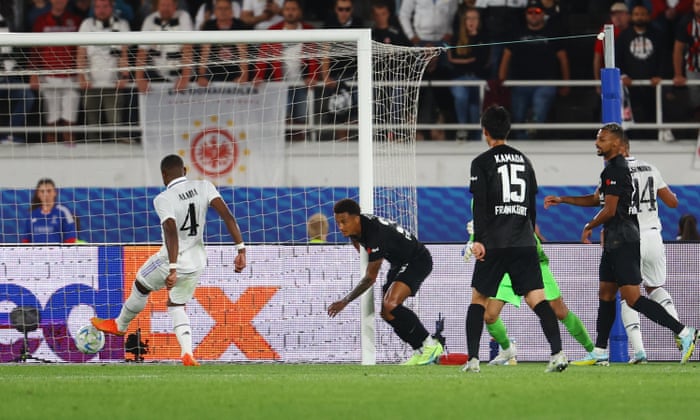 37 min: Good save by Trapp! Vinicius plays a classic give-and-go with Benzema, then cuts infield from the left and curls a low shot towards the far corner. Trapp dives low to his left to fingertip it behind. That's an excellent stop.
35 min Madrid are playing their usual slow-slow-quick style, with lots of harmless passing and then a sudden thrust. So far Frankfurt have defended pretty well.
32 min It's a decent enough game, by Super Cup standards, but it hasn't yet changed the world. Frankfurt look sharp on the counter, and Karim Benzema looks sharp full stop.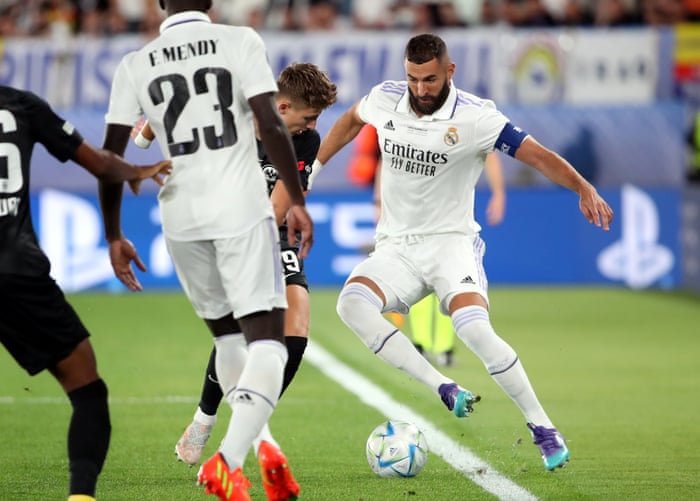 28 min Lens is down again after an aerial challenge with Carvajal. This time he fell awkwardly, but he seems okay.
26 min Possession percentage: Real Madrid 59-41 Eintracht Frankfurt.
24 min Knauff's crisp cross-shot is pushed away to his right by Courtois, a decent if essentially straightforward save. Just before that, Militao made an important interception from Lindstrom's cross after a terrific counter-attack.
23 min Here's that goalline clearance from Tuta.
19 min After a forgettable start, this is warming up pleasantly.
17 min: Off the line by Tuta! What a great piece of defending. Madrid cut Frankfurt open with a terrific move, started by Valverde on the right. He angled a sharp square pass to Benzema, who elegantly teed up Vinicius to his left. Vinicius slid a confident low shot past Trapp that was booted clear by Tuta in the six-yard box.
15 min Vinicius beats Knauff with aplomb on the left but his cutback is booted clear.
14 min: Good save from Courtois! That was the real quiz. Mendy was robbed by Knauff, who fed the ball infield to Borre. He flicked an angled through ball towards Kamada, whose left-foot shot was saved to his left by Courtois. Kamada is right footed, and it showed – it wasn't the most convincing attempt, though Courtois still did pretty well.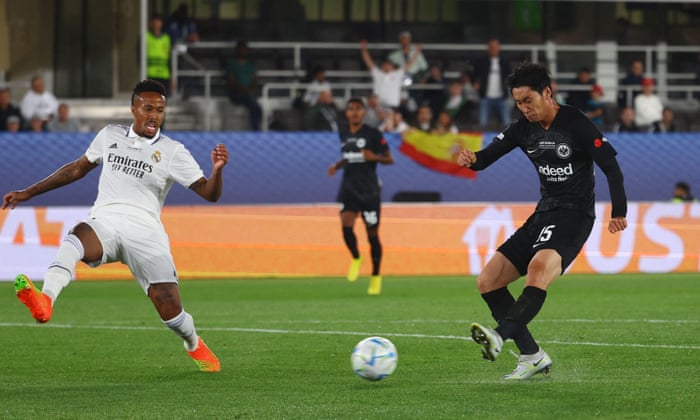 12 min Lindstrom is denied by the diving Courtois, though everyone suspected he was offside and the flag went up as soon as the ball made contact with Courtois' gloves.
10 min Carvajal slams his shoulder into the face of Lens, who briefly visits the canvas. I think it was clumsy rather than deliberate, but it looked painful. Many players would have made more of that than Lens did.
8 min Still no offsides, semi-automated or otherwise. But we do have the first corner, won by Valverde down the Madrid right. Kroos overhits it and Rode heads clear.
6 min "At the risk of stating the obvious," says Peter Oh, "whoever has the better Finnish is likely to be happier when the night is over."
5 min Madrid continue to dominate the ball, but it's all in the middle third at the moment. It's been a slow start.
3 min Lots of early Real possession, though they've achieved the square root of diddly squat with it.
2 min Incidentally, Uefa have confirmed that this will be played over the tannoy whenever there's a semi-automated offside.
1 min Peep peep! Eintracht Frankfurt kick off from right to left as we look. They're in black; Madrid are wearing white.
The players on a yellow card:
Here come the players. The captains, Karim Benzema and Sebastian Rode, are each carrying the trophies they won last season. In a couple of hours, one of them will be holding the Super Cup an' all.
"I was at the UCLA campus recently in the Los Angeles when lo and behold the Real Madrid team turned up in golf cards to be ferried to some practice sessions," says Liverpool fan Ian Copestake. "It completely spoiled my morning."
They were wearing their golf cards?
"Hello Rob!" writes Martin Segerstråle. "As a native, I have to say it's a joy to have a game of such magnitude (!) (?) in Helsinki. Traffic is a mess and there are people everywhere. Lovely! The refurbished Olympic Stadium is a worthy venue for these games nowadays, so it's nice Uefa noticed that. Here's to an exciting (boring 5-0) game!"
The stadium looks tremendous. I wonder how the mood compares to the night Bon Jovi and Babylon Zoo played there in 1996. (I'm not making that up.)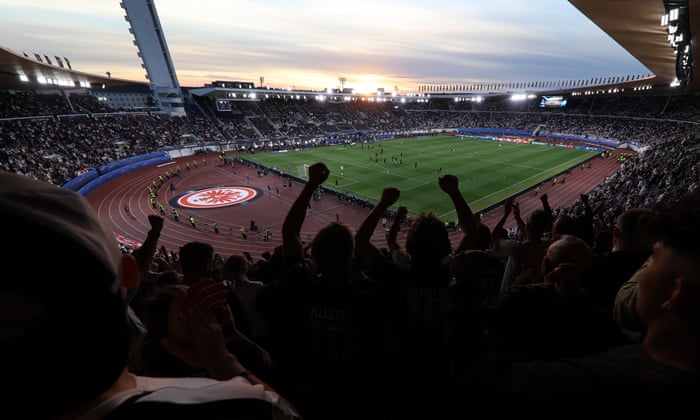 "Why are we hoping VAR doesn't descend into a farce?" says Espen B. "I detest VAR in general, but I can't deny that horrible VAR decisions are funny as long as you have no emotional connection to the teams involved. If this automated offside thingy goes completely haywire, and there's plenty of potential, you can't deny it will add to the entertainment value of a game that, quite frankly, is hard to get excited about?"
Oh I agree with every word you say, it's just that my therapist has encouraged me to suppress my inner Costanza.
It was 62 years ago in May
"Hey Rob!" says Joe Pearson. "What if Roma were invited, to make it some kind of Super Duper Cup? Let Madrid's starting XI face a 15-man squad cobbled together from the best of Frankfurt and Roma. And let Glasner and Mou duke it out to see who gets to manage this abomination. Even though Glasner is 11 years younger, I think Jose fights dirty, so my money would be on the Portuguese. And you wonder why Uefa hasn't signed me up as a consultant. Honestly!"
I'm only publishing this email to help your intellectual property claim in 2031.
Real Madrid start their La Liga defence at Almeria on Sunday. Eintracht Frankfurt's Bundesliga campaign got off to an imperfect start last Friday when they were plugged 6-1 by Bayern Munich.
The Fiver's big(gish)-match preview
Carlo Ancelotti, the old romantic, picks the same Real Madrid XI that beat Liverpool in the Champions League final. Oliver Glasner makes one enforced change to the Eintracht Frankfurt side that won the Europa League final – Christopher Lenz replaces the brilliant Filip Kostic, who is off to Juventus, at left wing-back.
Real Madrid (4-3-3) Courtois; Carvajal, Eder Militao, Alaba, Mendy; Modric, Casemiro, Kroos; Valverde, Benzema, Vinicius Junior.
Substitutes: Lunin, Vallejo, Nacho, Hazard, Asensio, Lucas Vazquez, Tchouameni, Ceballos, Rodrygo, Rudiger, Mariano Diaz, Camavinga.
Eintracht Frankfurt (3-4-2-1) Trapp; Tuta, Toure, N'Dicka; Knauff, Sow, Rode, Lenz; Lindstram, Kamada; Borre.
Substitutes: Grahl, Ramaj, Smolcic, Jakic, Kolo Muani, Alidou, Hasebe, Alario, Chandler, Hauge, Gotze.
Referee Michael Oliver (England)
Hello and welcome to live coverage of the Uefa Super Cup between Real Madrid v Eintracht Frankfurt in Helsinki. This game is the symbolic start of the European season, even though that's been going on since La Fiorita lost 2-1 to Inter Club d'Escaldes in the Champions League preliminary round semi-finals on 21 June. It's also a celebration of the past, both distant and recent. This is the first meeting between Madrid and Frankfurt since the mind-altering European Cup final of 1960, and a celebration of their glorious triumphs in Europe last season.
Real won their 14th Champions League after an extraordinary campaign that culminated in victory over Liverpool in Paris. Frankfurt won their second European trophy, and their first since 1980, by beating Rangers on penalties in the Europa League final in Seville. And Roma, who won the inaugural Conference League, aren't invited tonight.
This match is, depending on your perspective, a glorified friendly or the chance to win a major trophy. It's also an historic occasion: the unveiling of semi-automated offside technology, which will be used in the Champions League and World Cup. I've got the popcorn ready in case it descends into farce, like VAR during its Etch A Sketch phase, but let's hope that doesn't happen.
Kick off 8pm.
Share this news on your Fb,Twitter and Whatsapp
Times News Network:Latest News Headlines
Times News Network||Health||New York||USA News||Technology||World News