Movie/review
Train derailments are common, but few reach the level of East Palestine crisis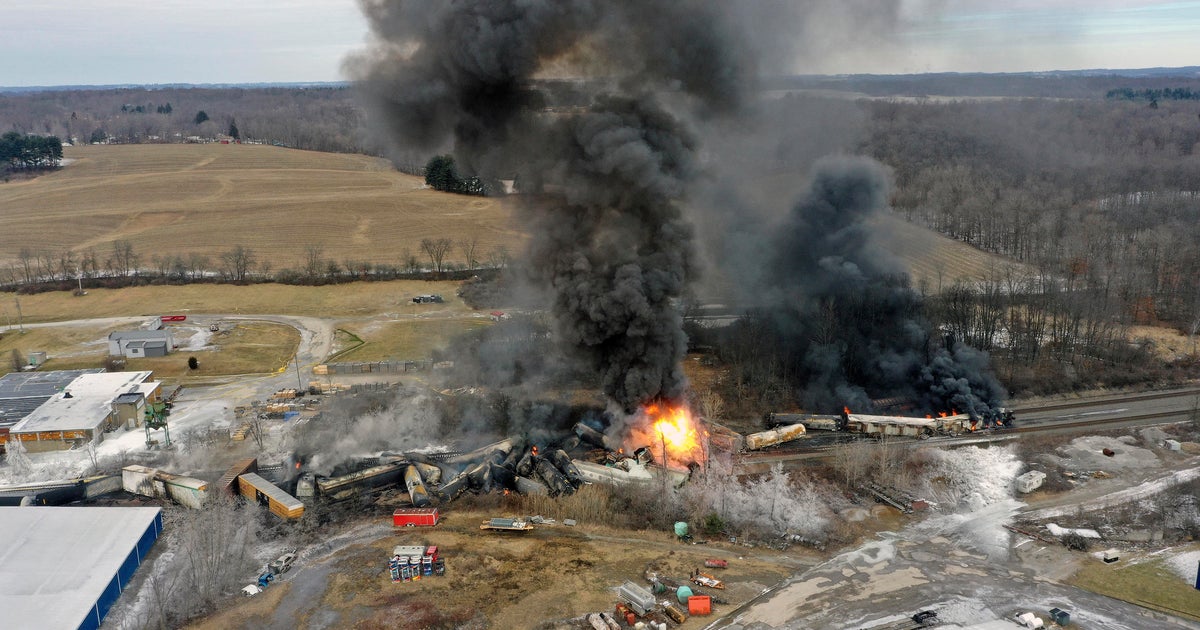 [ad_1]
When a train derailed in East Palestine, Ohio, earlier this year, it quickly led to national headlines. 
Locals were evacuated once it became clear that the 151-car train had been carrying hazardous chemicals, including vinyl chloride, and weeks later, those residents are still demanding answers on how a controlled release and burn of some of those chemicals may have affected the environment. 
Since then, almost every day has brought news of another derailed train. 
While this may seem like a new phenomenon, train derailments are incredibly common in the United States, with data from the Federal Railroad Administration showing that in 2022, there were 1,154 such derailments, an average of more than three per day. 
That's actually a decrease from recent decades: In 1978, 8,744 derailments were reported, according to FRA data, more than seven times as many as happened in 2022. In 1988, 2,053 derailments were reported, and in 1998, there were 1,729 such incidents. In 2008, the FRA data shows that 1,789 trains derailed. 2018 saw 1,376 derailments.
Most derailments, said Mehdi Ahmadian, the J. Bernard Jones Chair of Mechanical Engineering and director for the Center for Vehicle Safety and Systems at Virginia Tech, can be credited to one of two reasons.
"The major causes of derailment are either a failure in the track or a failure in the wheel. They constitute more than 80% of train derailments," said Ahmadian. A track failure means the track is broken and has a gap that causes the wheels to come off, or that the track has moved in a way that causes wheels to fall off the tracks. A failure in the wheel bearing is the suggested cause of the accident in East Palestine. 
While the number of derailments that happen every year may sound alarming, Ahmadian said it's important to keep the figure in perspective: There are about 14 million railroad cars traveling around the United States each year, he said, and only a small percentage of those cars derail.
"If I compare the accidents we have for railroads to the accidents that we have for semi-trucks, the other mode of transportation for heavy goods, we quickly find out that there are far larger numbers of accidents per capita for semi-trucks than there are for railroads," Ahmadian said. "It's just that from time to time when something happens that has a major impact, it gets a lot of attention, whereas most tractor-trailer accidents do not have the same significant impact and therefore get far less coverage." 
Despite the high rate of train derailments, few people are killed in the wrecks: According to the Bureau of Transportation Statistics, there have just been 131 deaths due to derailments between 1990 and 2021.
Far more impactful is the financial cost of such incidents. Between 2018 and 2021, 4,852 train derailments resulted in $925,699,004 in reportable damages, according to data from the Federal Railroad Administration. 
According to the administration, reportable damages include the labor costs to repair and replace damaged equipment, hourly wages and expenses for employees impacted, the rental and operation of machinery to replace or repair damage, and costs associated with the "repair or replacement of roller bearings on units that were derailed." Those costs do not include the cost of clearing a wreck or damage done to trailers or containers on flat train cars. 
Austin Gray, an assistant professor of Biological Sciences at Virginia Tech, said the best way to prevent future derailments is to invest in railroad infrastructure. That, he said, can reduce the wheel and track failures responsible for so many derailment incidents. 
"I understand that it's probably logistically challenging because of just how extensive railways are throughout the United States, but having more designated funds towards … upgrading these railways so that factor can at least be taken out, so that these aren't happening because the railways are old or ragged or degraded," Gray said. "Instead, they're up to code and they're all reestablished or refurbished to help mitigate the amount of derailments that happen because of those type of conditions." 
The East Palestine disaster has stoked interest in those types of solutions, Ahmadian said. Norfolk Southern, the company operating the East Palestine train, has issued a six-point safety plan. A bipartisan Senate group recently introduced the "Railway Safety Act of 2023," which would increase train crew sizes, bolster the monitoring of wheel bearings and lead to changes in how hazardous materials are transported.
[ad_2]
Share this news on your Fb,Twitter and Whatsapp
Times News Network:Latest News Headlines
Times News Network||Health||New York||USA News||Technology||World News