Technology
Hayward TriVac 500 Pressure Pool Cleaner: Product Review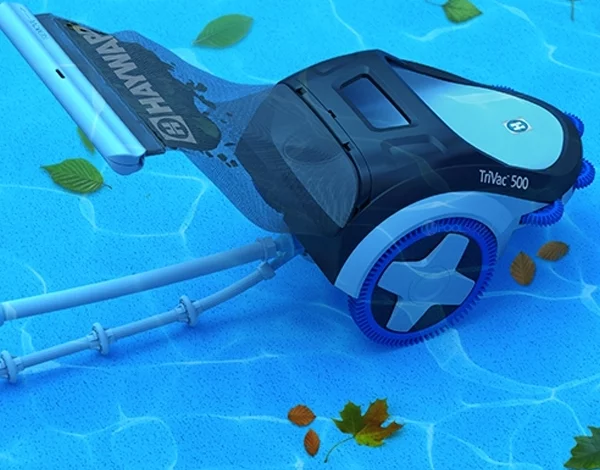 Best Pressure Side Automatic Pool Cleaners in 2022
If you want to give up on the weekly scrubbing task, consider buying a pressure cleaner that will clean your pool floors automatically.
You heard the magic word- automatic, meaning effortless pool maintenance on your end.
If you have no clue what this device can do, let us make a quick intro first.
What is a Pressure Side Pool Cleaner?
This device needs to connect to either a specialized pressure cleaner line or a return outlet. The last component of the pool's filtration is the pressure line or return exit. After the filtration process, the pump pushes back clean water via a return line.
A pressure side cleaner moves around as it is being pushed by pressure generated by the booster pump. Simple versions can work well on a conventional return line using some equipment other than the booster pump.
How Does a Pressure Washer Work?
The pressure type system moves on the surface, creating suction and forcing pollutants to enter a filter bag connected to the head, whether linked to a separate pump or a regular return line.
Pressure cleaners loosen soil and dirt, allowing these particles to flow out of your swimming pool and into your pool's filtering system.
Pressure pool cleaners can suck more pollutants than suction cleaners. Since these machines do not rely on your pool's filtration system, there is less strain on equipment. Your pool's filter system will work fine for many years.
This type will work perfectly if your pool consistently becomes polluted with big materials like dead animals, twigs, or leaves. The machine can remove floating trash well, has a low-maintenance requirement, and lasts longer than other brands.
There are a few drawbacks to a pressure-type model.
Most suction cleaners require a powerful pump or a dedicated return line to maneuver around the pool. The booster pump enables the machine to move around the floor and climb the wall or stairs. The stream of pressurized water determines the efficiency of its movement. If you're not using a booster pump, buying a pressure side cleaner is a waste of money.
Expect a small spike in your bill because you use a separate pump while the Trivac is on. Pool cleaners that use another pump consume more power since they use more equipment- the pool's dedicated filters and the cleaner itself.
Pressure side pool cleaners perform poorly at sucking up small particles like sand. It's also unsuitable for scrubbing, meaning it can't scour algae the way other models can.
Hayward TriVac 500: Overview
The Hayward TriVac 500 is engineered using the company's aqua drive system. This technology helps the cleaner maneuver in various directions by creating water jets.
Movement isn't the only factor that matters in a cleaner. The device's cleaning efficiency and durability are important as well. The TriVac model features a triple venturi jet action and a huge vacuum input. The jet action lifts unwanted particles from the bottom surface. At the same time, the large vacuum inlet guarantees that they are vacuumed.
Advantages of TriVac 500
User-friendly
You don't need a PhD degree to learn how to operate the machine.
This model has a large trash bag that can carry up to 12 pints capacity. With its big trash compartment, this device lasts longer without taking out the filter constantly. This means less work for you and minimum upkeep costs too.
Pool Coverage
This model works best on pools measuring 20×40 feet or less. If your pool is more or less this size, the cleaner can thoroughly reach most of its parts. The cleaning path has nine inches span. Each time the machine goes up and down, it will clean the nine inches area within its path.
Other Benefits
The TriVac model, like other brands, needs a booster pump to efficiently clean the surface and the water. The manufacturer suggests using the same brand of a booster pump for maximum cleaning efficiency.
The company's booster pump requires less energy than other brands. This makes it an environment-friendly option while helping you save money at the same time.
The machine works quietly, which many users find helpful. It is simple to set up, and its big motor case ensures that the motor has enough ventilation. It also helps to keep the engine from flooding.
This model also comes with a one-year guarantee.
With all these benefits, it's needless to say that this model is a great pick.