USA
Genaro García Luna, former Mexican public security secretary, convicted in US of taking bribes from drug cartels | CNN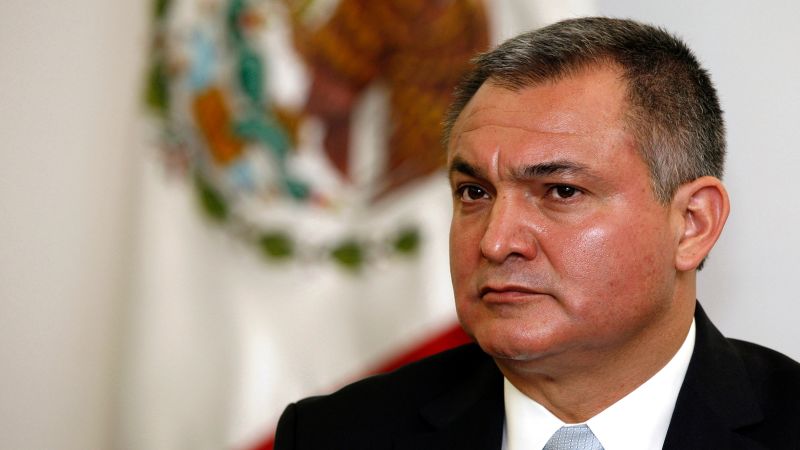 [ad_1]

New York
CNN
 — 

Genaro García Luna, Mexico's former public security secretary and architect of its deadly and protracted war on drugs, was found guilty in federal court in New York on Tuesday of taking bribes from the drug cartels he had sworn to combat, the US Attorney's Office said.
The former Secretary of Public Security in Mexico, who served as his country's equivalent of the FBI director from 2006 to 2012, was convicted by a federal jury in Brooklyn on five counts of engaging in a continuing criminal enterprise. The counts included international cocaine distribution conspiracy, conspiracy to distribute and possess with intent to distribute cocaine, conspiracy to import cocaine and making false statements, according to the US Attorney's Office for the Eastern District of New York.
García Luna, 54, showed no emotion as the verdict was announced. At one point, he turned around briefly to look at his wife, daughter and son, and placed his hands over his heart.
He is the highest-ranking current or former Mexican official ever tried in the United States.
His trial before US District Judge Brian M. Cogan, who also oversaw the trial of former Sinaloa Cartel boss Joaquin "El Chapo" Guzman, lasted four weeks. The Eastern District of New York jury announced the verdict after 15 days of testimony from nearly 30 witnesses.
García Luna had pleaded not guilty to all charges.
Defense attorney César de Castro, who argued that prosecutors built their case on the testimony of ruthless criminals, said outside court that a decision on whether to appeal the conviction will be made after sentencing.
Garcia Luna will be sentenced June 27. He faces a mandatory minimum sentence of 20 years' in prison and a maximum of life behind bars.
"Garcia Luna, who once stood at the pinnacle of law enforcement in Mexico, will now live the rest of his days having been revealed as a traitor to his country and to the honest members of law enforcement who risked their lives to dismantle drug cartels," Breon Peace, US Attorney for the Eastern District of New York said in a statement.
Jesus Ramirez Cuevas, a spokesperson for Mexican President Andrés Manuel López Obrador, praised the verdict on Twitter: "The crimes against our people will never be forgotten."
During trial, a ranking Mexican law enforcement witness described García Luna as the "best investment" for the Sinaloa drug cartel, enabling it – according to prosecutors and testimony – to expand operations by alerting traffickers to raids and providing cartel members with public security uniforms, credentials, vehicles and agents to help unload shipments and to even carry out attacks on rivals.
"It is unconscionable that the defendant betrayed his duty as Secretary of Public Security by greedily accepting millions of dollars in bribe money that was stained by the blood of Cartel wars and drug-related battles in the streets of the United States and Mexico, in exchange for protecting those murderers and traffickers he was solemnly sworn to investigate," Peace said.
García Luna was arrested in December 2019 by federal agents in Dallas, Texas, and charged in a drug trafficking conspiracy that involved taking millions of dollars in bribes from Guzman, who is serving a sentence of life in prison plus 30 years.
A former cartel leader testified at Guzman's trial about multimillion-dollar bribes that he and others paid García Luna in the mid-2000s, according to court documents.
The evidence against García Luna included testimony from ranking cartel bosses, who testified that his agents acted as bodyguards and escorts for traffickers. In return, prosecutors said in a statement, he was paid in US currency, sometimes in $100 bills in thick bundles of $10,000. The cash would be stuffed in suitcases, briefcases and duffel bags.
The bribes were delivered to García Luna at various locations, including a Mexico City safe house with a false wall to hide the cash and at a French restaurant across the street from the US Embassy in the Mexican capital.
The trial shed little light on how much US government officials knew about García Luna ties to drug traffickers.
García Luna moved to the United States in 2012 and settled in Florida with a personal fortune of millions of dollars, according to prosecutors. He allegedly submitted an application for naturalization in 2018 and lied about his past criminal acts.
[ad_2]
Share this news on your Fb,Twitter and Whatsapp
Times News Network:Latest News Headlines
Times News Network||Health||New York||USA News||Technology||World News