USA
In Turkey, a father and daughter are reunited while a teen boy searches for his mom | CNN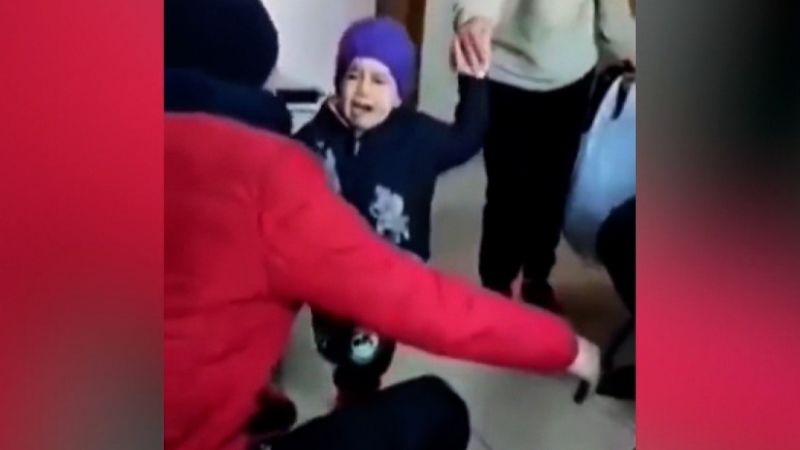 [ad_1]

Adana, Turkey
CNN
 — 

First there are screams … then piercing cries … and then "father, father" is heard over and over again.
A 4-year-old girl, Gada Ayyan, and her father, Ahmet Ayyan, are being reunited after being buried in a pile of rubble that was once their home in southern Turkey.
They were trapped together when their home collapsed in the earthquake that is now known to have killed more than 45,000 people. The two then faced an agonizing few days apart when Gada was rescued and taken to hospital.
"When it first started shaking I grabbed my daughter and my whole family began to run out," Ahmet said. "The building collapsed on top of us all."
His wife and son did not make it out alive. Ahmet could hear his son's cries while he was stuck. He had his daughter next to him. She was lying on his leg and they were both trapped unable to free themselves.
The rubble was all the way up to his neck. On the fourth day under the rubble he said he was losing hope. He was in pain. His foot was badly damaged. But his daughter wouldn't let him give up hope of being saved.
"My daughter was telling me over and over papa don't cry. Relax. They are coming to rescue us," said Ahmet.
She told him to look into the light that was shining through. And low and behold they suddenly heard voices. They were being rescued.
Gada was first to be pulled out with barely a scratch on her. A half hour later they were able to dig Ahmet out. But she was put in the care of social services while he was sent to hospital.
When he lost track of his daughter he knew he would see her again if it was the last thing he ever did.
He went on Facebook and Instagram, showing her picture, and pleading with anyone to help find her. Eventually it was a relative who found social services had a healthy little girl with no parents.
"She kept me alive." He said of her constant encouragement for days under the rubble. "That is my little girl. She is my hero. She's my hero"
They will have to deal with the loss of Gada's mother and 7-year-old brother, but Ahmet and his daughter have each other to love and care for and that is enough he said.
Meanwhile, 14-year-old Can Gürsoy, in the city of Konya, says to get any closure he needs to see his mom again. He was buried in a collapsed building with his family. He and his sister made it out alive. His mother has not yet been found in the pancaked home.
"All I ask of you is to please help me find my mother Şükran Erden." He tells CNN.
The teenager has a black eye and a bruised foot but otherwise is physically okay. But the psychological trauma of being trapped for 24 hours in the tightest of spaces may haunt him for a while.
"I remember the collapsing building. I remember passing out after a piece of the building fell on my eye," Can said. "It was so difficult to breath there. And there was something crushing my leg making me suffer."
He tried everything to get someone's attention. He had his phone in his hand for a few minutes and managed to type a message to his family WhatsApp chat. He then tried calling emergency services, but none of it connected and no one could hear him screaming.
What saved him was a curtain. Tugging on it got rescuers' attention. And not long after that he was pulled from the rubble.
Can normally spends his time playing video games, or basketball (he's a huge fan of the Los Angeles Lakers). But for now his heart is set on seeing his mom again. Since her body has not been found he's hoping beyond hope she has been rescued and is in hospital somewhere.
He says it was the idea of her love and the love of his family and friends that kept him sane while buried and he hopes that same love is strong enough to bring her back to him somehow.
Rescuers are still searching for survivors – three more were found on Saturday. But nearly two weeks on from the quake, soon there will be no more happy reunions.
[ad_2]
Share this news on your Fb,Twitter and Whatsapp
Times News Network:Latest News Headlines
Times News Network||Health||New York||USA News||Technology||World News