Los Angeles
'I Wish I Could Hug Everyone': Teen Hikers Stranded for 3 Nights in Snowstorm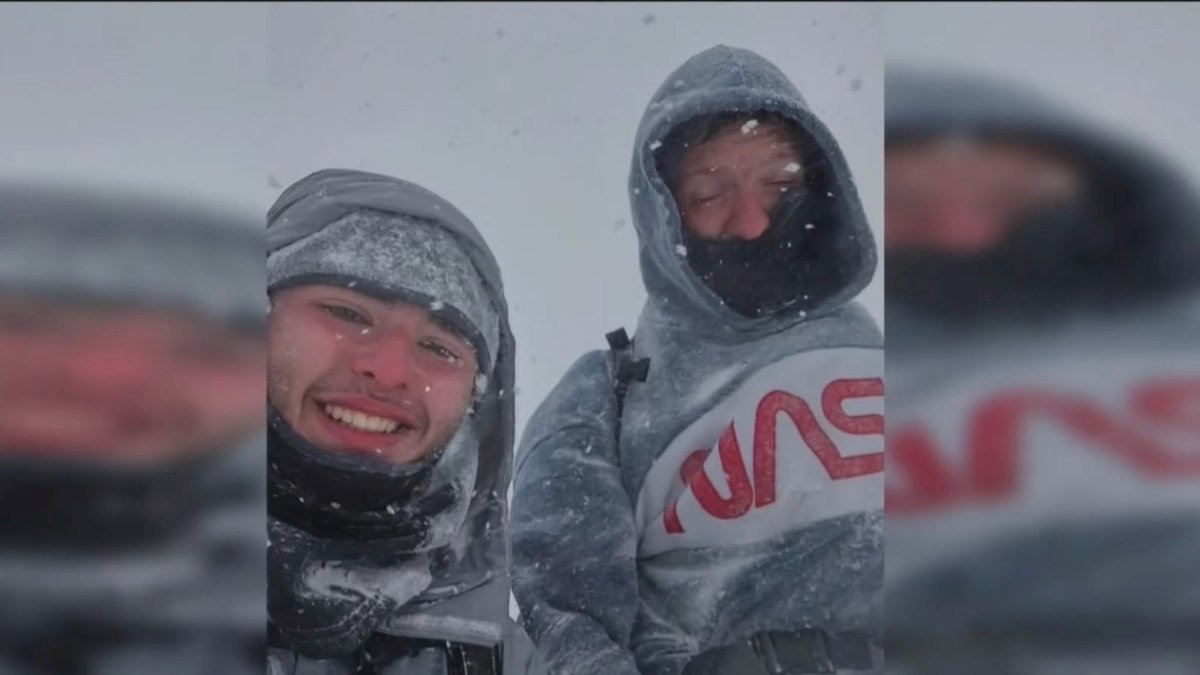 [ad_1]
The mother of one of two teen hikers rescued after days stuck in a historic snowstorm that delivered several feet of snow to Southern California's mountains thanked search-and-rescue team members Monday in a heartfelt statement.
Tina White said she is grateful, proud and relieved after the dramatic rescue, made possible when a helicopter crew followed the teens' foot tracks in the snow, in the San Bernardino County mountains east of Los Angeles. The experienced hikers were on a 10-day hike in the mountains, including in a rare blizzard warning, when the back-to-back storms fueled by an atmospheric river over the Pacific unleashed days of snow and piled snow drifts up to 5 feet high at their location.
"I wish I could hug everyone, but huge thank you and lots of love goes out to the search and rescue to risk their lives to make sure our boys made it home safely," White said in a statement shared with NBCLA. "I know it's what they're trained to do, but that doesn't change the fact that they do a very dangerous job and they don't always have a great outcome. There's just not enough words that could express my gratitude that these boys made it home."
San Bernardino County sheriff's Sgt. John Scalise told the Associated Press the 17-year-old boys — Riley Ramirez, of Cypress, and Cole White, of Portland — were slightly hypothermic and lucky to be alive. They huddled together for three nights to stay warm, authorities said.
The boys were dropped off Feb. 26 near a trailhead in Whitewater. They planned to hike the Pacific Crest Trail toward San Gorgonio Mountain, Southern California's highest peak, but lost contact with their families two days later.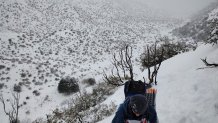 Cesar Ramirez, father of the other rescued hiker, said the boys had food in their backpacks, a tent and snowshoes. They also had extensive training and aspirations to join the military, he said.
Ramirez said they lost contact through a tracking app and called the sheriff's department.
A helicopter team responded to their last known location Friday and followed the foot tracks near a remote section of the Pacific Crest Trail along Mission Creek. The helicopter crew landed in deep snow to reach the hikers.
By the time they were rescued, Ramirez said his son's jacket was blown away by powerful wind gusts that buffeted the mountains. The boys' tent also broke, he said.
"They've told us, 'We were already convinced we were going to die,'" Ramirez, of Cypress, California, told the AP.
Photos: SoCal Mountain Communities Stranded Amid Historic Snowfall
Scalise said the hikers were well prepared for the hike, but not for the historic snowfall. They encountered 4 to 5 feet of snow drifts and limited visibility.
"I did have a lot of comfort in knowing that the boys were well equipped, well prepared and in good company," White said. "I also would like to say I am so proud of them for going out there having a journey and doing everything they could have to prepare. I know from my end Cole spent months making preparations. My living room was covered with gear. He was constantly doing calculations and running to the store for more rations or what not.
"t was just incredibly unfortunate that they had unexpected weather occur the way it did. If any of us had thought that it would've been so extreme, there would've been changes accordingly."
Days of snowfall, up to 10 feet in some locations, left many mountain residents stuck in their homes. Gov. Gavin Newsom declared states of emergency in 13 counties including San Bernardino County, where crews are still trying to reopen roads blocked by snow.
[ad_2]
Share this news on your Fb,Twitter and Whatsapp
Times News Network:Latest News Headlines
Times News Network||Health||New York||USA News||Technology||World News