[ad_1]
PowellCatOffical reported on Instagram that Powell Cat passed away in the open under a tree near their home, in front of Kaufman Hall on March 9, 2023.
In the post, PowellCatOffical mentioned that they would like to plan a memorial or a get together to give Powell Cat a final and proper goodbye. As of right now there are no details of when or where this will take place. 
In the meantime, the post encouraged everyone to share their memories of Powell Cat. Many commented expressing their heartbreak and how they wished the news wasn't true, while others shared their favorite memories and pictures with Powell. 
Powell Cat lived for many years at UCLA and impacted the lives of many in different ways. To many, Powell Cat was more than a stray cat who lived on campus, they were a friend. 
Powell Cat was a stray cat that was spotted living at UCLA back in 2015. Kathleen Brown, a staff member at the UCLA Library who was one of Powell's caretaker, explains that the history is unclear but that it is possible that Powell's mother, renamed Midgeley, could be the one who lived inside Powell Library. If that is the case, their assumption is that Powell had been born around 2013. 
Over the years, staff members at UCLA took it upon themselves to take care of Powell. They provided food, snacks, water and other necessities for the cat. For a while, only staff members were allowed to take care of Powell.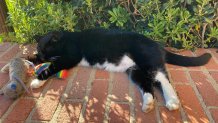 But over the years this changed, especially when COVID-19 hit. 
The usual staff members who were in charge of taking care of Powell could no longer come to UCLA during the pandemic. It was getting difficult to look after Powell. Which is why Brown decided to reach out to Alaina Dexter and ask if they would be available to help take care of Powell. 
Alaina Dexter, an alumnus from UCLA, was the creator of the Instagram account, PowellCatOfficial. They created the account during her freshman year, 2017-2018, as a fun hobby where they could post pictures of Powell.
They wanted to share the love they had for Powell with others. What started off as a fun and cute hobby turned into much more. 
When Brown reached out to them about possibly helping take care of Powell, they immediately accepted. Together, they took care of Powell. They also managed the Instagram account together. It wasn't until Dexter graduated and moved countries that they officially passed it on to Brown.   
To Dexter, Powell Cat was an important part of their life at UCLA. When Dexter got accepted into UCLA, they moved from North Carolina to Los Angeles. They mentioned how it was tough for them to adjust to a new state.
"Moving to Los Angeles was incredibly lonely," said Dexter. 
They explained how Powell Cat was one of the reasons that helped them adjust and feel connected to the LA community. Sometimes, it was one of the reasons why they would leave her dorm; to go spend time with Powell.
"The first time that I started to feel like a part of a community was actually when I met people with Powell. It [was] when I met other strangers who just wanted to see and wanted to talk and wanted to pet the cat," said Dexter. 
But Dexter was not the only one who helped take care of Powell. Multiple students offered to do this.
In 2021, the Powell Cat Feeder Friends group was created. The goal of the group was to make sure that Powell was being given the proper care.
Dexter explained that their purpose was to check and give Powell food, make sure the water was filled up, clean any messes and overall make sure Powell was healthy. The group would take turns in taking care of Powell by committing to come consistently throughout the week.
Staff members, students and others would do their best to make sure Powell Cat felt loved and cared for. Powell was a friend and a companion. There wasn't a day that went by that Powell did not receive and give this love.
Powell Cat was cared for and loved by many. The news of UCLA's unofficial mascot has left many heartbroken. Those who wish to share their favorite memories can do so on Instagram. For more information, check the PowellCatOfficial Instagram. 


[ad_2]
Share this news on your Fb,Twitter and Whatsapp
Times News Network:Latest News Headlines
Times News Network||Health||New York||USA News||Technology||World News