New York
Oldest Cheese Shop In US Closes in NYC's Little Italy, But Will Have New Home in NJ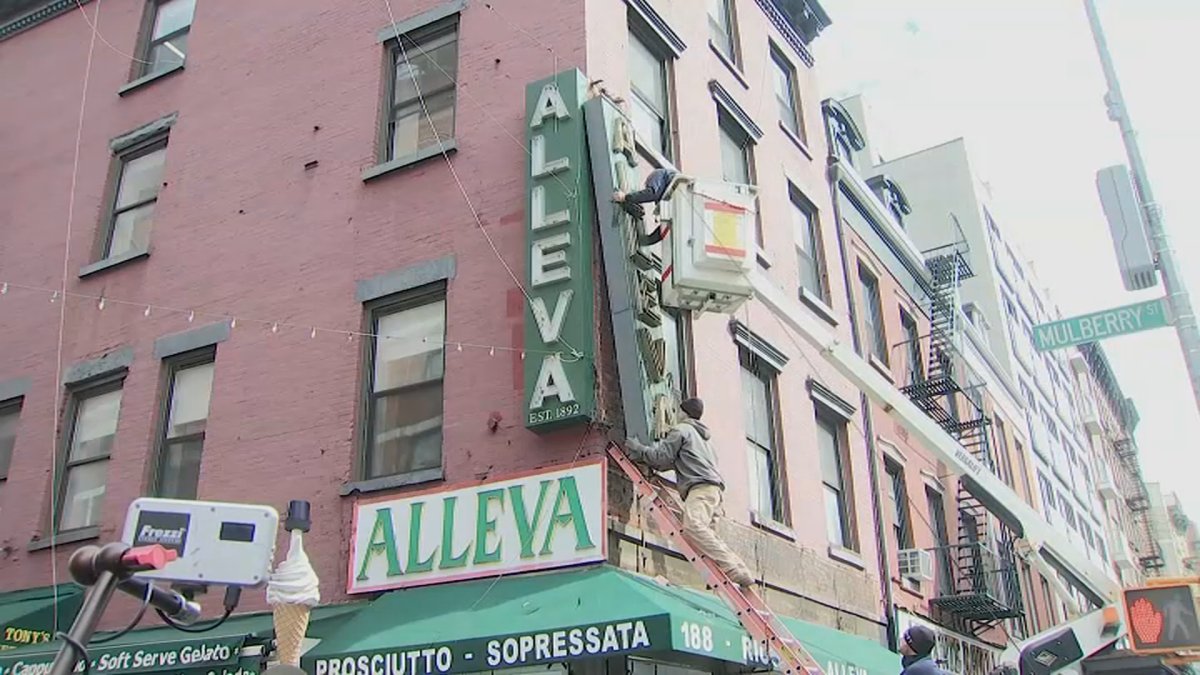 [ad_1]
Call it the "miracle on Mulberry Street."
Yes, the oldest cheese shop in New York City — considered the oldest in America — was forced to close its doors for good at its Little Italy location. But there are plans to give it a new life across the Hudson River.
After financial struggles and court battles, Alleva Dairy shuttered the only location it has known in its 130-year history, at the corner of Mulberry Street and Grand Street.
People were stopping by throughout the day to buy the remaining cheeses. But the signs were all down, and the store pretty much entirely packed up — though the legacy will be kept alive.
Owner Karen King and her husband bought Alleva Dairy a decade ago.
"My husband was born and raised in Little Italy, his name was Cha Cha and he was the unofficial mayor of Little Italy," King told NBC New York in February.
When Cha Cha died in 2015, King made it her mission to keep Alleva going. But then the pandemic hit, and businesses in the tourist-centric area were hit hard by the shutdowns.
Business had slowly been getting back on track for the neighborhood staple known for its fresh cheeses (like the mozzarella made fresh every day) and massive sandwiches — especially after having expanded to become a café, offering things like arancini. They tried selling ready-made meals and grocery items to stay afloat.
"It helped but it didn't bring in the money that I needed for the rent," King said previously.
Historic shop in Little Italy is being forced to close after a yearlong legal battle with the landlord. Rana Novini reports.
But the shop fell two years behind on rent payments and filed for bankruptcy. A months-long legal battle with the building's landlord over $500,000 in back rent ensued, as that landlord refused to honor the remainder of the company's 10-year lease.
In April 2022, King said she was willing to pay the money, but just wanted time in order to do so. But the landlord was demanding the money, and Alleva recently received its final deal: The store will be forgiven its debt, but must leave the building.
King last spoke with NBC New York in February, and her story reached a real estate developer named Jack Morris. He stepped in with plans to pack up Alleva and move it to a bigger location in Lyndhurst, New Jersey.
"He's taking me to places that I have wanted to go my whole life and I'm taking my little cheese store with me," said King. "It's a miracle on Mulberry Street!"
While it won't be the same as the landmark shop where they have been selling cheese since 1892, the end of this era will usher in a new one.
The new location in Lyndhurst is being built, and they're planning to open in August. Some of the original signage and ceramic work will be coming with them, honoring the traditions from their longtime and beloved Little Italy location.
Alleva Dairy, the oldest cheese store in the U.S. located in NYC's Little Italy, has been used by its landlord for allegedly owing rent. NBC New York's Rana Novini reports.
[ad_2]
Share this news on your Fb,Twitter and Whatsapp
Times News Network:Latest News Headlines
Times News Network||Health||New York||USA News||Technology||World News