New York
When Will Supreme Court Rule on Biden's Student Loan Forgiveness Plan?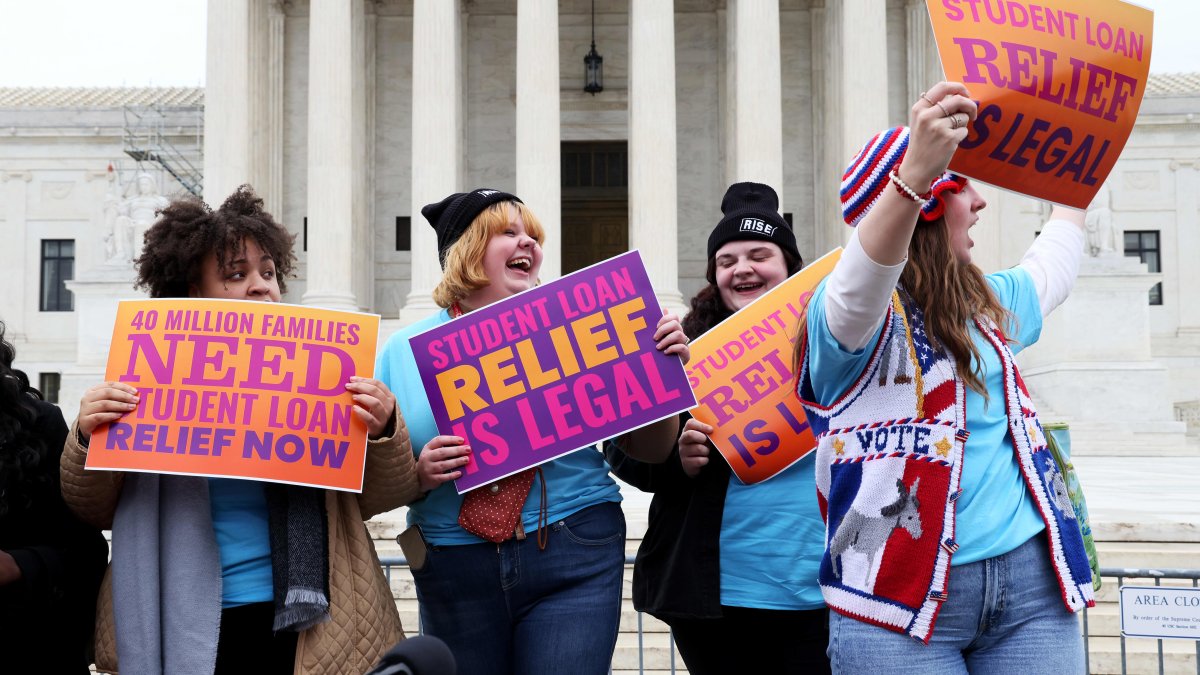 [ad_1]
Now that the Supreme Court has heard oral arguments over Biden's student loan forgiveness plan, here's what borrowers can expect next.
Experts say a decision may come by late June.
Now that the Supreme Court has heard oral arguments over student loan forgiveness, borrowers may be wondering: What's next?
Oral arguments last only a day, but the justices can take months to reach a decision, experts say. In an analysis of the last Supreme Court's term, higher education expert Mark Kantrowitz found that half of the decisions were issued in June.
For many borrowers, that may be an agonizing wait: More than 26 million people applied for the Biden administration's relief program before the U.S. Department of Education had to close its application portal amid legal challenges. The decision reached by the nine justices will determine whether those borrowers get up to $20,000 of their debt canceled.
More from Personal Finance:
Biden's student loan forgiveness plan heads to Supreme Court
How to decide if you should go back to school
The cheapest states for in-state college tuition
"For many people, this is life and death," said Thomas Gokey, co-founder of the Debt Collective, a national union of debtors. "What's at stake is being forced to choose between paying for student loans or being able to buy groceries, make rent and pay medical bills."
Here's what borrowers need to know while they wait for the Supreme Court's ruling on student loan forgiveness.
Experts say the ruling could go either way
President Joe Biden's plan has faced at least six lawsuits since it was rolled out in August.
The nine justices on Tuesday considered two of those legal challenges: one from six GOP-led states —Arkansas, Iowa, Kansas, Missouri, Nebraska and South Carolina — and another backed by the Job Creators Network Foundation, a conservative advocacy organization.
Prior to the oral arguments, legal experts expected Biden's plan to face tough odds with the justices. However, they then lobbed praise on Solicitor General Elizabeth Prelogar, the lawyer who represented the Biden administration in front of the highest court, for her performance, and some changed their tune.
"The Biden administration now seems more likely than not to win the cases," Kantrowitz said.
University of Illinois Chicago law professor Steven Schwinn said Prelogar "knocked it out of the park."
"I do think she could have influenced or even changed the thinking of two justices, maybe more," he added.
The plaintiffs argued that the president doesn't have the power to wipe out $400 billion in student debt without the authorization of Congress. The government attorney defending the policy countered that the Education Department can make changes to the federal student loan system, including debt forgiveness, during national emergencies.
A top Education Department official recently warned that the public health crisis has caused considerable financial harm to student loan borrowers and that its debt cancellation plan is necessary to stave off a historic rise in delinquencies and defaults.
At times, the justices seemed skeptical that those emergency powers included the kind of sweeping loan forgiveness the president is trying to carry out. But they also seemed doubtful at points that the plaintiffs had successfully proven they'd be harmed by the plan, which is typically a requirement to have standing to sue.
Payment pause on federal student loans is still ongoing
Federal student loan payments have been on pause since March 2020, when the coronavirus pandemic first hit the U.S. and crippled the economy. When the bills restart depends on how long the Supreme Court justices take to issue a decision, Kantrowitz said.
The Education Department in November said the bills would resume 60 days after the litigation over its student loan forgiveness plan resolves.
If the legal issues with the administration's forgiveness plan are still unfolding by the end of June, or if it's not allowed to move forward with forgiving student debt by then, payments will pick up at the end of August.
If the justices allow student loan forgiveness to go through, many borrowers will never have to restart payments. According to a White House estimate, roughly 20 million people could have their debt entirely cleared under the president's plan.
"Sixty days will be enough to forgive student loan debt if the president's plan survives," Kantrowitz said. "They've already approved forgiveness for 16 million borrowers, so they just need to transmit this information to the loan servicers."
He added: "It should take one to two weeks for the servicers to implement."
A ruling against student loan forgiveness isn't the end
Experts say that should the justices rule against the student loan forgiveness plan, the Biden administration could look for other ways to deliver its relief. The administration also could try to keep the payment pause in place for longer while it figures out those next steps.


[ad_2]
Share this news on your Fb,Twitter and Whatsapp
Times News Network:Latest News Headlines
Times News Network||Health||New York||USA News||Technology||World News