Washington
Biden to rip Republicans on the deficit in campaign-style speech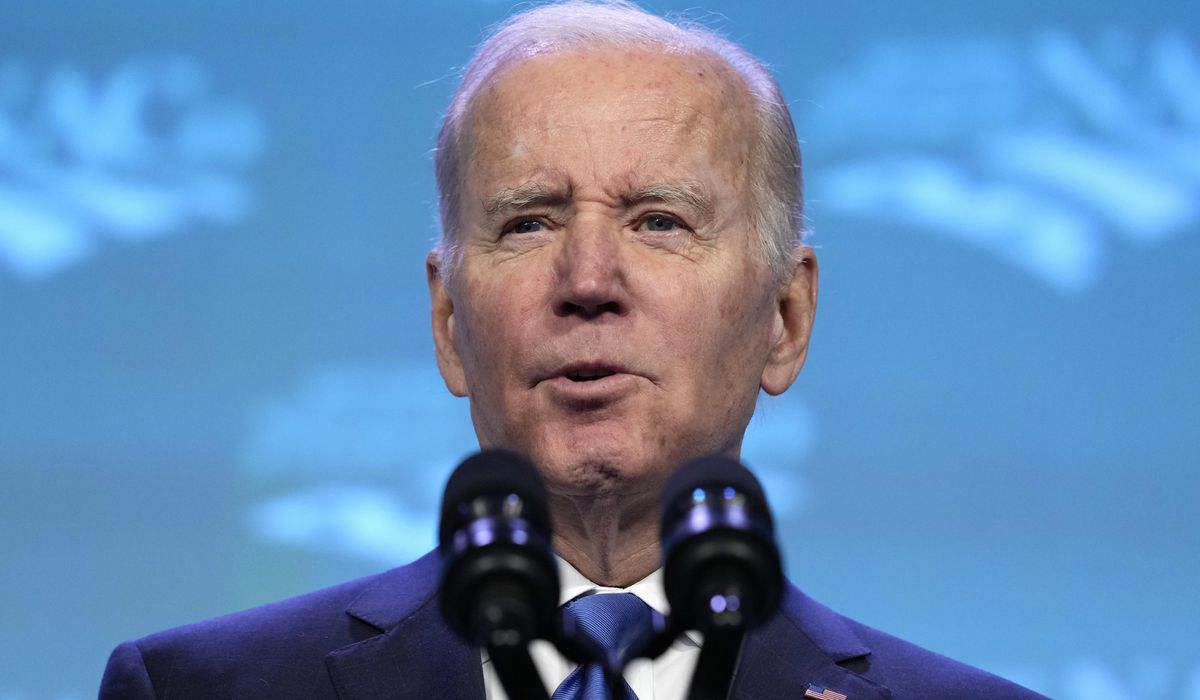 [ad_1]
President Biden will hammer Republicans Wednesday, accusing them of pushing for spending cuts while their own plans would add more than $3 trillion to the national debt.
"If you add up all the proposals that my Republican friends in Congress have offered so far, they would add another $3 trillion to the debt over 10 years," Mr. Biden intends to say, according to excerpts released by the White House.
"You'll see that my budget will invest in America, lower costs and protect and strengthen Social Security and Medicare, while cutting the deficit by $2 trillion over 10 years," Mr. Biden will say, according to the excerpts.
The White House says it reached the $3 trillion calculation by adding up a series of bills proposed by the GOP-led House. Those bills include one that would rescind funding for the IRS to add new employees, another proposal that would repeal Mr. Biden's massive climate, health and tax law, and legislation that would extend Trump-era tax cuts on the wealthy.
The president will deliver the remarks in a speech to the Brotherhood of Electrical Workers Local Union 26 in Lanham, Maryland. It is the latest in a series of campaign-style speeches contrasting his policies with the GOP's plans, although he has not formally declared that he will seek reelection.
Last week, Mr. Biden delivered speeches assailing the GOP's economic agenda and plans for Social Security and Medicare.
Republicans have refused to raise the $31.4 trillion U.S. debt limit unless Mr. Biden agrees to slash government spending. The White House has said it will discuss such measures only after the debt ceiling is lifted.
GOP lawmakers have argued that federal spending is too high and fueling inflation while raising the U.S. debt level. Mr. Biden has pushed back on those claims, saying their plans, including prolonging Trump-era tax cuts and cutting the corporate minimum tax, could send the national debt north.
A White House fact sheet says keeping the Trump tax plan would reduce taxes by $175,000 for families with incomes over $4 million, which is roughly double the median U.S. household income.
The same fact sheet says Mr. Biden wants to preserve some of the tax cuts as part of his campaign pledge not to raise taxes on anyone making less than $400,000.
Yet if Mr. Biden is willing to keep tax cuts on the table and neither he nor the GOP leadership has proposed cutting entitlements, it's unclear how the deficit will get reduced under his plan.
Mr. Biden has recently boasted that his policies slashed more than $1.7 trillion from the deficit, claiming it's the largest reduction in U.S. history.
The deficit did drop by $1.7 trillion under Mr. Biden's watch, but the primary reason was that the government stopped dolling out COVID-19 pandemic relief funds. As that spending — which sent the deficit to record-high levels under President Trump — stopped, the deficit started to fall.
Mr. Biden and House Speaker Kevin McCarthy have only a few months to reach a deal on raising the government's authority to borrow money, or it could default on its bills. 
In a speech Tuesday, Mr. Biden described Mr. McCarthy as a "good guy" with a "tough job," but insisted the House speaker won't budge on raising taxes and wants to only cut programs.
"I believe we could be fiscally responsible without risking — threatening to send our country into chaos," Mr. Biden said.
The president on Wednesday will reiterate his call to quadruple a 1% tax on corporate stock buybacks and enact a minimum tax on billionaires to help lower the deficit, according to a White House fact sheet. It is unlikely either measure will pass the GOP-controlled House.


[ad_2]
Share this news on your Fb,Twitter and Whatsapp
Times News Network:Latest News Headlines
Times News Network||Health||New York||USA News||Technology||World News