Washington
Slog AM: Stay of Execution for Pike Place Cherry Trees, Tesla Steering Wheels Fall Off, Women Sue Texas over Abortion Bans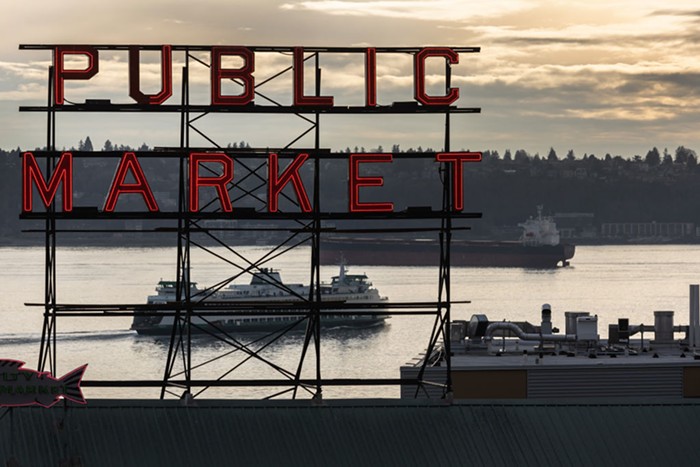 [ad_1]
Put the prisoners somewhere else: A new measure from King County Executive Dow Constantine proposes moving 50 people from the county jail into a jail in Des Moines. This would address the issues going on at the King County Jail. Among the issues: The inmate population is rising, a fifth of corrections officers have left since the pandemic and nobody's filling those roles, jail conditions have deteriorated, and six people died in jail custody last year. So, Constantine wants to pay $1.75 million a year to put people in the Des Moines jail. King County Council Members remain skeptical of the proposal. 
Tree activists win… for now: The City of Seattle won't uproot beloved cherry trees at Pike Place Market just yet. Construction for bike and pedestrian improvements between First Avenue and Second Avenue necessitated removal of the trees. Seems like if we banned cars from Pike Place entirely the trees could stay? You don't want to mess with any sort of iconic tree in this city. Community activists put up quite a fight by leaving heart-shaped posters all around the trees. So, the City paused construction to "listen to community." 
This is what listening to community is going to sound like: We all remember the incredibly catchy tree murder song from pre-COVID 2020, right? 
TREE MURDER SONG: pic.twitter.com/UG2ZIwwuTK

— nathalie graham (@gramsofgnats) February 12, 2020
Oklahoma says no to drugs: A ballot measure to legalize weed in Oklahoma failed last night. Despite their robust and lax medical marijuana system, Oklahoma voters didn't want to become the 22nd state to legalize recreational pot use. What's crazy is supporters of the bill outspent the 'no' coalition more than 20-to-1. The 'yes' camp funneled in more than $4.9 million, compared to the about $219,000 spent against the measure. 
Rupert Murdoch says 2020 election wasn't stolen: The Fox Corp. chairman said under oath he believed the 2020 election was "free, fair and not stolen." Hmm. Surprising considering Fox's dubious coverage! Murdoch's testimony is part of Dominion voting systems' $1.6 billion suit against Fox. Dominion claims Fox blamed its tech for "changing the vote" in 2020. 
How are you doing during these doldrums? February and all of its gloom should be illegal. Spring is so close. I can taste the birdsong, hear the cherry tree buds readying themselves to unfurl. Sadly, today will be cold and wet. 
Looking at the last 100 days of weather in Seattle:

76 days have been cloudy (80-100% cloud cover), 22 partly cloudy (40-70%) & 2 clear (0-30%).
71 days with below normal high temps, 26 above & 3 normal.
70 days have had measurable precipitation, 11 with a trace, 19 dry.#wawx

— NWS Seattle (@NWSSeattle) March 8, 2023
Happy International Women's Day! It's a bummer our country hates women. For example, five women are suing the state of Texas because they couldn't receive life-saving care while pregnant for fear of facing the wrath of Texas' strict anti-abortion laws. Under the laws, nearly all abortions are considered felonies. The suit asks the state to clarify exceptions to the laws so patients can receive care from their doctors. In response, Texas Attorney General Ken Paxton's office said Paxton "will continue to defend and enforce the laws duly enacted by the Texas Legislature."
Kim Jong Un's kids: South Korea's spies say they think the North Korean leader has three kids who were born in 2010, 2013, and 2017, respectively. The eldest kid, the spies say, is a boy. Yet, the only offspring to make a public appearance is Kim's second child, a girl named Ju Ae. She's going to missile test launches, banquets with defense officials, military parades, etc. Meanwhile, nobody has seen Kim's other kids or knows their names. Could Ju Ae be the next in the line of succession? That would be a real shock to North Korea's patriarchal system. 
Tesla steering wheel keeps falling off: The National Highway Traffic Safety Administration is investigating Tesla's Model Y SUV after complaints that the steering wheel fell off while driving. According to the investigation, customers received the Model Ys without the bolt that holds the steering wheel to the steering column. I'm not car expert, but this seems like an important part to have in your car. Seems like Tesla should've heeded the advice from this focus group:
Cocaine cat: Earlier this year, the Cincinnati Zoo and Botanical Garden helped an African serval recover from a cocaine binge. 
Trim that deficit, Joe: Today, Biden will release a budget plan to trim federal deficits by at least $2 trillion over 10 years. To do so, he plans to introduce a new tax on households over $100 million, a figure that applies to earned income as well as wealth locked up in stocks and bonds. Biden also wants to quadruple the tax on stock buybacks. Additionally, the President wants to create free pre-K nationwide, free community college for students, federally guaranteed paid leave for workers, and expand access to and reduce the cost of child care. He refused to cut social security or Medicare benefits to pay for any of this. King shit, Joe. We'll see whether Republicans let any of this happen.
Seattle loves ADUs: Back in 2019, Seattle updated zoning regulations to encourage more accessory dwelling units as a way to increase density and offer different housing solutions in the city. Seems like it worked. Last year, according to the Seattle Times, the city permitted 1,000 ADUs. That's a 250% increase from the 280 permitted in 2019. 
Check those privacy settings, bucko: A security researcher traced a former top Biden official's movements based on the official's profile on the hiking app, AllTrails. The researcher saw the official's visits to the White House and other sensitive locations. They also determined where the official lived based on app data. 
Want to feel bad about the world? New York high schoolers made deep fake videos of a nearby middle school principal saying a string of racist slurs. The realistic video wasn't real. The student's also made a fake video of a member of the sheriff's office saying racist shit. 
Trailer for the Seattle season of Love Is Blind  just dropped: Did you go to high school with any of these people?
First comes love, then comes reality. Who's ready for a Season 4 like no other? Coming March 24. pic.twitter.com/NlBXeVqDui

— Love is Blind (@LoveisBlindShow) March 8, 2023


[ad_2]
Share this news on your Fb,Twitter and Whatsapp
Times News Network:Latest News Headlines
Times News Network||Health||New York||USA News||Technology||World News