Movie/TV News
Eternals vs. Captain Marvel: MCU Producer On Who's More Powerful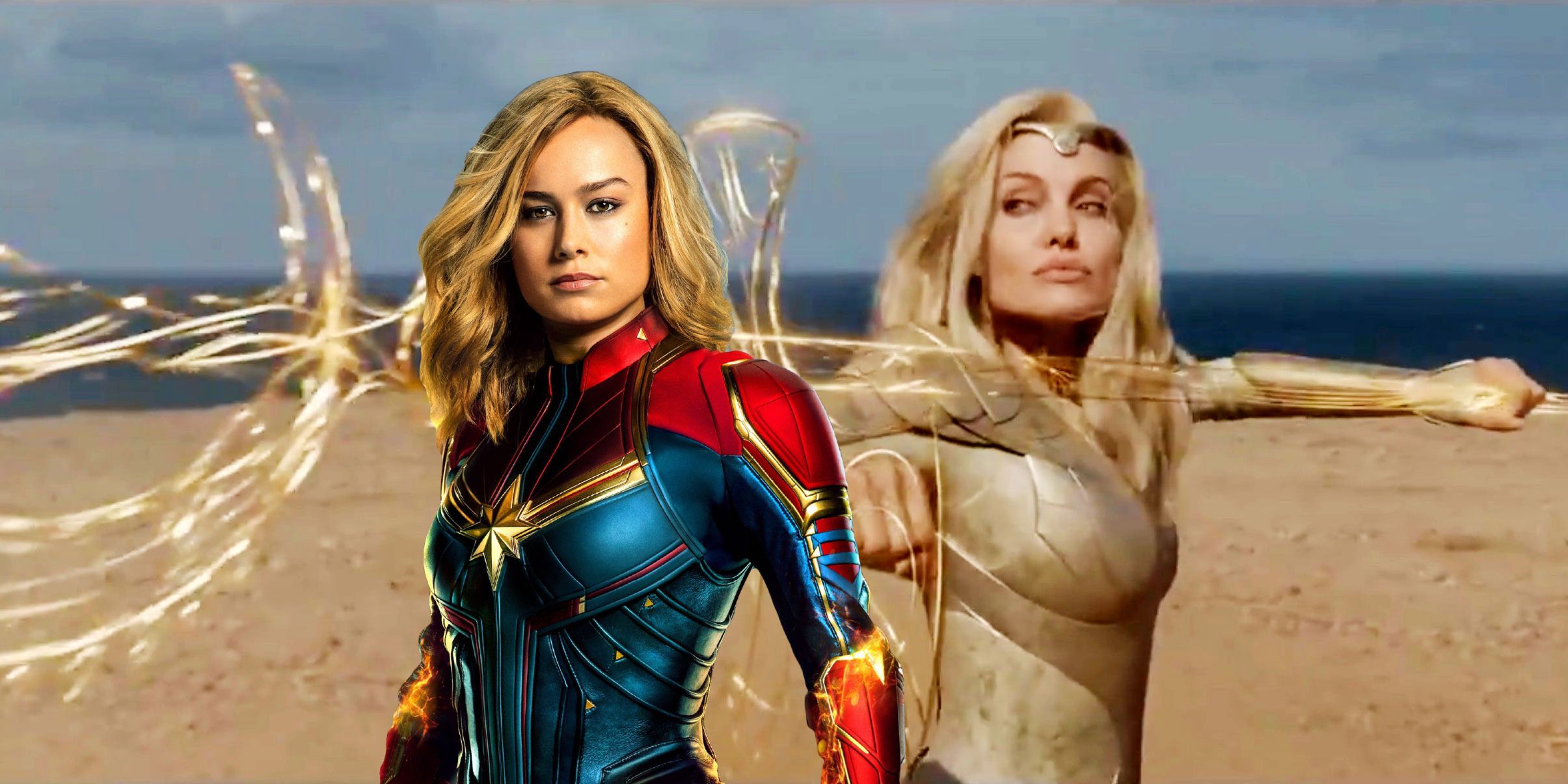 Eternals producer Nate Moore says Captain Marvel would be a tough fight, but describes Angelina Jolie's Thena as Captain America with cosmic weapons.
Marvel Studios' VP Nate Moore discusses whether Captain Marvel is more powerful than the Eternals. The Marvel Cinematic Universe superhero played by Brie Larson was introduced in her eponymous 2019 film and quickly became one of the Avengers most powerful members. Chloé Zhao's Eternals, the next MCU film in the release calendar, is scheduled to open wide on November 5.
For as long as superhero teams have existed, fans have been compelled to compare their relative power levels, pitting them against each other in hypothetical fights to determine who would come out on top. Captain Marvel sparked intense debate when she joined the MCU, as her backstory revealed the Tesseract (a.k.a. the Space Stone) as the direct source of her powers, instantly identifying her as a force to be reckoned with. As discussions over whether she could end up single-handedly defeating Thanos in Endgame raged on, Larson's superhero ended up becoming a new MCU benchmark against which all future additions could be measured.
Related: Eternals' Origin Changes Open The Door For MCU Greek Gods
As part of a press visit to the Eternals set attended by SR, producer Moore was asked to measure Angelina Jolie's Thena against the Captain Marvel yardstick, and he admitted that's a tough ask for any fighter. He describes the warrior Eternal as Captain America with cosmic powers, so she shouldn't be immediately counted out, but the filmmakers weren't looking to make the characters too godlike. Even the Avengers' fully human members would probably be able to hold their own:
I mean, when Captain Marvel goes binary, that is tough, but it would be as if Captain America– who I would argue is probably the best physical fighter– was powered by cosmic weapons, like, she's going to be a problem, but again, Captain Marvel going binary, that's tough. […] I mean, look, they're obviously stronger than humans. I think you look at our amazing heroes, like Hawkeye and Black Widow wouldn't have a problem. We didn't want them to be too godlike because I do think you run the risk of them being less relatable. And I guess Thor's managed that pretty well. But we don't necessarily have a ranking system. We do think they occupy their own pocket and I do think down the line, if and when they were to intersect with other characters… that's a fun thing to investigate.
Fans have reason to wonder where the Eternals place in the MCU's power rankings, as they were created by the Celestials, mysterious beings that have mostly existed in the films' periphery so far. The superhero team was sent to Earth to protect humanity from their counterparts, the Deviants, and given orders not to intervene in conflicts outside of their purview – rules so strict that they didn't get involved in the fight against Thanos. With that issue raised directly in the Eternals trailer, audiences are naturally asking if they could have turned the tide in Avengers: Infinity War, and wondering whether they will become more involved in the MCU's future.
While Moore makes it sound like the Eternals aren't beyond the abilities of human superheroes, fans might be skeptical about that claim. For them to have a reason to exist, Earth must not be able to defend itself from the Deviants, and the Avengers have some immensely powerful individuals in their ranks. The Eternals producer does say the film's new heroes work within their own niche, however, so it's possible that viewers will learn more about the specific nature of their abilities when the movie releases in November.
Next: Every Eternals' Powers & Role In The Movie Explained By Producer
Eternals (2021)Release date: Nov 05, 2021
Spider-Man: No Way Home (2021)Release date: Dec 17, 2021
Doctor Strange in the Multiverse of Madness (2022)Release date: Mar 25, 2022
Thor: Love and Thunder (2022)Release date: May 06, 2022
Black Panther: Wakanda Forever/Black Panther 2 (2022)Release date: Jul 08, 2022
The Marvels/Captain Marvel 2 (2022)Release date: Nov 11, 2022
Ant-Man and the Wasp: Quantumania (2023)Release date: Feb 17, 2023
Guardians of the Galaxy Vol. 3 (2023)Release date: May 05, 2023
Superman Brings Back a Weirdly Useful Forgotten Power
About The Author
Share this news on your Fb,Twitter and Whatsapp
NY Press News:Latest News Headlines
NY Press News||Health||New York||USA News||Technology||World News