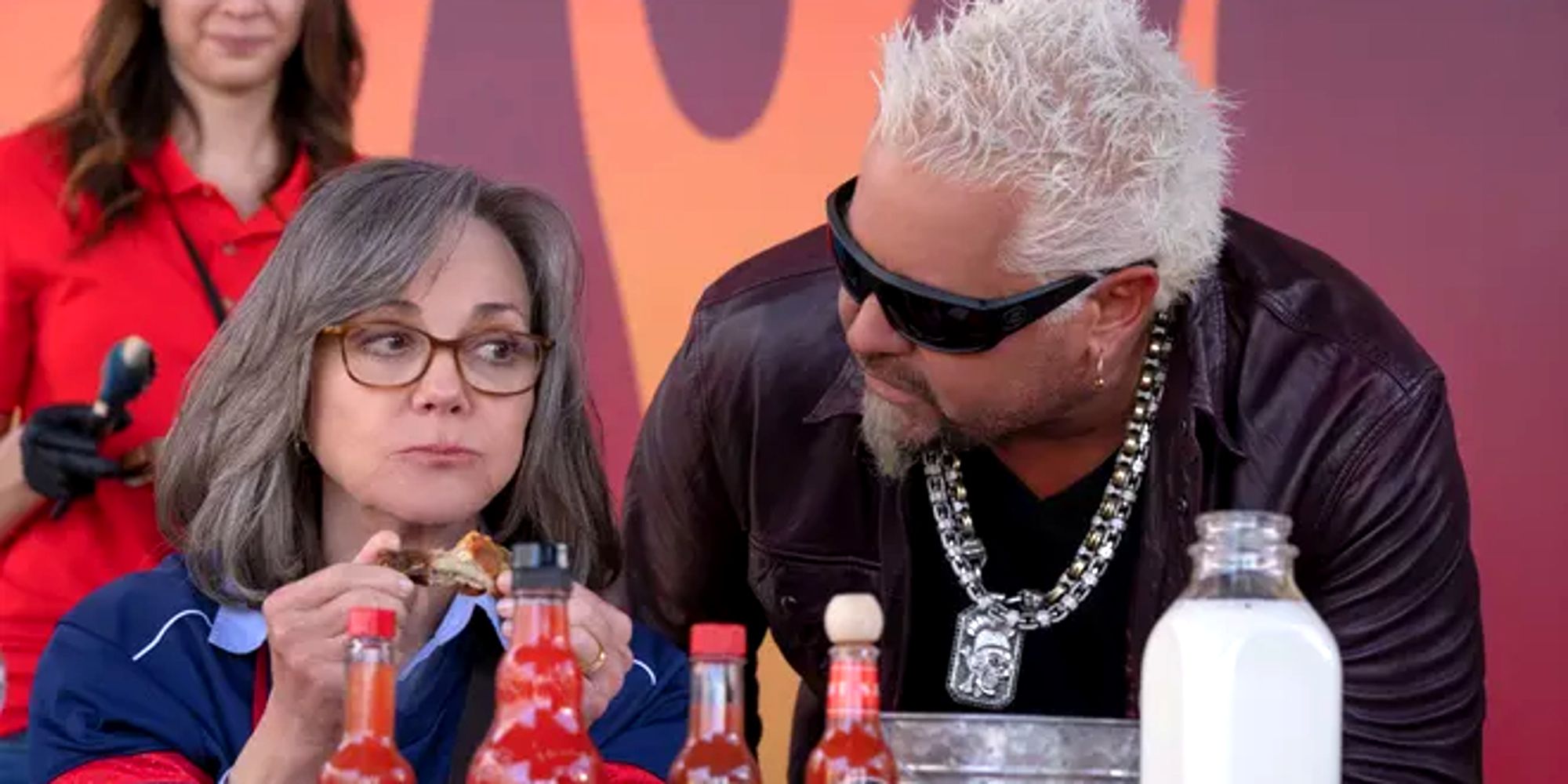 Based on the true story of four Tom Brady fans who traveled all the way to Houston for Super Bowl LI, 80 for Brady is packed with more NFL players and celebrity cameos than the Patriots' starting lineup. Lily Tomlin, Jane Fonda, Sally Field, and Rita Moreno star as senior Pats pals who have followed Brady's career since 2002 when Lou was getting through chemotherapy, and Brady led the Pats, 20-17, against the St. Louis Rams in their first Super Bowl victory. When Lou wins tickets to see the Patriots play the Falcons, it's a chance for them to see Brady live and have the adventure of a lifetime.
The main cast of 80 for Brady are Hollywood legends themselves, but once the women fly to Houston, the trip becomes a nonstop whirlwind of familiar faces as they navigate the NFL Experience and all the festivities associated with Super Bowl LI. Participating in a hot wing contest and scoring tickets to a coveted players' party at a Houston mansion get them rubbing shoulders with celebrities and NFL players in a series of spontaneous and hilarious scenarios. The big game also presents an impressive roster of recognizable cameos, including the MVP himself, Tom Brady, who recently announced his retirement.
RELATED: A Russell Crowe Gladiator 2 Cameo Is A TERRIBLE Idea
12
Guy Fieri
A mascot of the '00s with his signature frosted tips and gold chains, Guy Fieri pops up in Houston during the NFL Experience as the host of a hot wings-eating contest. Betty (Field) decides to participate and makes friends with Fieri while Lou (Tomlin) refers to him as a "flaming hot Cheeto." In a scene straight from American Dad's "Flavortown" Guy Fieri homage, he later appears at the player's party the night before Super Bowl LI, where Maura eats some edibles and begins to see Fieri in the faces of everyone around her.
When she takes a seat at his poker table, every celebrity holding a hand begins to morph into a version of the Diners, Drive-Ins, and Dives star. Before too long, Maura herself sees Fieri every time she looks in a mirror, but the effect of the gummies doesn't stop her from going all in against Fieri and his pals. Fieri definitely adds a little spice to one of the most hilarious parts of 80 for Brady.
11
Rob Gronkowski
Rob Gronkowski, a former NFL tight end who, like Brady, played for both the New England Patriots and the Tampa Bay Buccaneer, always seems game for poking fun at himself. His big scene in 80 for Brady puts a whole new meaning to "fantasy football" when he interacts with Trish (Fonda), who has made him the subject of her latest erotica fiction. After reading a chapter of her book out loud at the NFL experience, the romance novelist never expects to bump into him in the Patriot's locker room!
Gronkowski told Peoplethat all the actresses had, "swagger," and his reactions to seeing the women in the locker room really sell his big scene. Trish has a "thing for football players," and it's hilarious to watch her become flustered around one of her inspirations. Gronkowski, who retired in 2022, might just have a future as a leading man in sports comedies.
RELATED: Every Player From Last Chance U That Made It To The NFL (So Far)
10
Julian Edelman
Like fellow teammates Brady and Gronkowski, Julian Edelman was with the Patriots in 2017 when they won Super Bowl LI. Brady was happy to reunite with Edelmen and Gronk again for a new experience making an atypical sports movie. "We've never been on a movie set together, but it felt like we were back in the locker room when we were there. Anytime I get my friends involved in things that I'm doing, it makes it that much more enjoyable for me." (via Variety).
Edelman can be seen when the four women unexpectedly enter the Patriots' locker room, complete with his signature bushy beard. According to Variety, Edelman had to regrow the iconic beard for 80 on Brady so that it would be accurate to his appearance in 2017. He doesn't have a large cameo, but the movie wouldn't be the same without him.
9
Danny Amendola
Joining Edelman, Gronkowski, and Brady was Danny Amendola, another member of the Patriots for their historic win in 2017. "The costume team did an incredible job of keeping everything as authentic as possible," Brady told Variety. Where Hustle had to avoid awkward cameos, 80 for Brady could just focus on players like Amendola sharing hilarious scenes. Like everyone else, he had to recreate his appearance from 2017, based on old locker room photos taken at the time.
From the room to the players' appearance, everything had to be as it was to generate the same level of excitement. Amendola's cameo adds to the authenticity of the movie and its overall hilarity, particularly with Betty. The Super Bowl LI victory solidified the Patriots' legacy and Brady as an MVP, and it wouldn't have been the same without every member of the team.
RELATED: The Hilarious Tom Brady Lord Of The Rings Meme Explained
8
Patton Oswalt
When Maura joins Guy Fieri's celebrity poker table, she finds herself seated across from several well-known faces. Patton Oswalt had a cameo in Wrong Turn 2, making 80 for Brady another random genre film for him to appear in unexpectedly, but he definitely adds to the overall surrealism of the scene. He's the perfect sort of comedian for a scene involving substance-fueled transmogrification, and watching him blend with Fieri is a unique experience.
Maura never refers to him by name, instead choosing to call him "Brisket" while they make bigger and bigger bets. The writer and comedian has been known to go by "Boozehammer" when playing Nerd Poker, so this isn't too far beyond his milieu. He's best when he's trading barbs with Maura, particularly because of Moreno's sharp timing.
7
6
Retta
Seated at the same table as Patton Oswalt is fellow stand-up comedian and actress Retta, known for playing Pawnee resident Donna Meagle on Parks and Recreation and Ruby Hill on Good Girls. She welcomes the chance to potentially fleece a rookie like Maura. Maura, who's made bets throughout 80 for Brady, proves that she has what it takes to play with a high-stakes celebrity roller.
Retta and Maura exchange a few pithy lines while racking up chips, goading each other on while bluffing their hands. Considering a lot of her comedic (and dramatic) characters are often everywomen, it's nice to see Retta get a little glamorous. In her pink chiffon dress and styled hair, her celebrity cameo really sells star power.
RELATED: Good Girls: How Beth Becomes The New Kingpin, Explained
5
Marc Rebillet
It might make more sense for Metal Lords to have a musician cameo, but 80 for Brady utilizes YouTuber and electronic musician Marc Rebillet perfectly. At one point during the players' party, the women find themselves dancing out on the patio, where Rebillet is set up as the DJ behind turntables, providing the soundtrack for the night. Those unfamiliar with Rebillet's work may wonder why the musical entertainment at such a nice party is wearing a bathrobe.
Rebillet's "The Dude" vibe only adds to the women's sense of confusion, but they soon give into the music (and the edibles) and enjoy themselves. Betty in particular responds to the raconteur's beats, helping a frustrated Lou relax a little bit. It's certainly not the sort of party they would normally find themselves at, but it helps lower their inhibitions before Super Bowl LI.
4
3
Gus Kenworthy & Brian Jordan Alvarez
While the Mayor of Flavortown and the real Patriots players have the biggest cameos, there are a few surprise cameos in the movie that help add to the glitz of 80 for Brady. While the four women wait to get into the players' party, they walk through groups of celebrities, some of whom are more well known than others. At one point, they walk past a pair of men seemingly insulting each other.
It's at this point that Betty becomes acquainted with "negging" as LGBTQ+ icon and Olympic skier Gus Kenworthy puts down comedian Brian Jordan Alvarez, who played Estéfan on Will & Grace. Kenworthy makes a crack about Alvarez "skipping leg day," and Betty doesn't understand how the two can still be friends. Negging is normally used by men to seduce people they're trying to date, and that only adds to the awkward humor of the scene.
RELATED: Every Cameo In The Austin Powers Trilogy
2
1
Tom Brady
The biggest cameo in 80 for Brady comes from its MVP Tom Brady, who also produced the film. In 2017, Brady helped the Patriots overcome a whopping 28-3 deficit at the eleventh hour against the Atlanta Falcons at Super Bowl LI, bringing his team into historic overtime and winning 34-28. Lou shares an affinity with the MVP as a cancer survivor who kept taking the field even when she wanted to quit, and Tomlin has some touching scenes with Brady.
While the movie can feel at times like one large advertisement for the NFL, the Super Bowl, and of course Brady's career, there's no denying the MVP's legacy and contribution to the world of sports. And more importantly, his cameo (like all the rest) highlights the legacy of the four amazing women at the heart of 80 for Brady. Both the silver screen icons and the spirited Patriot fans they depict.
MORE: Almost All Bond Films Have Skipped Their Most Obvious Cameos
Share this news on your Fb,Twitter and Whatsapp
NY Press News:Latest News Headlines
NY Press News||Health||New York||USA News||Technology||World NewsTimes News Network:Latest News Headlines
Times News Network||Health||New York||USA News||Technology||World News