Entertainment
What Melissa Joan Hart has been up to since Sabrina The Teenage Witch
[ad_1]
Melissa Joan Hart had audiences well and truly under her spell in the '90s.
The actress rose to fame with her roles in the sitcoms Clarissa Explains It All and Sabrina the Teenage Witch.
Hart first made her splash into television at the age of four, when she appeared in a bathtub toy commercial.
Her mother Paula became her manager, or 'mumager', as Hart continued to book television commercials.
READ MORE: Drew Barrymore details rehab fears as she reflects on sobriety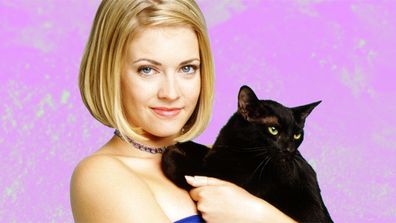 The mother-daughter pair later opened their own Film and Television Production Company, Hartbreak Films, in 1993.
Hart guest-starred in shows such as Kane & Abel and The Equalizer before trying her luck in theatre as an understudy on the 1989 Broadway production of The Crucible.
Clarissa Explains It All

Before we knew her as Sabrina, Hart starred as teen Clarissa Darling on Clarissa Explains It All.
The Nickelodeon sitcom first aired in 1991 and had a five-season run on the network.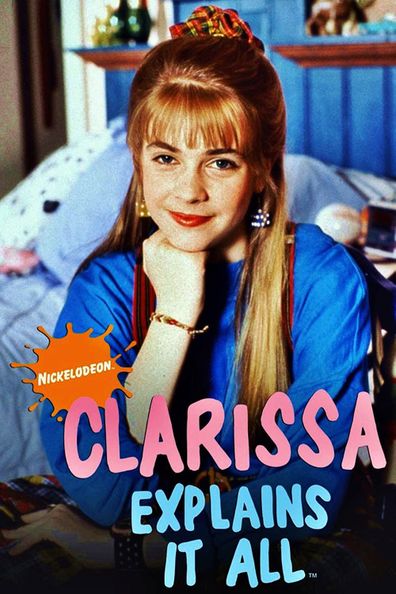 READ MORE: Celebrity chef Rachael Ray ends talk show after 17 years
You might remember the character had a pet alligator named Elvis, but what you might not know is that Hart almost missed out on this breakout role altogether.
Creator Mitchell Kriegman revealed to Paley Matters in 2017 that Hart "was not really Clarissa" in his mind until he later saw her on screen.
The sitcom was a smash hit and quickly became known for its fourth-wall breaks and Clarissa's quirky bedroom, envied by teens across the world.
But it was Hart's wardrobe on the show that made her a '90s style icon.
Hart confessed to Elle in a 2014 interview that she actually kept all her outfits from the sitcom.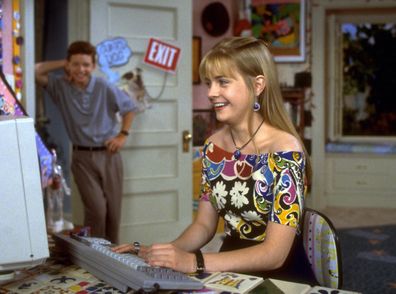 READ MORE: Jeremy Finlayson and Kellie Gardner marry amid cancer fight
"I have them in my theater closet in my basement," she said.
Fans of the show might find it funny to know there was one colour Clarissa was deliberately never allowed to wear (for no apparent reason): purple.
There were talks of Hart reprising her role in a Clarissa Explains It All reboot, but as of 2019, the actress confirmed to US Weekly that any plans to see Clarissa Darling on screen again had been put on hold.
Never say never, though!
Sabrina The Teenage Witch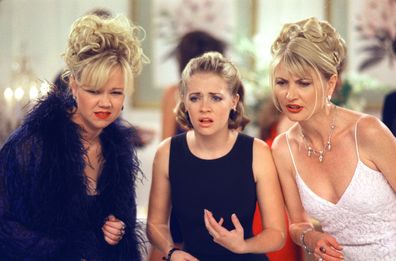 READ MORE: Johnny Depp arrives by helicopter at UK antique store
In 1996, Hart picked up her wand and rode her broom all the way onto our screens as she transformed into Archie Comics' beloved teen witch, Sabrina Spellman.
Hart played the role of Sabrina for three movies and seven seasons of the TV series before it wrapped in 2003.
Her spellbinding portrayal in Sabrina the Teenage Witch secured Hart's status as America's sweetheart of the '90s.
During a recent appearance on the Hey Dude… The 90s Called! Podcast, Hart revealed that while filming the first Sabrina film in 1996, she had a fling with her co-star Ryan Reynolds.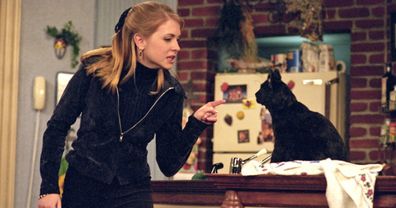 The Sabrina set was so iconic, Hart couldn't resist taking some mementos with her.
In a 2019 interview with Architectural Digest, Hart said she still had some of the props she took from set displayed around her home, including an umbrella holder and a sign that says 'Witches Brew'.
Much like her character, Hart is besties with Soleil Moon Frye, who played Sabrina's college roommate Roxie King.
The pair were even roomates in New York one year over the summer hiatus of the show.
Drive Me Crazy
At the same time she was capturing hearts as Sabrina, Hart landed the role of Nicole in the 1999 teen drama Drive Me Crazy.
Hart told US Magazine she would shoot nights on the weekend for the film before going straight back to playing Sabrina come Monday morning.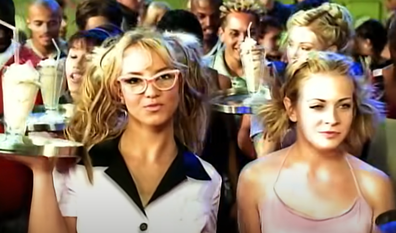 READ MORE: Chris Rock breaks silence on Oscars slap one year on
It seems romance was in the air on set as Hart began dating her on-screen love interest, actor Gabriel Carpenter, about halfway through production.
If you're a Britney Spears fan, the film name might have rung some bells. Well, it's no coincidence – the title Drive Me Crazy was in fact inspired by the Britney hit, (You Drive Me) Crazy.
Hart and her co-star Adrian Grenier even starred in the 1999 music video for the song.
Life after Sabrina
The same year Hart gave up her wand and said goodbye to playing Sabrina, she tied the knot with American musician Mark Wilkerson in 2003.
Avid Sabrina fans could even watch the ceremony, which aired as a miniseries on ABC Family titled Tying the Knot.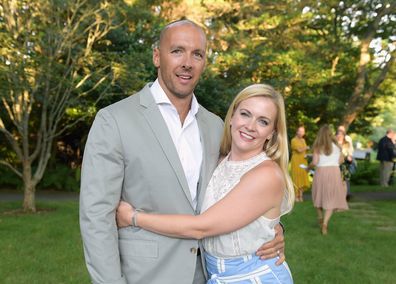 After working on sitcoms for over a decade, the actress tried her hand at directing on her first short film, Mute, in 2005.
She still took on the occasional acting role, appearing in Law & Order. She also starred in the ABC films Holiday in Handcuffs and My Fake Fiance.
In her personal life, Hart welcomed her first child with Wilkerson in 2006 and even ventured into the business world with her candy shop 'Sweetharts Sweets'.
In 2009, Hart put on her dancing shoes and joined the Dancing with the Stars ninth season lineup, placing ninth overall.
The experience was apparently not so enjoyable, however, as Hart said on her podcast Where Women Binge last year that she "hated" being on the show.
Melissa and Joey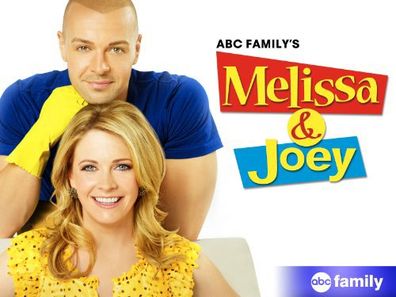 READ MORE: Inside Justin Bieber's star-studded 29th birthday party
In 2010, Hart reunited with her My Fake Fiance co-star Joey Lawrence on the sitcom Melissa and Joey.
The on-screen duo had such good chemistry on their first film that Hart revealed to Entertainment Weekly they both really "wanted to spin-off and do something in television" together again.
The series aired on ABC Family for four seasons before being cancelled in 2015.
Stepping behind the camera
Since Melissa and Joey wrapped, Hart has jumped behind the camera to focus more on directing, working on titles such as The Watcher in the Woods, Goldbergs and an episode of Young Sheldon.
She still makes the occasional appearance on screen, playing Liz in the Netflix series No Good Nick.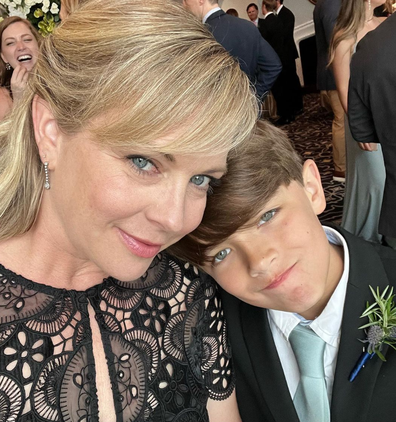 READ MORE: How Hollywood's elite were caught up in historic FBI case
Most recently, Hart starred in the 2022 film Dirty Little Secret, based on the true story and the book written by C.J Omolulu.
While it doesn't look like we're getting a Sabrina reboot starring Hart anytime soon, the actress passed over her wand to the new Sabrina Spellman, actress Kiernan Shipka, who starred in the 2018 Netflix series, Chilling Adventures of Sabrina.
In a promotional video for Netflix, Hart extended her "best witches" to Shipka and while she admitted to E! News the show doesn't really appeal to her, she "love(s) the fact that the character still lives on".
The 46-year-old is still married to Mark Wilkerson. The couple live with their now three children at their Lake Tahoe home.
[ad_2]
Share this news on your Fb,Twitter and Whatsapp
Times News Network:Latest News Headlines
Times News Network||Health||New York||USA News||Technology||World News